"Der entspannte Blick ruht auf den opulenten Nordbergen. Eine dünne Sichel Abendrot zeichnet ein faszinierendes Farbenspiel aus Purpur und Rubin auf das spektakuläre Alpenpanorama der Leoganger Bergwelt und kapituliert schließlich vor der Schönheit der Nacht."
THE NECTAR
We love places that inspire us. Places whose creators take action with passion, vision and a great pioneering spirit. The Madreiter family did just that. PURADIES, which reopened with new charme in 2016, barely suggests that it dates back to the history of a Pinzgau farm from the 17th century. The Madreiter family were pioneers of tourism in Leogang and the new PURADIES impresses with just that courage.
We recommend the PURADIES to lovers, connoisseurs and aesthetes. To all who indulge in pleasure, appreciate design with a deeper thought and seek peace.
THE PULSE
Immediately at the reception you can see the imposing bar & lounge of the hotel. It reminds us of the BMW Museum of architect Kai Schwanzer. Masculine steel, strong contours, harmonious lines. The surface seduces to touch it - 16,000 cubes of oak wood have been combined in artistic finesse to form a whole. We have a perfect drink and arrive completely. It pulls us up the stairs: a cozy and open library invites you to linger. The spa also remains faithful to the style of calm and design. Another highlight is the kitchen in the PURADIES. In the evening, the guest is either experiencing the excellent chef Stefan Krieghofer or he chooses another of the 5 restaurants. The chocolate factory completes the flavor seduction. In addition to the main house, the PURADIES allows an intimate stay in the chalet village - the Steinalmdorf. You can enjoy the excellent service and all the benefits of the PURADIES and yet be intimate - perfect for families or smaller groups of up to 6 people.
For all tips and spots in Saalfelden-Leogang, take a look at our personal travel guides for mountain biking, hiking and a special tour to discover the best spots of the region.
Für alle Tipps und Spots in Saalfelden-Leogang, schaut euch am besten hier unsere persönlichen Reiseführer für Mountainbiken, Wandern und eine besondere Genusstour an.
MUST DO's
+ Red wine in the open library
+ Excellent kitchen by Chef Stefan Krieghofer
+ Have a drink at the bar in the late afternoon
+ Whiskey in the cigar lounge
ENJOY OUR STORY:
woohoo, hello Leogang, hello PURADIES!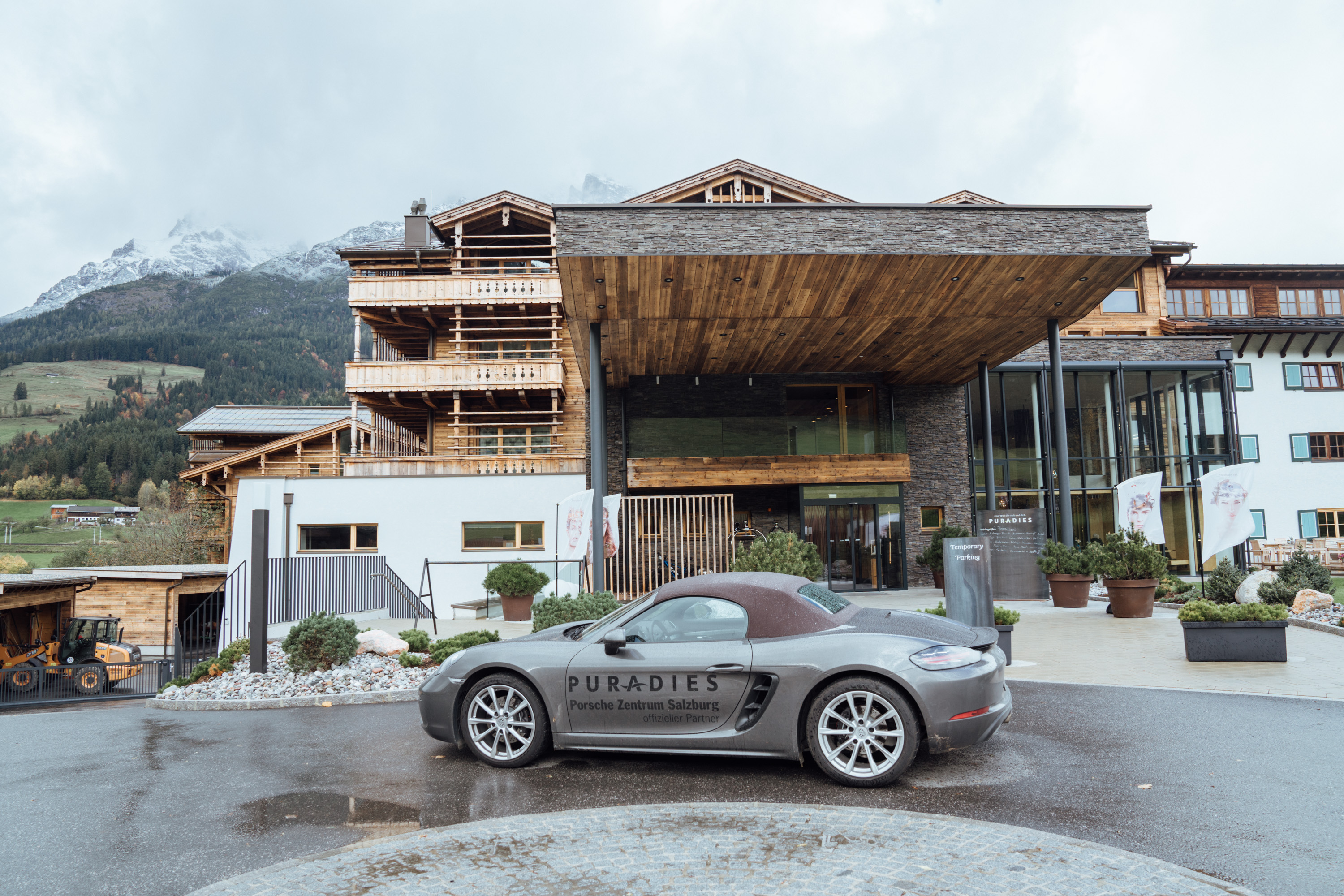 This picturesque scenery of an old traditional austrian farm house
And in contrast to its origin, the extraordinary bar "Freiraum" with its dynamics shapes of woods.
Arrived.
The Embachhof is a traditional Pinzgauer farm house from the 17th century - transformed into an extraordinary hotel!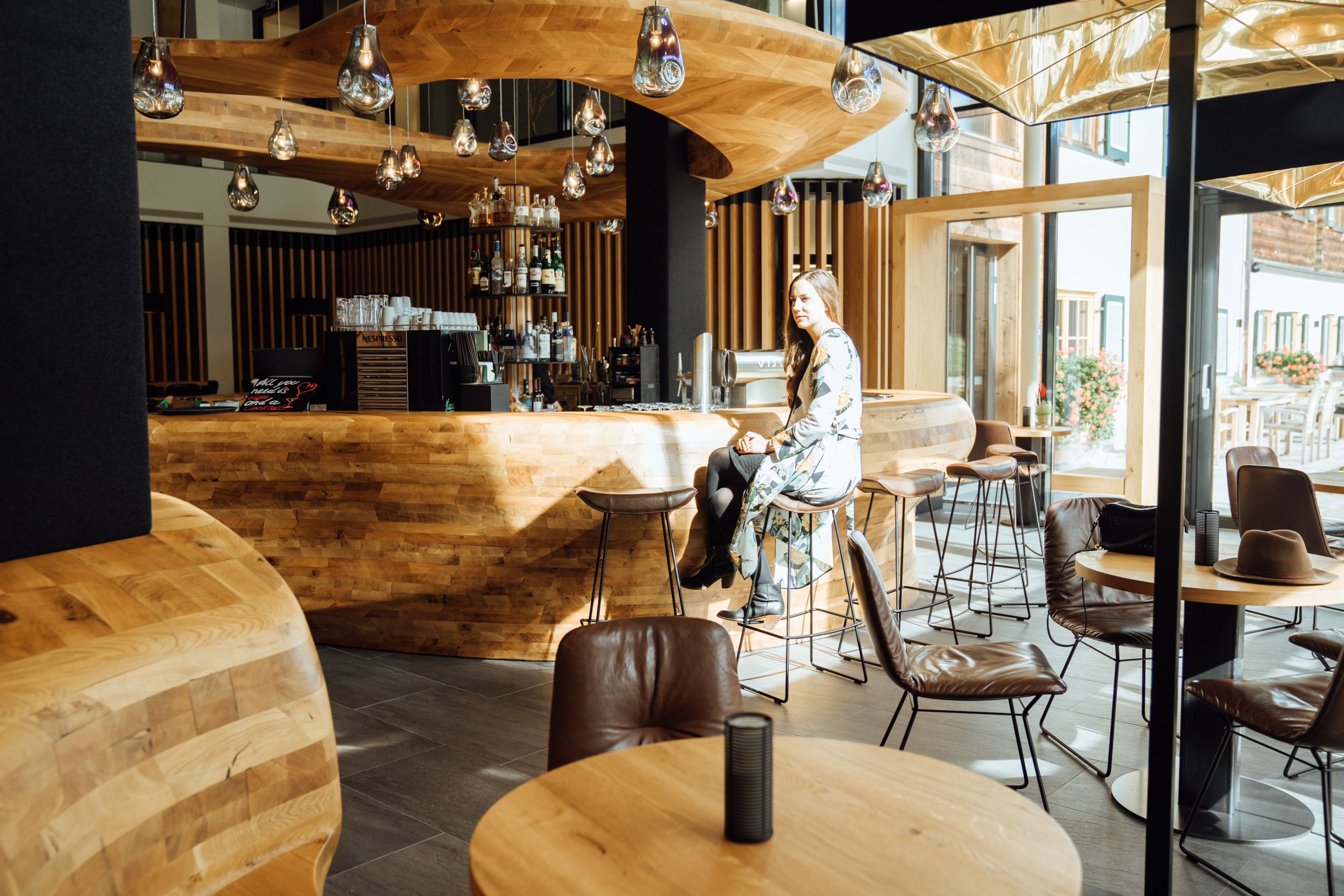 We love the fusion of traditional and modern. Austrian soul meets international characters.
Fine Dining at Ess:Enz. In this fine restaurant, guests can indulge in Stefan Krieghofer's food creations.
Meat only from the hotel own BIO farm and herbs grow in front of the door.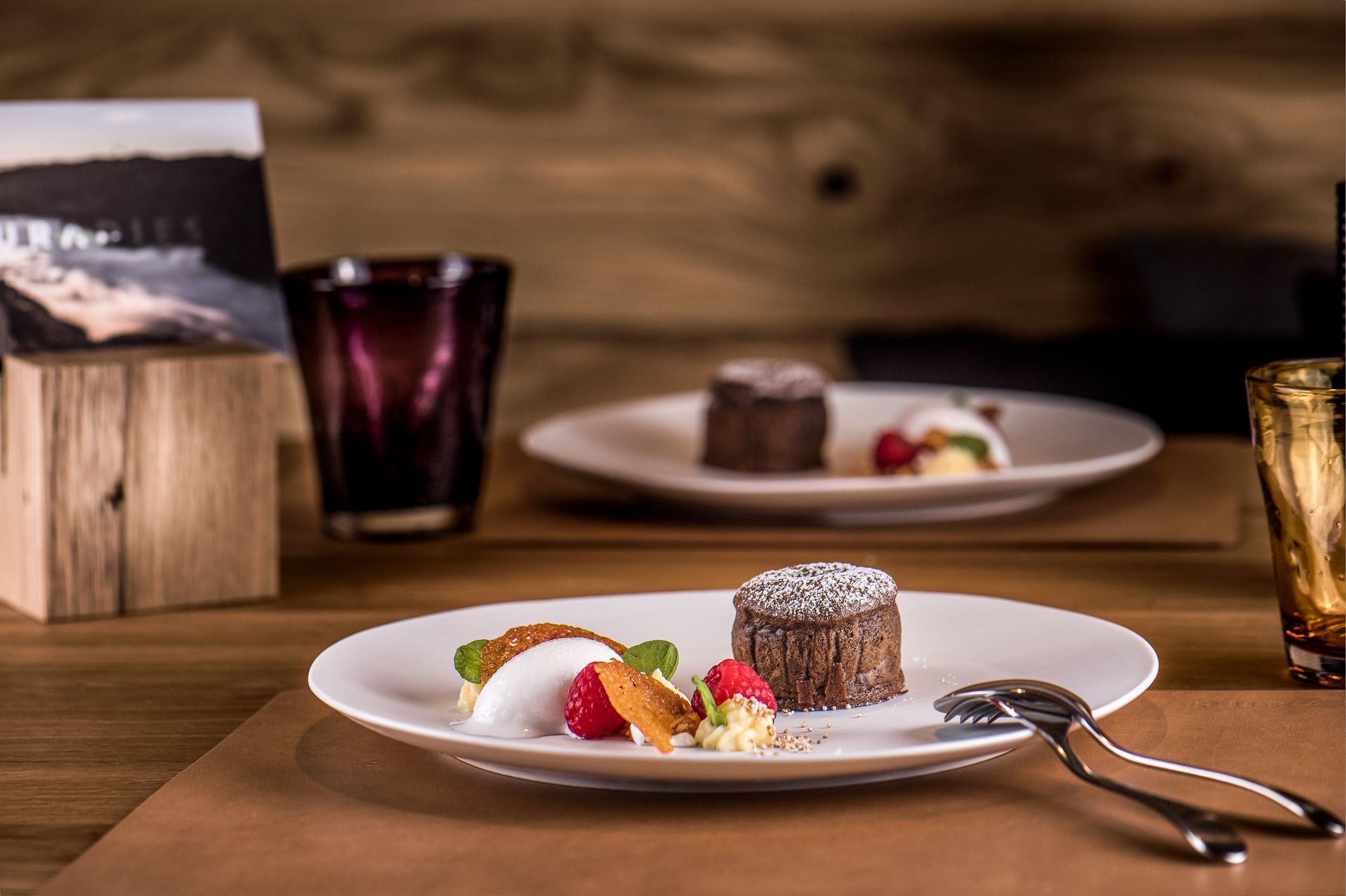 Where the magic happens!
Relaxing hours in the library.
The rocky mountains of Leogang are a very stunning and unique view.
Wood is still the dominating material in PURADIES and gives this place such a cool coziness.
The SPA is indeed a wonderful oasis - especially in summer after skiing.
PURADIES in Leogang is the place to be for all 4 seasons: Chalets, Suites or rooms, enjoy!
Other Hotels for more memorable nights
ABOUT HOTELS WITH SOUL
Hotels with Soul by NECTAR & PULSE is a personal collection of our favourite hotels around the globe. They have two things in common: soul and passion. Some serve the best coffee we've ever tasted. Some the comfiest beds and linen. Some have a sauna in the woods and delicious home-made jams. Others have a butler available 24/7 or a hunter ready to take you on a hunt. One has a library where you'll want to while away the hours, another one a kitchen stocked with the best midnight snacks.
What they all have in common is great design, friendly people, and authenticity. We call it the NECTAR & PULSE vibe. It's that feeling where it's so comfortable, it almost feels home, but you feel like there's so much to learn, see, and do. These are the places that make you think to yourself, "there's nowhere else I'd rather be." Hotels with Soul are the ultimate destination for curious travellers with a good taste. Discover their story. Experience their soul.
WANT TO JOIN OUR COLLECTION OF SOULFUL HOTELS?
We love to discover new places and to add more beautiful places to our collection. If you think that your hotel reflects our philosophy, please get in touch with us at hello@nectarandpulse.com. We are happy to give you further information, our media kit and our terms. We are looking forward to get to know you and eventually to work together.
Your daily travel inspiration
10 mal GLÜCKLICH IN ... Reiseführer
Hallo liebe Reisefreunde! Unsere GLÜCKLICH IN … Bücher, die wir gemeinsam mit der Süddeutschen Zeitung herausgeben, sind mehr als gewöhnliche Reiseführer. Sie sind eine Hommage an die Lebensfreude. Sie beinhalten unsere persönlichen, handverlesenen Lieblingsorte, Geschichten, Fotos und Zitate. Wir haben unser gesamtes Wissen, tiefgehende Recherche und Herzblut von über 10
WIN 2 NIGHTS AT ALPENLOFT CHALETS IN BAD GASTEIN
Hello lovelies, it's December, the first mountains are white and we celebrate this … Read more
OCTOBER PLAYLIST
Can you believe it? It's already October. Crazy! Here our playlist for you. With lo… Read more