Locations
Flea market Centre WestWeblinger Gürtel 25, Graz, Österreich

Almost every Sunday it's treasure-hunting for us at this flea market. When the weather is bad it takes place in the underground car-park.
Flea market CineplexxAlte Poststraße 470, Graz, Österreich

Every Saturday and Sunday, in all weathers, this flea market takes place from 6am till 1pm. Make sure you get there early if you want to find the best stuff!
Das GrammNeutorgasse 7, Graz, Österreich

This is where you can buy groceries without packaging. On Saturdays we love to have breakfast at this forward-thinking and sustainability-oriented store/café!
Local farmer's market Kaiser-Josef-PlatzKaiser-Josef-Platz, Graz, Österreich

Every Styrian delicacy your heart could want is offered here by local farmers. Takes place every day, except Sunday, from 6am till 1pm.
StadtparkStadtpark 1, 8010 Graz, Österreich

The wonderful city park of Graz is perfect for picnics or just for a walk!
Kunsthaus ShopLendkai 1, Graz, Österreich

The shop in the fascinating museum Kunsthaus (international, contemporary art) always has fantastic souvenirs or gifts to take home with you.
TagwerkMariahilferstraße 13, Graz, Österreich

We're big fans of recycling, which is why we always support stores like Tagwerk, where super cool bags are created out of old textiles and tarpaulins.
Doppelhofer & SteiningerBelgiergasse 6, Graz, Österreich

Three girls means a lot of hair. We let those guys take care of it and they always do a good job!
Omas TeekanneNikolaipl. 1, Graz, Österreich

They love vintage and cake and so do we. No wonder we're hanging out at this cute café all the time!
Halle für Kunst und MedienBurgring 2, Graz, Österreich

This is where we get our culture fix and marvel at international as well as local contemporary art.
KIZ RoyalkinoConrad-von-Hötzendorf-Straße 10, Graz, Österreich

The place to be on a rainy Sunday afternoon: a cinema where almost all movies are shown in their original language.
SchlossbergSchloßberg, Graz, Österreich

Go up the Schlossberg for a wonderful view of the city and a little fitness boost.
Starcke HausSchloßberg 4, Graz, Österreich

They really have the pole position when it comes to view. Reward yourself with a sundowner and let your eyes wander – we love the peaceful atmosphere up here.
Tash LivingGlacisstraße 65, Graz, Österreich

This is by far the most stylish and cool concept store around.
TagtraumDietrichsteinplatz 7, Graz, Österreich

All the furniture at the beautiful café Tragtraum is bought secondhand or from young designers and can be purchased. Fighting consumer craze on the next level!
Café ErdeAndreas-Hofer-Platz 3, Graz, Österreich

Don't miss out on their delicious vegan and vegetarian food. The burgers and wraps are insane!
The Office PubTrauttmansdorffgasse 3, Graz, Österreich

A pub with a rustic, cosy flair. Every Tuesday the legendary pub quizzes take place here.
Café ParkhausStadtpark 2, Graz, Österreich

In the summertime, get your drinks here and take them with you outside into the park. Sit down on a blanket, watch the ducks in the pond or the clouds in the sky or play some music with friends. You can obviously also have the drinks at the Parkhaus, which is also nice.
Forum StadtparkStadtpark 1, Graz, Österreich

This is the social hub of Graz, where all the events like performances, workshops and concerts take place.
Feinkost MildStubenberggasse 7, Graz, Österreich

A legendary location and a cosy restaurant serving nice food – check out 'The sandwich club'. Perfect for meeting up with friends!
'We love to travel with suitcases half empty so we can fill them with new vintage treasures.'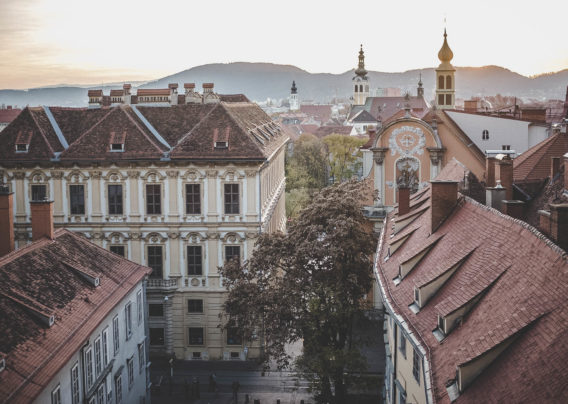 Our thoughts about Graz
What do you love about your destination?
Graz has a lot to offer! Every day here gives you the chance to fill the hours of the day however you like, whether that means hanging out at the park all day and enjoying some culture and nature, or doing a crazy bar crawl all night long and feasting at great restaurants. Graz has something for everybody!
What's a "must do" in your destination?
Go up the Schlossberg! This sounds like a touristy thing to do, but only recently did we do it once more ourselves and we realised how magical and special it is up there. The atmosphere, the nature and the view are just priceless!
Take a vacation into Our life
What's your background?
We are Clarissa, Diana and Johanna from Graz and we're the founders of vintage online shop Dogdays of Summer. We've always had an eye and the partiality for extraordinary fashion, flea markets and secondhand goods. In February 2014 Clarissa and Diana came back from a trip to Berlin and, having found that the vintage fever had already broken out there completely, we started to ask ourselves why we don't have any great vintage stores in Graz. Around this time we started thinking about opening such a place for ourselves. We came to the idea of starting an online shop and in September 2014 we went online. Two years later, Johanna joined the team, and together the three of us are preparing to make the jump into the offline world right now – we're planning to open a physical store in Graz temporarily which we will close down after one or two months to let it pop up in another place again. We're quite excited about this already!
What is the best moment of the day?
Clarissa: When I wake up before my alarm clock goes off. The time I have left in bed is something I always enjoy immensely.
Diana: It being a cold day outside, while I'm inside having a big breakfast in bed.
Johanna: When the sun is shining and I can have my first cup of coffee on our balcony.
What inspires you?
People! It can be so fascinating to hear what others have achieved and this exchange of stories is always very inspiring to us.
How would a good friend describe you?
Well-assorted vintage online shop with a boho flair and lots of love.
Your lifestyle in 5 words?
Unique, sustainable, fair, vegan and funny.
Which books, newspapers or magazines do you read?
A book we found very inspiring was '#girlboss', a book about a woman's crazy career. What we also love are design magazines like 'Kinfolk', 'Cereal', 'The Heritage Post' or 'Remarkable Magazine'.
Which films blow your mind?
There are so many movies that one has to see, we definitely cannot name them all. A few are 'The True Coast', 'Gift auf unserer Haut', 'Cowspiracy' and 'Earthlings'.
Person you'd like to sit next to in an airplane?
Clarissa: I'd like to sit next to Dariadaria (http://dariadaria.com/), that is our favourite blogger.
Diana: I prefer not sitting in the plane at all, if I have the option it will always be the train or the bus.
Johanna: I really enjoy having nobody sitting next to me so I have more space.
What are your favourite destinations around the globe?
Clarissa: Somewhere outside European border, because unfortunately I have not done that yet. High up on my list are Hawaii and Madagascar.
Diana: I'd love to go to Iceland or Morocco. As soon as I have overcome my fear of flying I will go there!
Johanna: I love to be in tropical climates. That's where my body and soul feel at home.
Your life philosophy?
Reduce, reuse, recycle. Shop less, think about it beforehand and, when you shop, go for secondhand. Reuse your stuff, appreciate old treasures, revalue old stuff and, as a last resort, recycle.
Suitcase, Backpack or Weekender?
Doesn't matter, all that counts is that it's halfway empty so you can fill it with new vintage treasures.
What else should we know about you?
We always have a friendly ear for you and if you want to find out more about us or Graz just text us: info@dogdaysofsummer.at
Travelling is…
a source of inspiration.
Life is…
always up for a surprise.
Your daily travel inspiration
10 mal GLÜCKLICH IN ... Reiseführer
Hallo liebe Reisefreunde! Unsere GLÜCKLICH IN … Bücher, die wir gemeinsam mit der Süddeutschen Zeitung herausgeben, sind mehr als gewöhnliche Reiseführer. Sie sind eine Hommage an die Lebensfreude. Sie beinhalten unsere persönlichen, handverlesenen Lieblingsorte, Geschichten, Fotos und Zitate. Wir haben unser gesamtes Wissen, tiefgehende Recherche und Herzblut von über 10
WIN 2 NIGHTS AT ALPENLOFT CHALETS IN BAD GASTEIN
Hello lovelies, it's December, the first mountains are white and we celebrate this … Read more
OCTOBER PLAYLIST
Can you believe it? It's already October. Crazy! Here our playlist for you. With lo… Read more