Locations
Crafted135 Ossington Avenue, Toronto, Ontario, Kanada

Crafted roasts their own beans, so you know they take their coffee seriously. It's a quiet, minimally designed space that feels comfortable. A great spot to catch up on emails, read that book, or write that novel.
Trinity Bellwoods ParkTrinity Bellwoods Park, Queen Street West, Toronto, Ontario, Kanada

Trinity Bellwoods Parks is beautiful in any season, but the people-watching is best in the summer. Make sure to pack a lunch for an afternoon picnic.
Swan by Rose & Sons892 Queen St W, Toronto, Ontario, Kanada

Stopping in for any meal is a good idea, but brunch here is definitely a must do!
Old Faithful Shop886 Queen St W, Toronto, Ontario, Kanada

Shop for beautifully crafted housewares here.
Rotate This186 Ossington Avenue, Toronto, Ontario, Kanada

There are several record shops in the city, but there's something authentic and familiar about stepping into Rotate This. The staff is very knowledgeable about all things music.
Kensington MarketKensington Market, Toronto, Ontario, Kanada

Kensington Market is an eclectic, diverse neighbourhood filled with a mix of artisanal food shops, cafés, restaurants, boutique, and vintage shops.
Fika28 Kensington Ave, Toronto, Ontario, Kanada

A Swedish-style café in Kensington Market. Their magic bars are delicious!
Sanagan's Meat Locker176 Baldwin Street, Toronto, Ontario, Kanada

One of the city's best butchers, but it's their sandwiches that have me coming back!
Mascot Brewery31 Mercer Street, Toronto, Ontario, Kanada

A fun rooftop beer garden overlooking downtown Toronto.
St. Lawrence Market92-95 Front St E, Toronto, Ontario, Kanada

It's been voted one of the best food markets in the world! It's a beautiful spot for fresh produce and meats. You have to try the peameal bacon sandwich! It's a Toronto classic.
Distillery DistrictThe Distillery District, Toronto, Ontario, Kanada

One of Toronto's oldest areas — the district was once the Gooderham & Worts Canadian Whiskey Distillery. They've since built up a residential neighbourhood and filled it with artist galleries, boutique shops, restaurants, and cafés.
SOMA Chocolatemaker443 King St W, Toronto, Ontario, Kanada

Local chocolate shop run by the chocolatemakers themselves. Their hot chocolate is a must try! Especially nice in the winter.
Rooster Coffee House479 Broadview Avenue, Toronto, Ontario, Kanada

My favourite coffee house in the city! Great coffee, yes, but it's also about the atmosphere and their views of the city from this prime location.
Riverdale Park EastRiverdale Park East, Broadview Avenue, Toronto, Ontario, Kanada

This side of the park is a great spot to sit, wander, or take in the views of the city at sunset, while enjoying coffee with a friend.
Prince Edward Viaduct bridgePrince Edward Viaduct Parkette, Bloor Street East, Toronto, Ontario, Kanada

I recommend coming here in the evening when the sun has set and you have views of the city at night and the bridge's light.
Bellwoods Brewery124 Ossington Avenue, Toronto, Ontario, Kanada

One of Toronto's best craft brewers! This space was once an old garage, which has since been converted into a restaurant and shop. One of my favourite spots to meet friends for drinks, dinner, or brunch.
'Working as a designer and illustrator allows me to express my creative, curious side — which feels freeing.'
My thoughts about Toronto
What do you love about your destination?
I love Toronto's multiculturalism and diverse neighbourhoods! The sounds and colours from one neighbourhood to the next are so exciting to explore!
Which music fits best to your destination?
"The Shade" by Metric.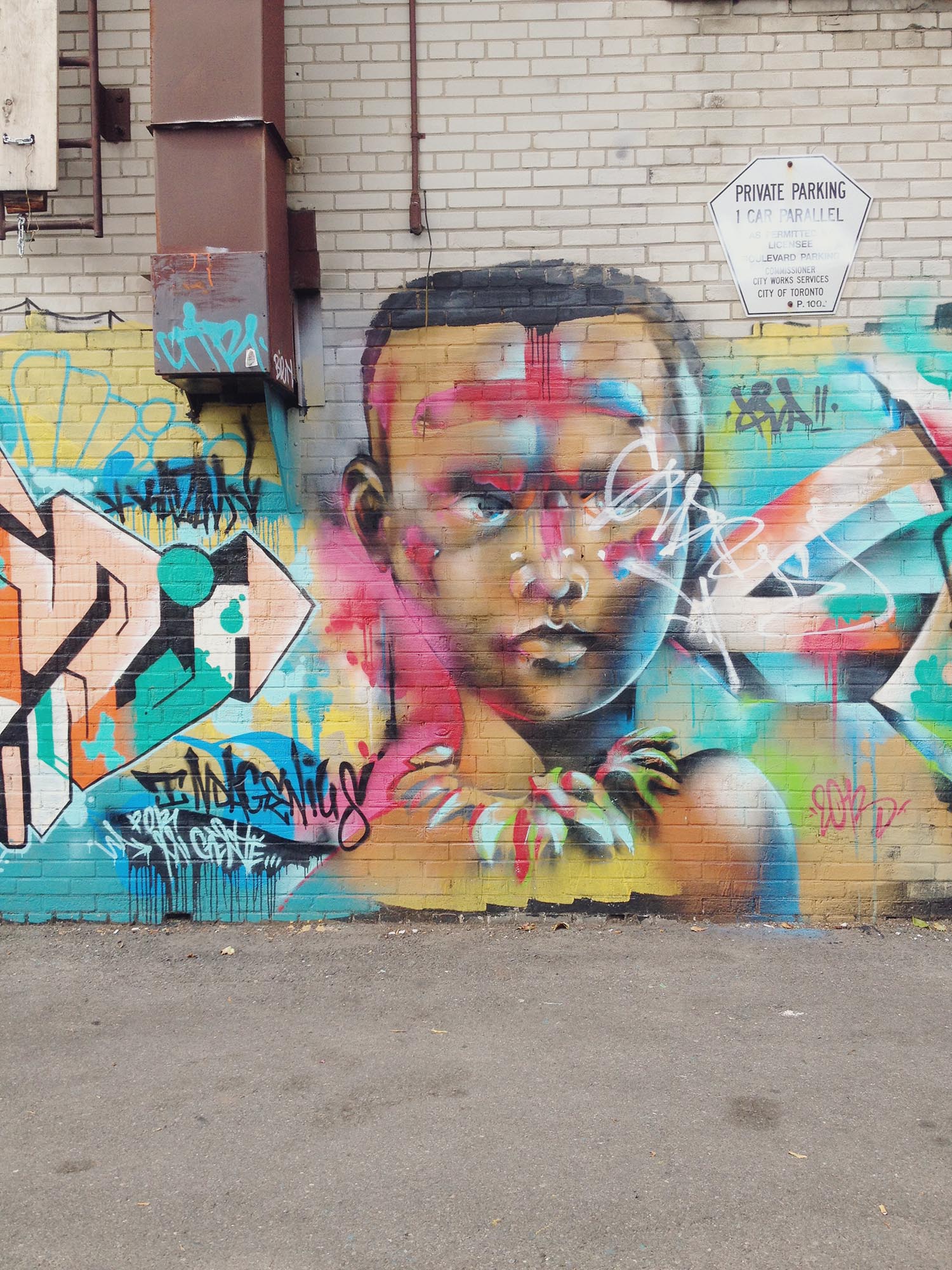 Take a vacation into My life
What's your background?
I was born and raised in Toronto, Canada, to a French-Canadian mother and Lithuanian father. I'm first generation Canadian on my father's side, and 10+ generation Canadian on my mother's. My sisters and I were raised with an appreciation for both cultures, while also being very curious about the world and the other cultures around us. I'm extremely proud to call myself Canadian.
What is the best moment of the day?
The best moment is discovering something new about a place, a person, or about myself.
What inspires you?
Everything — my husband's laughter and my soon-to-be-born son, travel, architecture, art, colours, food, fashion, the outdoors, weather, music. If I can see it, hear it, taste it, smell it, or touch it…I'm interested!
How would a good friend describe you?
I hope they would say I'm a creative, caring friend with an open heart and ready to laugh. Always curious and up for anything, too.
Your lifestyle in 5 words?
Relaxed, wanderer, culture, urban, and creative.
Which books, newspapers or magazines do you read?
I love reading autobiographies, the Huffington Post, and Vogue.
Which films blow your mind?
"Amélie" is my favourite movie for its quirky, artistic style. I also love the dream-like quality of "The Secret Life of Walter Mitty", for how it captured the beauty of travel and seeking adventure. My favourite television series is HBO's "Six Feet Under" - I have yet to find another series with more engaging writing and character development!
Person you'd like to sit next to in an airplane?
My son, to instill the love and gift of travel!
What are your favourite destinations around the globe?
Iceland, Ireland, South of France, Berlin, New York City, San Francisco, Vancouver, and Ucluelet, British Columbia .
Your life philosophy?
My life philosophy is to always remain curious and to seek and embrace change.
Suitcase, Backpack or Weekender?
Definitely suitcase!
What else should we know about you?
I always try to view the world through a child's curious eyes, searching for all of the tiny, insignificant details, that in my mind make it all the more significant.
Travelling is…
a gift! My parents instilled their love of travel from a very young age and I cannot imagine my life without it now. Geography was always my favourite subject in school, apart from art.
Life is…
also a gift! Which is why I never take it for granted and am thankful for the people and experiences that have helped shape my life!
More local soulmates in Canada, Toronto
Discover more perfect 24 hours
Your daily travel inspiration
10 mal GLÜCKLICH IN ... Reiseführer
Hallo liebe Reisefreunde! Unsere GLÜCKLICH IN … Bücher, die wir gemeinsam mit der Süddeutschen Zeitung herausgeben, sind mehr als gewöhnliche Reiseführer. Sie sind eine Hommage an die Lebensfreude. Sie beinhalten unsere persönlichen, handverlesenen Lieblingsorte, Geschichten, Fotos und Zitate. Wir haben unser gesamtes Wissen, tiefgehende Recherche und Herzblut von über 10
WIN 2 NIGHTS AT ALPENLOFT CHALETS IN BAD GASTEIN
Hello lovelies, it's December, the first mountains are white and we celebrate this … Read more
OCTOBER PLAYLIST
Can you believe it? It's already October. Crazy! Here our playlist for you. With lo… Read more