Locations
LX FactoryR. Rodrigues de Faria 103, Lissabon, Portugal

Best place for the first coffee of the day: Wish Coffee House!
Mercado da RibeiraAv. 24 de Julho 49, Lissabon, Portugal

Lisbon's biggest indoor market with lots of nice food and small shops.
SantiniR. do Carmo 9, 1200-093 Lisboa, Portugal

One of the oldest ice cream makers in Lisbon and of course a family business.
ChiadoChiado, Lissabon, Portugal

The heart of Lisbon.
Vintage BazaarLargo da Academia Nacional de Belas Artes 6, Lissabon, Portugal

Boho-inspired clothes and accessories.
Taberna das FloresRua das Flores 103, Lissabon, Portugal

A small restaurant owned by a young chef who cooks with seasonal ingredients from the market.
LandeauRua das Flores 70, Lissabon, Portugal

The best chocolate cake served in a cozy and beautiful atmosphere.
Principe RealPríncipe Real, Lissabon, Portugal

An up-and-coming district of Lisbon.
Miradouro de S. Pedro de AlcantaraRua São Pedro de Alcântara, Lissabon, Portugal

Lookout over the city's castle 'St. George's Castle'.
OrganiiPraça do Príncipe Real 26, Lissabon, Portugal

Organic beauty products sold by two very inspiring sisters.
This&ThatR. Ferragial 3, Lissabon, Portugal

A fun little shop with such nice things, you won't leave without buying something.
QuerRua da Escola Politécnica 82B, Lissabon, Portugal

The most inspiring shop for kids toys.
Mini BarR. António Maria Cardoso 58, Lissabon, Portugal

Molecular food owned by one of the most awarded chefs in Portugal.
LuxAv. Infante Dom Henrique 73B, 1100 Lisboa, Portugal

Exciting nightclub!
'Travelling makes you fall in love with the world.'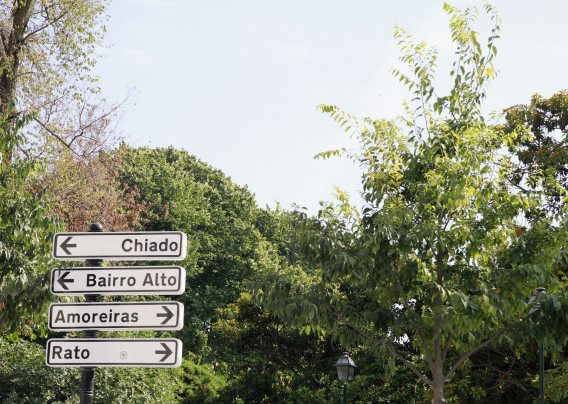 My thoughts about Lisbon
What do you love about your destination?
Lisbon is inspiring because it is a mixture of a modern urban city with a traditional village feeling.
Which music fits best to your destination?
Something jazzy.
Take a vacation into My life
What is the best moment of the day?
When I pick up my kids at school.
What inspires you?
I love going to the theatre, to dance performances, and other artistic events; that's a big inspiration. Honestly I'm so passionate about my work that I'm always working even when I'm not, so at any moment I can be inspired to have a new idea.
How would a good friend describe you?
Hopefully they would say that I am careful and generous.
Your lifestyle in 5 words?
Busy, relaxed, passionate, watchful, and happy.
Which books, newspapers or magazines do you read?
I am addicted to good magazines. I like Living, Elle Deco UK, Kinfolk, Milk etc.
Which films blow your mind?
I don't watch much TV but I like good movies, especially movies inspired by true stories.
Person you'd like to sit next to in an airplane?
Tricia Guild.
What are your favourite destinations around the globe?
I love to visit cities with a lot of cultural activity going on.
Your life philosophy?
Dreams don't work unless you get active.
Suitcase, Backpack or Weekender?
Backpack when exploring nature. Suitcase when exploring cities .
What else should we know about you?
That I love being half Swedish and half Portuguese - I feel like I have the whole world inside me :-)
Travelling is…
discovering yourself and falling in love with the world.
Your daily travel inspiration
10 mal GLÜCKLICH IN ... Reiseführer
Hallo liebe Reisefreunde! Unsere GLÜCKLICH IN … Bücher, die wir gemeinsam mit der Süddeutschen Zeitung herausgeben, sind mehr als gewöhnliche Reiseführer. Sie sind eine Hommage an die Lebensfreude. Sie beinhalten unsere persönlichen, handverlesenen Lieblingsorte, Geschichten, Fotos und Zitate. Wir haben unser gesamtes Wissen, tiefgehende Recherche und Herzblut von über 10
WIN 2 NIGHTS AT ALPENLOFT CHALETS IN BAD GASTEIN
Hello lovelies, it's December, the first mountains are white and we celebrate this … Read more
OCTOBER PLAYLIST
Can you believe it? It's already October. Crazy! Here our playlist for you. With lo… Read more