Locations
White Rabbit's RoomFranziskanerstraße 19, München, Deutschland

This café's interior is pure white, with touches of pink – very pretty and girly. Try the pancakes and cinnamon buns.
Bite DeliteMaffeistraße 6, München, Deutschland

Power food, super smoothies, sandwiches, wraps and extremely good coffee.
MaeluTheatinerstraße 32, München, Deutschland

The perfect patisserie for a cute birthday cake.
Daddy LonglegsBarer Str. 42, München, Deutschland

I fell in love with acai bowls a while ago, and Daddy Longlegs seems to be the only place in Munich where you can get them.
GartensalonTürkenstraße 9, München, Deutschland

Quirky, cool café with traditional German 'Schnittenbrot'.
GratitudeTürkenstraße 55, München, Deutschland

Delicious vegan food in the university district.
NoelMetzstraße 8, München, Deutschland

Cosy café just around the corner from where I live with a lot of yummy, self-made pastries.
Weißenburger PlatzWeißenburger Platz, München, Deutschland

Walking around the French neighbourhood, with all its beautifully decorated buildings, you'll suddenly feel as if you're in a small village.
Kauf Dich GlücklichSchellingstraße 23, München, Deutschland

Clean, minimalistic store with a cool selection of Scandinavian designer brands.
Pick & WeightTal 15, München, Deutschland

A vintage store with a huge selection of clothing. There are no price tags – you pay by weight instead.
EditedAmalienstraße 57, München, Deutschland

Find out about the latest fashion trends at one of the Edited stores in Munich.
Urban SoupRumfordstraße 7, München, Deutschland

Urban Soup serves fusion-style soups, to go, in glass jars.
Der Verrückte EismacherAmalienstraße 77, München, Deutschland

A famous ice cream shop with very unique flavours like beer, Leberkäse and calamari. But of course also delicious classics like chocolate, vanilla and co.
Super Danke!Fraunhoferstraße 32, München, Deutschland

Did someone say detox green smoothies and fresh juices? I'm in!
The StoreyNeuhauser Str. 18, München, Deutschland

The special thing about The Storey is the shop-within-a-shop concept, with very hip brands like Ganni, Topshop, The Kooples, Vans and Opening Ceremony represented.
Luitpoldblock/Aesop/SchwittenbergBrienner Street 11, München, Deutschland

If you like minimalist fashion and pure design, this is the place to shop.
Bahnwärter ThielTumblingerstraße 29, München, Deutschland

This event location was built out of old shipping containers and hosts a lot of indie concerts, club nights and reading evenings.
Occam DeliFeilitzschstraße 15, München, Deutschland

Choose from a full table of homemade cakes at the New York-style Deli place. They all taste heavenly.
Museum BrandhorstTheresienstraße 35a, München, Deutschland

Cool, contemporary art.
Pinakothek der ModerneBarer Str. 40, München, Deutschland

Spend rainy Sundays in this huge Museum, one of the biggest in Europe for modern and contemporary art.
Haus der KunstPrinzregentenstraße 1, München, Deutschland

Another wonderful museum which exhibits contemporary art. You can also watch people surfing on the Eisbachwelle right next to the museum.
MaximilianeumMax-Planck-Straße 1, München, Deutschland

The Maximilianeum is the site of the Bavarian Landtag – it's a beautiful Neo-Renaissance architecture building, elevated a little above the city's core, with views. This is also where the last rays of sun go down.
James T. HuntSchellingstraße 32, München, Deutschland

A hip bar, serving great drinks.
Don't Call MamaSchellingstraße 45, München, Deutschland

Just one of many cool bars in this area. My favourite drink here is the Munich Mule.
SpiceryWeißenburger Pl. 3, München, Deutschland

Exclusive Thai-fusion kitchen in a dark gold venue.
L'adresse 37Tulbeckstraße 9, München, Deutschland

If you like French cuisine, you'll love L'adresse 37.
MaeluTheatinerstraße 32, München, Deutschland

Great little café and pâtisserie.
'I am a very life-affirming person, and I get crazy enthusiastic about random things I see.'
My thoughts about Munich
What do you love about your destination?
Munich has got a great mixture of big city life and awesome nature in and around the city. I love the huge range of cultural activities it offers. And I love the vibe in Munich, especially during the summer months when everybody chills at the riverside of the Isar, which goes through the city (a famous spot along the Isar is the Flaucher), grabs some beers with friends, and strangers who become friends. It's just about having a good time.
Which music fits best to your destination?
Indie Rock-Pop.
What's a "must do" in your destination?
Watching the 'Eisbach Surfers' in the artificial wave in the English Garden.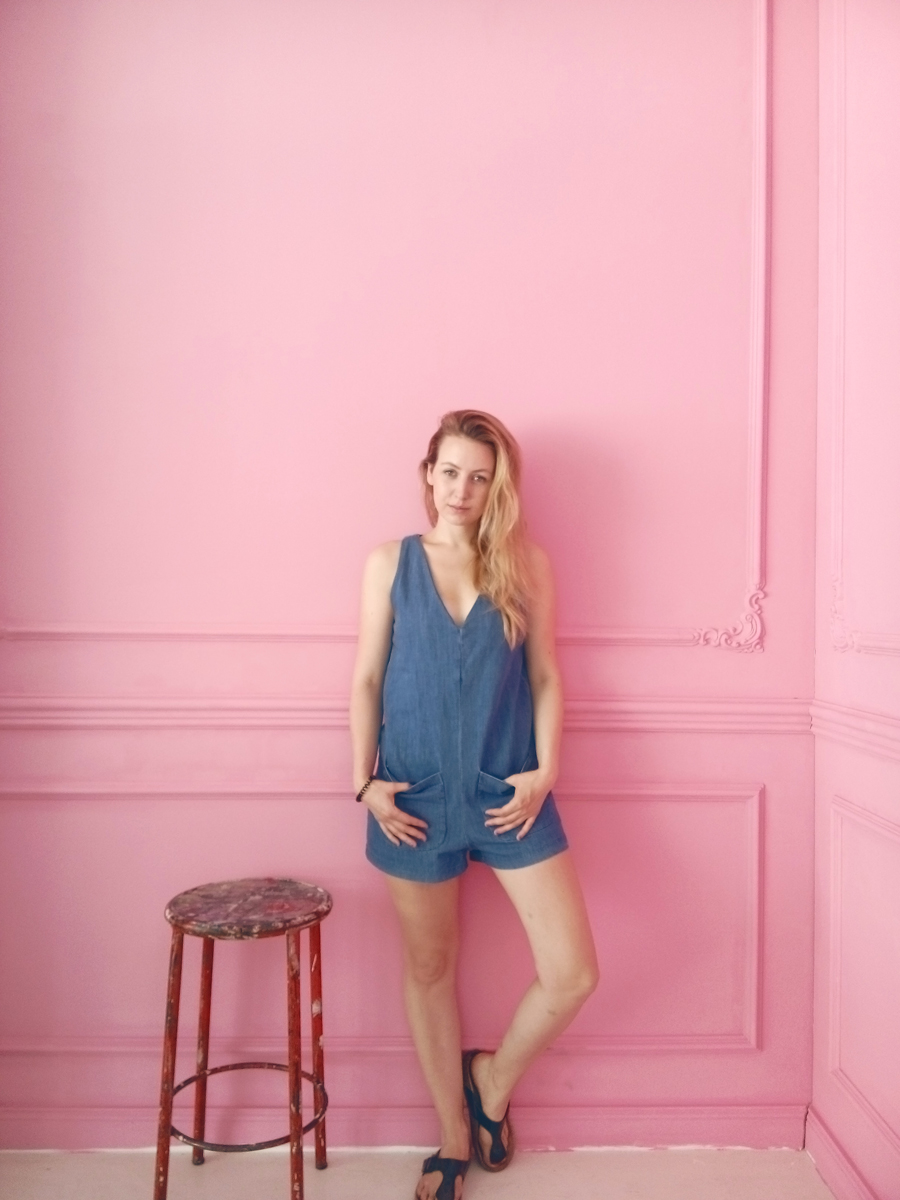 Take a vacation into My life
What's your background?
I grew up in the Austrian Alps, in Kaprun/Zell am See. I moved to Innsbruck to study Economics & Management when I was 18 and started a career as an action sports photographer. I travelled with professional freeskiers and snowboarders for a few years, accompanying them to insane winter sport destinations and competitions around the world.
At some point, I got more and more interested in portrait and fashion photography. I decided to go for it and moved to Munich to work for a big fashion magazine. For several years now I've been furthering my career and finding my path – I now work as a beauty and fashion photographer all over Europe.
What is the best moment of the day?
Since I'm not really a morning person, and, surprisingly,
don't drink coffee – the best moment of the day is coming home after a really exhausting day or trip and just chilling on the couch, reflecting on what I created that day.
What inspires you?
Everything. I really get inspired by almost everything. I walk through the day, and take in dozens of impressions that inspire me to create something, or to simply love life. I am a very life-affirming person, and I get crazy enthusiastic about random things I see. It only takes a walk on a sunny day through the forest, or I see a postcard with a nice typography quote on it in a random store. A little cheesy, I know.
And of course I get inspired by music, and people – their minds, their visions and stories.
How would a good friend describe you?
All of them would probably say: Linda is the creative and stylish one. And that I am very loyal and the most patient person ever.
Your lifestyle in 5 words?
Travelling, creating, inspiring, seeking, always challenging.
Which books, newspapers or magazines do you read?
I do read a lot. Or actually, to be honest, I am the person who looks at the pictures first. I especially love: Sleek Magazine, i-D, Numero, Blond magazine, Interview Magazine, Vogue Australia, Vogue France and AnOther magazine.
The book I'm currently reading is A Movable Feast by Ernest Hemingway.
Which films blow your mind?
I quite like films where you can't guess the ending and you, as the audience, get totally mislead, like in Inception and Shutter Island.
Currently binge watching: The Killing, Prison Break and Homeland.
Person you'd like to sit next to in an airplane?
Brad Pitt.
What are your favourite destinations around the globe?
Amalfi Coast of Italy, Lisbon, London, Stockholm, Iceland, and anywhere you can surf.
Your life philosophy?
Just go for it!
Suitcase, Backpack or Weekender?
Backpack!
What else should we know about you?
For two years now, I've been getting a tiny random tattoo in every new country I visit. At some point I may have to rethink this practice... 🙂
Travelling is…
therapy, and the best thing to find yourself. There's nothing better than to explore and challenge yourself in the most diverse places around the world and get to know new people, new cultures, new visions.
Life is…
fun! And it should be. If it's not, make it worthwhile!
More local soulmates in Germany, Munich
Discover more perfect 24 hours
Your daily travel inspiration
10 mal GLÜCKLICH IN ... Reiseführer
Hallo liebe Reisefreunde! Unsere GLÜCKLICH IN … Bücher, die wir gemeinsam mit der Süddeutschen Zeitung herausgeben, sind mehr als gewöhnliche Reiseführer. Sie sind eine Hommage an die Lebensfreude. Sie beinhalten unsere persönlichen, handverlesenen Lieblingsorte, Geschichten, Fotos und Zitate. Wir haben unser gesamtes Wissen, tiefgehende Recherche und Herzblut von über 10
WIN 2 NIGHTS AT ALPENLOFT CHALETS IN BAD GASTEIN
Hello lovelies, it's December, the first mountains are white and we celebrate this … Read more
OCTOBER PLAYLIST
Can you believe it? It's already October. Crazy! Here our playlist for you. With lo… Read more