Locations
Ooh Baby I Like It RawRumfordstraße 39, München, Deutschland

You'll easily reach it within a ten minute walk from the famous squares Viktualienmarkt and Gärtnerplatz. It's a small and cosy place that has the best croissants and serves vegetarian and vegan dishes – curries, soups, salads and the like. They also bake their own bread and everybody craves their famous avocado & salmon toast.
Café WestendAnglerstraße 32, München, Deutschland

A charming place in which to enjoy a delicious New York breakfast including pancakes, bacon and eggs and fruit plates on a sunny terrace.
Café MaraisParkstraße 2, München, Deutschland

Having a coffee sitting at the window of this French place is a perfectly romantic and relaxing weekend activity.
EmiloButtermelcherstraße 5, München, Deutschland

A Bavarian coffee roastery in a cute location. Best marble cake in town.
VANESSAMORINKlenzestraße 39, München, Deutschland

Contemporary, Scandinavian design inspired clothing store. A clean, contemporary look, resulting in casual yet luxurious elegance – for women.
Werkstatt MünchenFraunhoferstraße 31, München, Deutschland

Beautiful, rough jewellery in a cool backyard atelier.
HayReichenbachstraße 20, München, Deutschland

Minimalist Scandinavian design furniture. Very cool!
HannibalHolzstraße 11, München, Deutschland

Avant-garde menswear.
RosenbergerReichenbachstraße 19, München, Deutschland

Designer glasses, designed and manufactured in Germany.
Ace&TateGärtnerplatz 1, München, Deutschland

The prices and designs are incredible! You can get two to three different frames for a very decent price and swap them according to your outfit.
CrossFit eoWeltenburger Str. 6, München, Deutschland

A special studio for effective Crossfit training. Exercise sessions are held in small groups.
Beach38Orleanspl. 11, 81667 München, Germany

Indoor and outdoor beach volleyball courts with a nice beach bar for refreshment afterwards.
BeacharenaFöhringer Ring 5, München, Deutschland

10+ outdoor beach volleyball courts with a small Greek restaurant next door.
Café VorhölzerArcisstraße 21, München, Deutschland

Rooftop terrace and bar with a fantastic view over Munich. Sometimes you can even spot the alps!
Theresa GrillTheresienstraße 29, München, Deutschland

An excellent and stylish steak restaurant.
KekoMariahilfstraße 24, München, Deutschland

Delicious Turkish food served with love and a great passion for hosting.
KoiWittelsbacherpl. 1, München, Deutschland

Very modern Japanese restaurant, stylish in food as well as interior design.
The HighBlumenstraße 15, München, Deutschland

Newish, small Bar that plays cool music and serves superb drinks.
Frauen 26Frauenstraße 26, München, Deutschland

A bar that turns more into a club the later the evening gets. They play cool hip-hop tunes in a relaxed living room atmosphere.
DinzlerWendling 15, Irschenberg, Deutschland

Beautiful interior, the best coffee around and great breakfast with ingredients from only regional suppliers. Fantastic cakes!
Der KandlbinderHilperting 3 Großkarolinenfeld, Deutschland

Vintage furniture dealer. Awesome stuff, great prices – always worth a visit.
HerreninselUnnamed Road, 83209 Chiemsee, Deutschland

A beautiful island in the middle of Bavaria's largest lake, lake Chiemsee. When you get there by boat, start walking through the gardens and along the complex of royal buildings.
SundownerbarJulius-Exter-Promenade 21, Übersee, Deutschland

We love this beach bar at lake Chiemsee, this is the best spot for watching the sun go down.
Wieninger BräuBernauer Straße 13B, Prien am Chiemsee, Deutschland

Craving a delicious Wiener Schnitzel? Come here and enjoy!
'Eating the marble cake as we go, we head to my own clothing store, the contemporary Scandinavian design inspired VANESSAMORIN, where we enjoy our sweet treat sitting in front of the store, basking in the afternoon sun.'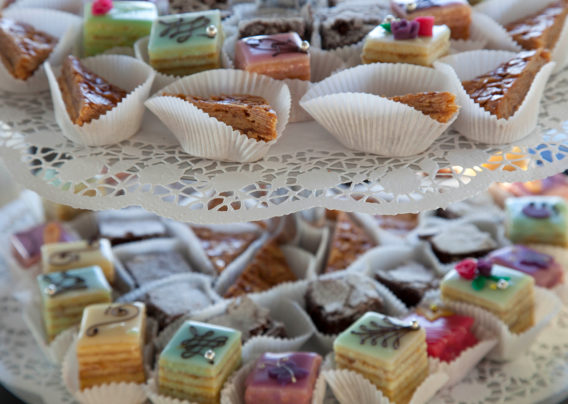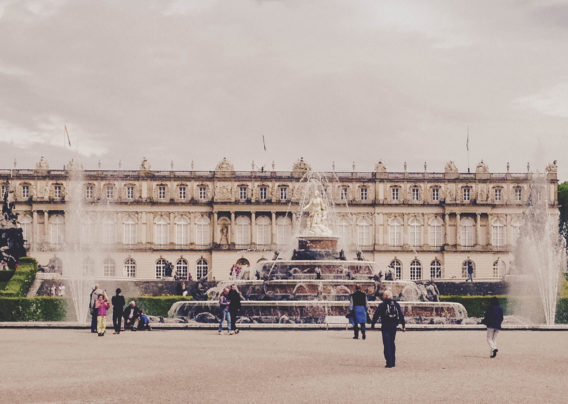 My thoughts about Munich
What do you love about your destination?
It's a beautiful and clean city, which is not too big, even though it's the third largest city in Germany. It's super close to the Bavarian Alps, where there are many lakes around and within a few hours you can even find yourself in Italy. Living here means living in a perfect combination of city life and stunning nature.
Which music fits best to your destination?
James Blake, Fever Ray, The Weeknd.
What's a "must do" in your destination?
Stop by my fashion store VANESSAMORIN in Klenzestr.39 and get a marble cake from Emilo on the way.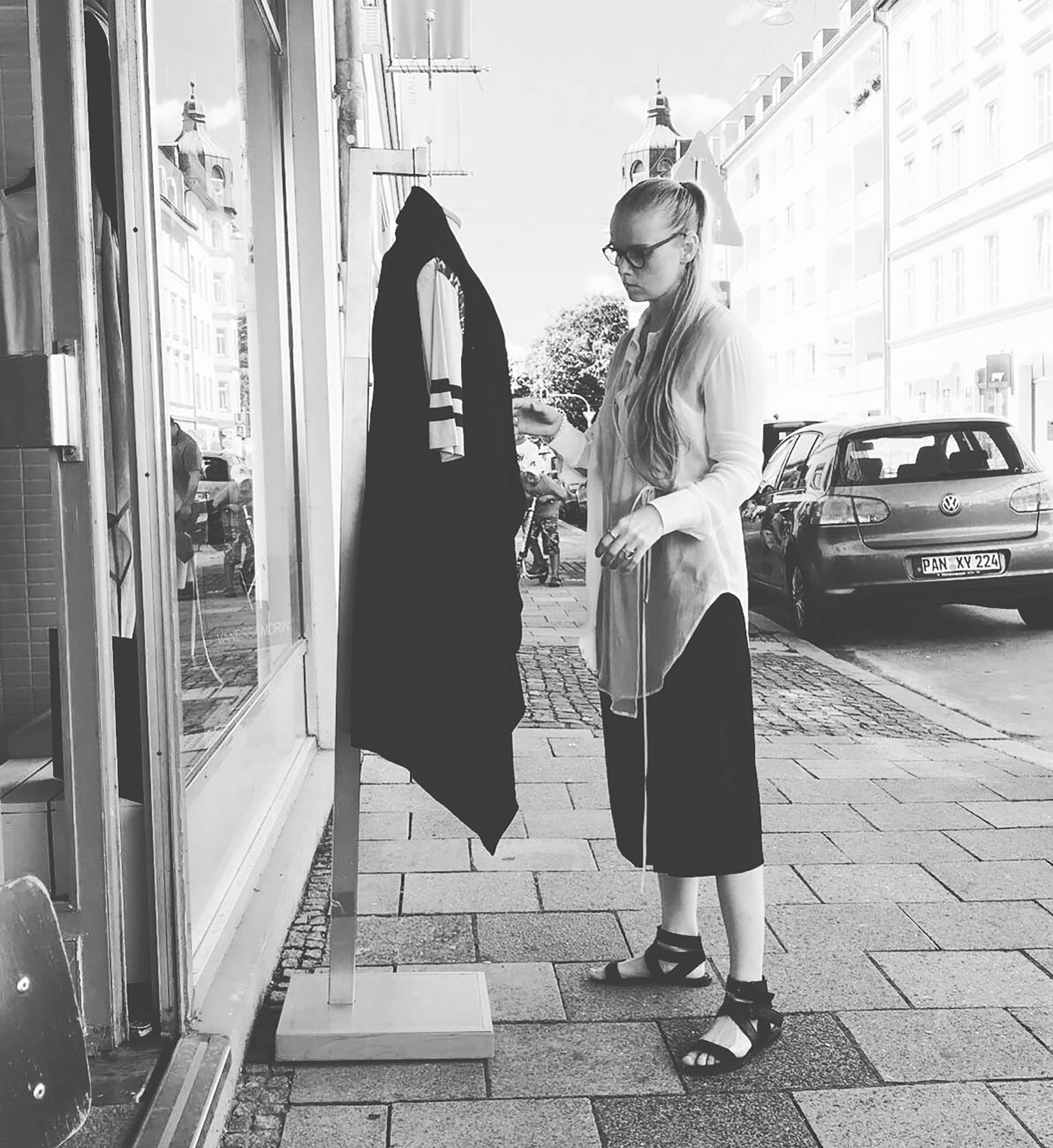 Take a vacation into My life
What's your background?
I was born in 1985 in Konstanz, a beautiful city on the lake of the same name, to a Bavarian mother and a Swedish father. We moved to Munich when I was six, so I would definitely call myself a 'Münchner Kindl'. After visiting a school for design, I decided to study fashion design at the ESMOD International Fashion School in Munich. In 2007 – three exciting years and a handful of newcomer design awards later – I was hired by the internationally renowned German-Croatian designer Damir Doma, to be in creative charge of his second line SILENT by Damir Doma. I did this job for almost six years, in which I worked at his Paris based design studio for two years. In 2012, I moved back to Munich, where I started my own fashion label together with my father – VANESSAMORIN. We are a contemporary, Scandinavian-inspired womenswear fashion label that stands for a clean, contemporary look, resulting in casual yet luxurious elegance that refines natural femininity. In August 2016 we opened our first shop in Munich's popular district Glockenbachviertel – come visit us at Klenzestraße 39!
What is the best moment of the day?
When I come home and melt into the couch and relax with my soulmate Damir in our beautiful apartment. It's even better when we've already cooked and get to enjoy a delicious dinner at our dining table and then get to watch some TV-Shows.
What inspires you?
Vintage fashion and photo books of old masters.
How would a good friend describe you?
Creative and a fashion addict that has far too many coats in her closet. Very sporty and always up for a fun game, no matter if it's mini golf, beach volleyball, bowling or any other activity. Dry sense of humour. Ambitious. Calm. Reliable. Animal lover.
Your lifestyle in 5 words?
Fashion, Sports, Creativity, Love, Travelling.
Which books, newspapers or magazines do you read?
I mostly like to leaf through old fashion magazines and books such as 'Egoiste', Irving Penn's 'Small Trades' or August Sander's 'Menschen des 20. Jahrhunderts'.
Which films blow your mind?
'Game of Thrones', 'Breaking Bad', 'Homeland', 'Blacklist' and many more. I'm totally addicted to series! But I also love classic movies like 'Fight Club'.
Person you'd like to sit next to in an airplane?
Jimmy Fallon.
What are your favourite destinations around the globe?
New York, our family house in Sweden, the islands of Thailand.
Your life philosophy?
'If you don't build your dream someone will hire you to help build theirs' –Tony A. Gaskings Jr.
Suitcase, Backpack or Weekender?
Suitcase.
What else should we know about you?
I'm an 'apartment-voyeur', I'm crazy into interior design and I love looking through the windows of nice apartments and seeing how other people have decorated and created their living spaces.
Travelling is…
opening your eyes.
Life is…
believing in destiny.
More local soulmates in Germany, Munich
Discover more perfect 24 hours
Your daily travel inspiration
10 mal GLÜCKLICH IN ... Reiseführer
Hallo liebe Reisefreunde! Unsere GLÜCKLICH IN … Bücher, die wir gemeinsam mit der Süddeutschen Zeitung herausgeben, sind mehr als gewöhnliche Reiseführer. Sie sind eine Hommage an die Lebensfreude. Sie beinhalten unsere persönlichen, handverlesenen Lieblingsorte, Geschichten, Fotos und Zitate. Wir haben unser gesamtes Wissen, tiefgehende Recherche und Herzblut von über 10
WIN 2 NIGHTS AT ALPENLOFT CHALETS IN BAD GASTEIN
Hello lovelies, it's December, the first mountains are white and we celebrate this … Read more
OCTOBER PLAYLIST
Can you believe it? It's already October. Crazy! Here our playlist for you. With lo… Read more