Locations
Gornergrat trailBahnhof Gornergrat 1, 3920 Zermatt, Schweiz

In 33 minutes the mountain railway takes you from Zermatt all the way up to Gornergrat, where you start the tough but incredibly beautiful bike trail.
Schwarzsee trailSchluhmattstrasse 60, 3920 Zermatt, Schweiz

The trail leading from Schwarzsee to Zermatt is quite an easy one, manageable for older kids.
Unique Hotel PostBahnhofstrasse 41, Zermatt, Schweiz

This breakfast buffet is full of delicious local and fresh products.
StafelalpRestaurant Stafelalp, 3920 Zermatt, Schweiz

They have an amazing sun terrace where you can enjoy all kinds of typical Swiss delicacies.
Hobbit trailBergstation Furi, Zermatt, Schweiz

The name "Hobbit Trail" is inspired by the New Zealand-like nature that surrounds you here.
Europaweg trailGornergrat, Zermatt, Schweiz

The trail leads from the "Gornergrat" to "Ranft" and is about 27 km. Plan some time for it!
Blauherd trailBlauherd ZBAG-lsu, Zermatt, Schweiz

Another beautiful trail of medium difficulty.
Cervo BarRiedweg 156, Zermatt, Schweiz

Have a refreshing drink at the bar/lounge at Mountain Boutique Resort Cervo.
Papperla PubSteinmattstrasse 36, Zermatt, Schweiz

This is the place to have a beer with the locals.
Mountain Boutique Resort CervoRiedweg 156, Zermatt, Schweiz

Apart from being a unique place to stay, their restaurant "Cervo Puro" offers a well-done mix of mountain cuisine and North Italian influences. Also have a refreshing drink at their bar/lounge "Cervo Bar".
'Being outside in the nature is the greatest gift for us.'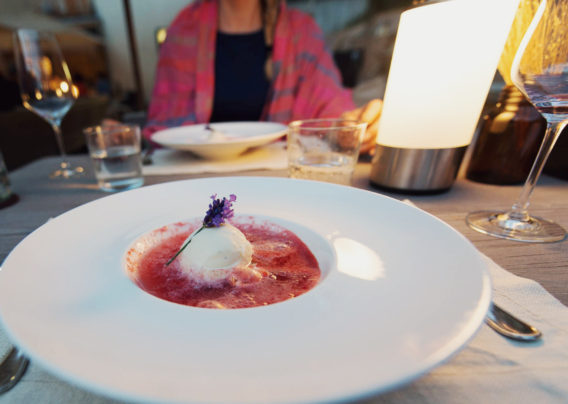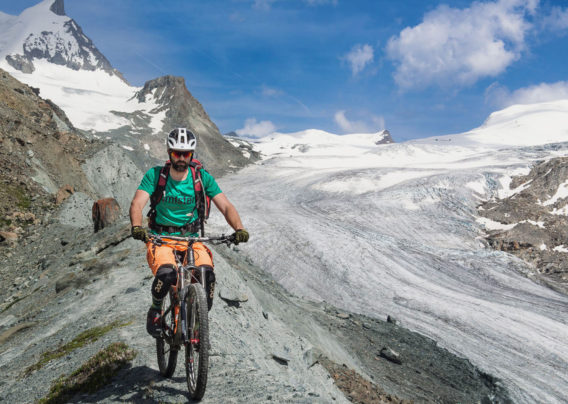 Our thoughts about Zermatt
What do you love about your destination?
Zermatt is one of the most spectacular places in Switzerland. We love it not only because of its iconic "Toblerone" shaped mountain, but also because it's a single trail paradise for mountain bikers. The village is car-free which adds a very special flair to your journey.
Which music fits best to your destination?
Boy – "We Were Here"
Check out our Spotify playlist in our profile for the perfect tunes for your mountain adventure.
What's a "must do" in your destination?
Discover the trails on Gornergrat and inhale every moment of the scenic panorama.
Take a vacation into Our life
What's your background?
We are digital natives and big mountain aficionados. We decided to travel the world and explore the most beautiful bike trails, ski hidden powder tracks, and climb spectacular rocks.
What is the best moment of the day?
Getting up early to enjoy a bike ride before breakfast.
What inspires you?
Passionate people we meet during our travels.
How would a good friend describe you?
As sports enthusiasts and outdoor lovers who love to do their own thing.
Your lifestyle in 5 words?
1. Adventure 2. lives 3. outside 4. your 5. tent
Which books, newspapers or magazines do you read?
We love to read online magazines of all kinds, but also enjoy a good old-fashioned book from time to time.
Which films blow your mind?
We love to watch action sports films that boost our motivation for the upcoming season.
Person you'd like to sit next to in an airplane?
Rachel Atherton.
What are your favourite destinations around the globe?
The Alps. So much diversity in such a small region. We haven't found anything comparable so far.
Your life philosophy?
If you are bound to social constructs like weekends, never waste one!
Suitcase, Backpack or Weekender?
XL duffel bag – travel heavy, tread light.
What else should we know about you?
If you want to follow us on our outdoor adventures, check out our online magazine: http://outdoormind.de
Travelling is…
a chance to experience and constantly learn something new.
Your daily travel inspiration
10 mal GLÜCKLICH IN ... Reiseführer
Hallo liebe Reisefreunde! Unsere GLÜCKLICH IN … Bücher, die wir gemeinsam mit der Süddeutschen Zeitung herausgeben, sind mehr als gewöhnliche Reiseführer. Sie sind eine Hommage an die Lebensfreude. Sie beinhalten unsere persönlichen, handverlesenen Lieblingsorte, Geschichten, Fotos und Zitate. Wir haben unser gesamtes Wissen, tiefgehende Recherche und Herzblut von über 10
WIN 2 NIGHTS AT ALPENLOFT CHALETS IN BAD GASTEIN
Hello lovelies, it's December, the first mountains are white and we celebrate this … Read more
OCTOBER PLAYLIST
Can you believe it? It's already October. Crazy! Here our playlist for you. With lo… Read more