Locations
PererenanJl. Pantai Pererenan No.171, Pererenan, Mengwi, Kabupaten Badung, Bali, Indonesien

This is where I live. It's my happy place, my second home. The Pererenan Beach is a popular surfer's spot, too.
CangguCanggu, Badung, Bali, Indonesien

Many of my friends live in the small coastal village of Canggu. The beaches are great for surfing, the nature in the surrounding area is incredible and there are a great many spots to eat, drink and listen to music nearby.
Hungry BirdJl. Raya Semat, Tibubeneng, Kuta Utara, Kabupaten Badung, Bali 80361, Indonesien

A wonderful café where you can listen to music, have a nice cup of coffee and work if you need to (their internet connection is really good). Most of the people working here lead a similar lifestyle as I do, so it's nice to get in touch, inspire each other or just work quietly.
Bungalow LivingJl. Raya Pantai Berawa No.35, Tibubeneng, Kuta Utara, Kabupaten Badung, Bali 80361, Indonesien

I could spend hours here. It's a shop, a café and a gallery. There's great breakfast to be had at the Bungalow Living Café!
Echo BeachEcho Beach, Jalan Pura Batu Mejan, Canggu, Badung, Bali, Indonesien

I love this beach for its variety: kick-ass surf spots, small Warungs, cute little stalls and great spots on which to have a barbecue, right by the ocean.
Your Time SpaJl. Pantai Batu Bolong No.6-8, Canggu, Kuta Utara, Kabupaten Badung, Bali 80361, Indonesien

The treatments at this spa are a real delight for body and soul.
The Farm HostelJalan Pantai Batu Bolong No.29A, Canggu, Badung, Bali, Indonesien

A beautiful, comfortable and very welcoming hostel. Some of my friends work here, so I pass by from time to time for a chat and a coffee. I always have a good time here!
Batu Bolong BeachBatu Bolong Beach, Badung, Bali, Indonesien

The best place to watch incredible sunsets from, with sandy toes and salty hair after a surf session.
Warung VarunaJl. Pantai Batu Bolong No.91, Canggu, Kuta Utara, Kabupaten Badung, Bali, Indonesien

This is where you're served typical Balinese dishes. Many locals like to come here as well, which is always a good sign.
Dian Café IIJl. Pura Batu Mejan, Canggu, Kuta Utara, Kabupaten Badung, Bali, Indonesien

I love their food, especially the Tom Kha Gai soup. You sit right by the beach, on big wooden tables, with an amazing view of the ocean. A favourite dinner spot of mine!
DeusJalan Batu Mejan No.8, Canggu, Badung, Bali, Indonesien

Hosts live music every Sunday in their beautiful garden area.
Pretty PoisonJl. Subak Canggu, Canggu, Kuta Utara, Kabupaten Badung, Bali 80361, Indonesien

My favourite day to come here is Tuesday, because that's always 'open stage' night, where musicians from all over the world come together and perform all night long.
Warung KemangiJalan Raya Semat, Tibubeneng, Badung, Bali, Indonesien

My favourite dish here is the 'Ayam Lalapan', grilled chicken with rice and home-made salsa sauce, fresh cucumber and cabbage.
'I love that I can have a fresh coconut every day while sitting on the beach and watching the waves.'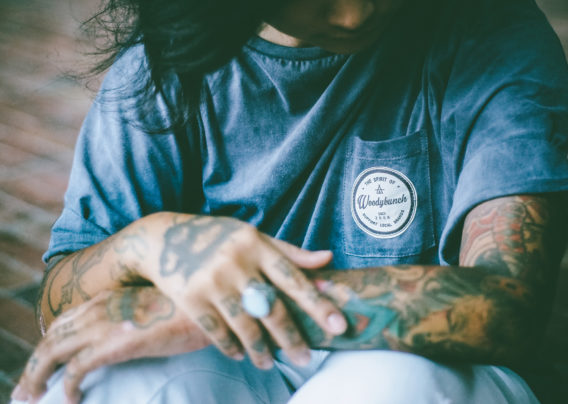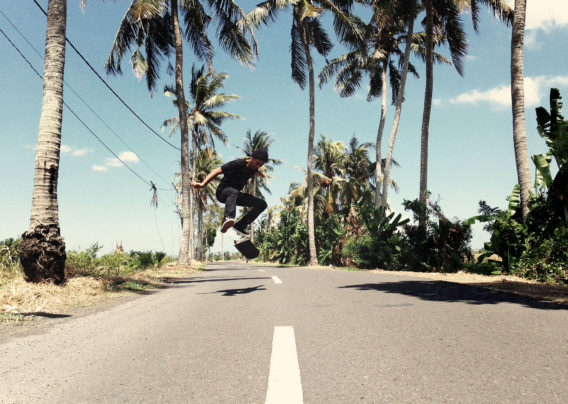 My thoughts about Bali
What do you love about your destination?
What I love about Bali is the incredible nature, the beautiful look of the rice paddies and palm trees everywhere. I love that I can have a fresh coconut every day while sitting on the beach and watching the waves. Most of all, I love the considerate social interaction of the locals. This attitude can be found in many aspects of daily life: the smiling faces of the Balinese, the calm and considerate movement in traffic and the gentle way of dealing with each other in a crowd of people. A perfect example would be the situation at a crowded concert. In Germany, very quickly you will feel somebody's elbow in the small of your back, a foot on your toe or somebody bumping into you. On Bali, crowds of people feel like the people are actually dancing with each other. The locals move like cats, without any pushing or shoving. Nobody is afraid of missing out, because it is a WE instead of an I behaviour. Most of the Balinese people perceive the human being in front of them much more intensely, in contrast to how Germans act with each other.
Which music fits best to your destination?
Edward Sharpe and the Band of Horses.
What's a "must do" in your destination?
Treat yourself to a sumptuous spa session. Afterwards, head to the beach, enjoy a Mie Goreng dish at a small Warung in the sand while watching the colourful flying paper dragons of the kids and the sunset.
Take a vacation into My life
What's your background?
Painting and drawing has always been a big part of my life. After I graduated from college, where I had studied Communication & Design, I went backpacking for one year, travelling through Australia, New Zealand and Asia. Always by my side, no matter if I stayed in a hammock or a camper, was my sketch book. Ten years later, I have to say one thing has never changed since then: I still have a hard time staying in one place for any longer period of time, as I'm so keen on exploring the world. That's the reason why I've split my life down the middle: one half of the year is spent living on Bali, the other half I live in Munich (more specifically Wessling), in a shared house with nine other people.
In 2008 I founded the company Woodybunch Clothing GmbH and opened the Woodybunch Gypsy Store in Munich. The store sells brands that I discover on my travels and which represent the wonderful and free life of the gypsy. Spell & the Gypsy Collective or FallenBROKENstreet from Byron Bay in Australia are some of these brands, for example.
Our own brand Woodybunch is produced in a limited edition of 100 pieces per colour and under fair and very familial conditions on Bali. My time on the island is the phase of designing, production and photo shooting. After six months I always go back to Munich and take care of marketing and sales.
On Bali, the scooter is my vehicle of choice when I'm on the road all day for work. The workday here is composed of buying the best fabrics from local suppliers, inspecting the printing and cutting (which is done in small factories), and dealing with packing and shipment. When I go back to Germany, I take the brand new Woodybench collection with me, which has come into being through a detail-oriented and caring work process over the last months. My goal is to deliver the unique Balinese attitude towards life to Germany.
What is the best moment of the day?
The morning. I love to get up early and to start a new, colourful day with a warm, aromatic cup of coffee in my hands.
What inspires you?
The colours and the variety of nature: the air, the sounds, the structures and the slowness of growth. Everything takes its time, and nature is the best role model to understand that.
How would a good friend describe you?
Nico is a creative doer who knows her dreams and her most reliable compass is her heart. She always has very fine sensors for the mood in a room.
Your lifestyle in 5 words?
Travelling, creativity, trust, fighting spirit, Woodybunch.
Which books, newspapers or magazines do you read?
My favourite book is the part-fictional, part-autobiographical book 'Way of the Peaceful Warrior' by Dan Millman.
Which films blow your mind?
'Into the wild' by Sean Penn.
Person you'd like to sit next to in an airplane?
Next to the man who loves and lives this life with me, split between Bali and Germany.
What are your favourite destinations around the globe?
Bali, because of its sensitive inhabitants.
New Zealand, because of its breathtaking nature.
Australia, because of its easy way of living.
Germany, because of my parents living here and the great healthcare system.
Your life philosophy?
Trust life and the way of the world. Everything happens for a reason and leads you to something even more beautiful.
Suitcase, Backpack or Weekender?
Hahaha.
What else should we know about you?
My company Woodybunch is a huge part of my life and my personality. All of my heart and my awareness of life is told in every detail of my collections. Lots of my friends have been part of this project for years now and at this point I want to thank them with all my heart for their support, their strength, their friendship and their love for me and the company. As soon as the brand Woodybunch has reached a certain dimension, I will make one of my dreams come true in Munich: a huge celebration in a circus tent on an open meadow. The stage, where live bands will perform all night long, and the whole venue will be surrounded by pillows and blankets, bubbles in the air, swings on the side, paper lanterns in the trees, Balinese flags everywhere, floral wreaths, candles, torches and fresh coffee in the morning.
Travelling is…
food for the soul, and it's what makes you happiest. It's an adventure you can go on all your life. The world is full of impressions you should inhale as much of and for as long as possible.
Life is…
motley and wonderful. Everybody is able to forge his own destiny and to shape it whichever way feels best. Picture it like a tower of colourful bricks which you can arrange and build up, new and different, every time you want to. If one brick does not make you happy anymore, replace it or simply get rid of it.
More local soulmates in Indonesia, Bali
Discover more perfect 24 hours
Your daily travel inspiration
10 mal GLÜCKLICH IN ... Reiseführer
Hallo liebe Reisefreunde! Unsere GLÜCKLICH IN … Bücher, die wir gemeinsam mit der Süddeutschen Zeitung herausgeben, sind mehr als gewöhnliche Reiseführer. Sie sind eine Hommage an die Lebensfreude. Sie beinhalten unsere persönlichen, handverlesenen Lieblingsorte, Geschichten, Fotos und Zitate. Wir haben unser gesamtes Wissen, tiefgehende Recherche und Herzblut von über 10
WIN 2 NIGHTS AT ALPENLOFT CHALETS IN BAD GASTEIN
Hello lovelies, it's December, the first mountains are white and we celebrate this … Read more
OCTOBER PLAYLIST
Can you believe it? It's already October. Crazy! Here our playlist for you. With lo… Read more