Locations
Locale4330 N Mississippi Ave, Portland, Oregon, USA

A small and welcoming café where the friendly staff serve great avocado toast and almond milk cappuccino.
Sweedeedee5202 N Albina Ave, Portland, Oregon, USA

A wonderful breakfast place where it's worth waiting a little while for a table. Everything that comes out of the kitchen looks delicious, especially the 'bakers breakfast'!
Roman Candle3377 SE Division St, Portland, Oregon, USA

Sit down at the massive community table where you can chat with others, read a book and have a coffee or just watch the guys putter around in the open kitchen and bakery.
Dapper & Wise3158 SE Division St, Portland, Oregon, USA

Definitely stop by this coffee place, even if it's only to meet the awesome people working here. The café's design is a very stylish mix of Scandinavian coolness and Portlandian originality.
Kure Juice Bar408 SW 12th Ave, Portland, Oregon, USA

Need a vitamin boost? Get yourself a delicious pressed juice and other healthy stuff at the Kure juice bar.
Union Way1022 W Burnside St, Portland, Oregon, USA

This small shopping alley only has a few stores, which are all fantastic though, especially for menswear and leather goods.
Tanner Goods4719 N Albina Ave, Portland, Oregon, USA

This store has everything the fashionable man longs for. Good quality, hip styles. Moreover, they sell the super cool brand Pendleton which we love!
Powell's City of Books1005 W Burnside St, Portland, Oregon, USA

They literally carry every genre of literature imaginable. One can spend hours in here, just browsing through the book shelves. It's magical!
Radar3951 N Mississippi Ave, Portland, Oregon, USA

Ask for a seat at the bar so you can watch the chefs prepare all the fantastic delicacies on the menu. Not only the food but also the service is excellent!
Rogue Roaster610 SW 6th St, Grants Pass, Oregon, USA

Before you continue on your journey, grab an organic micro-roasted coffee at this charming place.
Point St. GeorgePoint St George, Crescent City, Kalifornien, USA

This is what you were waiting for: endless vistas of nothing but the Pacific Ocean and the Lost Coast of California. Feel the sun on your face, the wind in your hair and the joy of being alive!
TrinidadTrinidad, California, USA

Trinidad is a cute, little coastal town and perfect for discovering the surrounding incredibly beautiful redwood forests.
The Avenue of the GiantsAvenue of the Giants, Myers Flat, Kalifornien, USA

Try to avoid the highway and drive along the Avenue of the Giants. One feels curiously at peace, surrounded by the ancient, gargantuan redwoods.
Café Sarafornia1413 Lincoln Ave, Calistoga, Kalifornien, USA

Sit outside and watch the joyous hustle and bustle of this townlet while enjoying a nice, filling breakfast.
Calistoga Roastery1426 Lincoln Ave, Calistoga, Kalifornien, USA

Before you carry on exploring Napa Valley and its thousand vineyards, have some coffee across the street from Café Sarafornia.
Men's Supply Store1343 Lincoln Ave, Calistoga, Kalifornien, USA

At first sight this store may look a bit dark and stuffy, but take a closer look and you will find a great assortment of high-quality menswear and accessories. Guys, this is your chance to get the overall adventurer look (you can even buy a canoe)!
Johnny's Restaurant and Bar1457 Lincoln Ave, Calistoga, Kalifornien, USA

Sit by the bar and watch the skilled staff prepare delicious cheese, charcuterie and oysters. Fancy food in a laid-back atmosphere.
Inglenook1991 St Helena Hwy, Rutherford, Kalifornien, USA

This wine estate is one of the most beautiful ones in the entire area. Get there early (they close at 5 PM), walk around the magnificent property and have a glass of wine!
Oat Hill Mine TrailOat Hill Mine Trailhead, Oat Hill Mine Road, Calistoga, Kalifornien, USA

Up for a little hike? The Oat Hill Mine Trail is perfect – you can go for a quick workout or keep going forever. Your reward is a stunning view over Calistoga and the neighbouring areas.
Wise Sons3150 24th Street, San Francisco, Kalifornien, USA

This place is all you could want when you wake up a little bit hungover. They are famous for their pastrami dishes but everything else is great as well!
Yoga to the People2973 16th Street, San Francisco, Kalifornien, USA

The studio is all the way up on the 5th floor with an amazing view over the San Francisco skyline. You can decide how much you pay for the lesson, mats are $2. Even though it can happen to be a big group of people, the teachers do a great job of still leading a calm, effective and beautiful yoga lesson. The name says it all!
The Battery717 Battery Street, San Francisco, Kalifornien, USA

The fun of taking a yoga class here is that this member club keeps everything very exclusive, and so not many people know the classes are open to the public. So you probably won't have more than five people in your class. Besides that, the location of The Battery is cool as hell – it used to be an old candy factory. You can also check in into their wonderful hotel rooms and enjoy all privileges members have!
City Rides Rentals370 Linden St, San Francisco, Kalifornien, USA

Those guys are super friendly and will assist you well with choosing the best bike tour for you in San Francisco. Definitely go over the Golden Gate Bridge!
Brass Tacks488a Hayes St, San Francisco, Kalifornien, USA

After you finished your bike ride, you deserve a drink at Brass Tacks, across the street. Very cool bar, nice staff and good drinks.
Two Sisters Bar and Books579 Hayes Street, San Francisco, Kalifornien, USA

This superb little bar served us the best red wine (Zinfandel) we've ever had, which, along with a few delicious nibbles rounded off a long day in San Francisco perfectly. When the weather is bad you can kill a few hours in the afternoon with a book from under the bar and a hot drink (they open at 4 PM).
Amnesia853 Valencia Street, San Francisco, Kalifornien, USA

An amazing live music venue – musicians performing on stage, cool beer on tap and an easy-going vibe.
Loló974 Valencia Street, San Francisco, Kalifornien, USA

Big shout out to this awesome Mexican restaurant and its exceptional food, interior and atmosphere!
Bernardus Lodge415 W Carmel Valley Rd, Carmel Valley, Kalifornien, USA

Take a break at this beautiful hideout in the Carmel Valley. This hotel has excellent cuisine in its 'Lucia Restaurant', and the Bernardus Spa will pamper you to the core.
Big SurBig Sur, Kalifornien, USA

Big Sur is an only lightly populated stretch of almost untouched land on the coast of California. The drive along the cliff is breathtaking – nature at its best!
Nepenthe48510 CA-1, Big Sur, Kalifornien, USA

Stop here for a quick bite, but most of all for the dazzling view from the terrace: the waves of the dark blue Pacific cascading against the emerald green coast.
El Capitan Canyon11560 Calle Real, Santa Barbara, Kalifornien, USA

Go 'glamping' (glamour + camping) and book yourself a spacious and well-equipped tent at El Capitan Canyon! They also offer more spacious rustic cabins with private fireplaces in front of each porch.
Daily Grind2001 De La Vina Street, Santa Barbara, Kalifornien, USA

The Daily Grind is a true local's spot, offering the most delicious homemade muffins and freshly squeezed juices: Try the cranberry lemon muffin, it's quite simply heaven!
Toms1344 Abbot Kinney Blvd, Kalifornien, USA

At Toms it's not just about having coffee in a charming backyard, it's also about giving back. With every purchase of one of their super cool accessories (shoes, sunglasses and more) you help people in need! The shop assistants are always happy to tell you all their concept and answer any questions.
Intelligentsia1331 Abbot Kinney Blvd, Kalifornien, USA

Very stylish high-end coffee shop rocking a cool architecture and interior design. Especially the little alley in front is perfect for sitting down and having a chat over coffee.
County Line BeachCounty Line Beach, Pacific Coast Highway, Malibu, Kalifornien, USA

When you're through with surfing, have a bite at Neptune's Net just across the street.
Kai Secret BeachKai Secret Beach, South Beach Club Way, Malibu, Kalifornien, USA

This beautiful beach is ideal for hanging out in the sun after a dip in the water. Enjoy the Californian way of life to the fullest!
'Going on a road trip along the US West Coast is an exceptional experience, and one you aren't likely to ever forget.'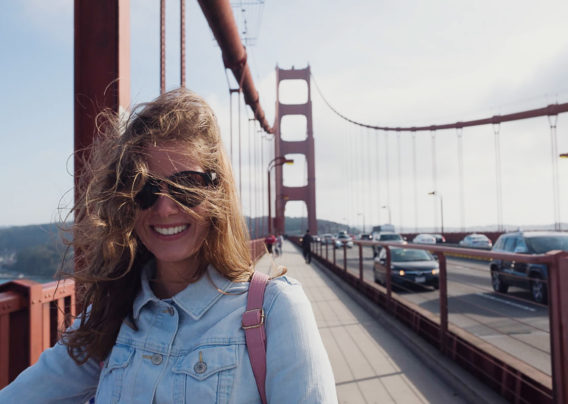 Our thoughts about US West Coast
What do you love about your destination?
Going on a road trip along the US West Coast is an exceptional experience, and one you aren't likely to ever forget. You can say what you want about this country, but owing to its nature and the sheer variety has to offer, you will want for nothing. If you stick to the coastal highway, you will pass through the most scenic landscapes and the most exciting cities imaginable. But you should also allow yourself to get lost and explore places that were not on the agenda. This route will surprise and amaze you!
Take a vacation into Our life
What's your background?
Tatjana: I was born in a little town surrounded by mountains and with a lake at its centre – quite picturesque. But I've been drawn to the sea from a young age, when I first smelled the salty breeze and felt the sand beneath my feet. On the other hand, there is also this passionate love for big cities and for exploring every little corner of concrete jungles. To process all the experiences and impressions of life, I write them all down, and I guess I could call myself lucky that I've the chance to turn this into a profession as well.
Matze: I have Franconian roots and I'm an international marketing manager with great passion for sports, music and photography.
What is the best moment of the day?
Tatjana: The stretch of time after waking up slowly (without an alarm clock, of course), still drowsy and half-asleep, when you realise how cosy your bed feels, when you catch daylight through the curtains and are suddenly hit by the excitement of a new day and all the adventures it promises to hold.
Matze: Sipping a good coffee early in the morning – ideally after a session of running, surfing, or yoga.
What inspires you?
Tatjana: Passionate people, trees, intense colours, conversations with soulmates, bike rides, running, love and anger, envisioning my future life, old but highly energetic people, travelling.
Matze: People who have a different approach to things, but still with good karma. The greatness of nature, especially the ocean and the mountains.
How would a good friend describe you?
Matze on Tatjana: she is very open-minded, super communicative and always very snoopy. She loves to explore the world and have casual chats with its taxi drivers. She has a good sense of humour. She prefers letters over numbers and loves good food. She is very reliable.
Tatjana on Matze: he is very communicative and active but he can also be super lazy and switch into panda mode, more specifically a grumpy panda in the morning. He is an authentic, determined and emotional character. He loves to dawdle, which drives me crazy. But most importantly, Matze is 100% reliable whenever you need him.
Your lifestyle in 5 words?
Tatjana: Writing, travelling, love, nature, curiosity.
Matze: Cosmopolitan, generous, casual, sporty, spiritual.
Which books, newspapers or magazines do you read?
Tatjana: Lots of books, currently 'The Heart Goes Last'. My favourite magazine right now is 'Stern Crime' – I have not missed one edition yet. Thrilling and very well done!
Matze: There is no common theme. More books than magazines, I guess. I prefer paper over digital for sure. At the moment, I'm reading 'Barbarian Days' by William Finnegan.
Which films blow your mind?
Tatjana: All the films of Alejandro González Iñárritu and currently a lot of Netflix series really blow my mind. 'Love' and 'Making a Murderer' are two I can highly recommend!
Matze: Everything which is not Hollywood blockbuster. I love the series 'Tatort', although only one in 100 is really good, but watching it is this holy-Sunday-ritual-thing. My You-have-to-watch-this tip: 'Searchin' for Sugarman'.
Person you'd like to sit next to in an airplane?
Tatjana: Michelle Obama or my mum.
Matze: My dad, who suffers from a fear of flying (which I hope to rid him of).
What are your favourite destinations around the globe?
Tatjana: Cape Town, Paris, South Tyrol, Portland, New York, the Algarve.
Matze: Any place where you don't need shoes, can surf without a wetsuit, meet friendly locals and get a coconut at the next street corner.
Your life philosophy?
Tatjana: (#1) If you don't love yourself, you can't love anyone else. So you better make sure to love yourself by (#2) making the most out of your life every day and not regretting a single thing, because (#3) everything happens for a reason.
Matze: This is work in progress but it will be deep.
Suitcase, Backpack or Weekender?
Tatjana: Suitcase.
Matze: I am flexible but mostly weekender.
What else should we know about you?
Tatjana: In almost every city I'm new to I go on a 'Big Bus Tour' and am the perfect tourist. I wish I could wink. If I were an animal I'd be a cat or a bird, although my spirit animal is probably a panda. I can be very stubborn. I have a great memory when it comes to gossip.
Matze: -
Travelling is…
Tatjana: the liberation of your soul.
Matze: luxury, so is the time to do it.
Life is…
Tatjana: now!
Matze: limited time, you better do things you love.
Your daily travel inspiration
10 mal GLÜCKLICH IN ... Reiseführer
Hallo liebe Reisefreunde! Unsere GLÜCKLICH IN … Bücher, die wir gemeinsam mit der Süddeutschen Zeitung herausgeben, sind mehr als gewöhnliche Reiseführer. Sie sind eine Hommage an die Lebensfreude. Sie beinhalten unsere persönlichen, handverlesenen Lieblingsorte, Geschichten, Fotos und Zitate. Wir haben unser gesamtes Wissen, tiefgehende Recherche und Herzblut von über 10
WIN 2 NIGHTS AT ALPENLOFT CHALETS IN BAD GASTEIN
Hello lovelies, it's December, the first mountains are white and we celebrate this … Read more
OCTOBER PLAYLIST
Can you believe it? It's already October. Crazy! Here our playlist for you. With lo… Read more