Locations
Ulmer MünsterMünsterplatz 21, Ulm, Deutschland

A must-see when in Ulm. Walking up the tower of the tallest church in the world feels always like home to me.
WilhelmsburgPrittwitzstraße 100, Ulm, Deutschland

The view from up there over my the town is just beautiful. If you're lucky, you can even spot the Alps far away in the South.
Bella VistaMünsterplatz 35, Ulm, Deutschland

The rooftop terrace with the Ulmer Münster right in front of you is my favourite summer place to enjoy a morning coffee in the sun.
Ehinger Schwarz / Stadthaus UlmMünsterplatz 50, Ulm, Deutschland

There's no place in Ulm where you can buy more beautiful jewellery – and it's hand-made! The store is located inside the Stadthaus Ulm, a fascinating building of modern architecture.
Café TröglenMünsterplatz 5, Ulm, Deutschland

Although I'm sometimes the youngest person in here, the cakes are still lovely.
EyesHirschstraße 16, Ulm, Deutschland

Summer's coming and you need new shades? I'd go to Eyes.
Knopf und PerleUlmergasse 21, Ulm, Deutschland

I like me a bit of DIY jewellery and this place is perfect for that, with its broad selection of beads and pearls.
Fräulein BergerHerrenkellergasse 14, Ulm, Deutschland

Sit down and relax at this cosy place for a (second) coffee in the morning.
Café StellaDreiköniggasse 11, 89073, Ulm, Deutschland

Quite tiny, but you always feel welcome. The snacks and cakes are delicious.
Museum der BrotkulturSalzstadelgasse 10, Ulm, Deutschland

Why not learn something new about grain, bread and the cultural and technical impacts of its making?
KäshäusleDreiköniggasse 6, Ulm, Deutschland

Say cheese! With so many variations of it here, it can be quite hard to choose.
Fischhaus HeilbronnerRebengasse 8, Ulm, Deutschland

I love buying fish here – it's fresh, it's healthy, it's delicious!
Confiserie ChocolatRabengasse 18, Ulm, Deutschland

More than just chocolate – for everybody who loves sweets just as much as I do.
Café BrettleRabengasse 10, Ulm, Deutschland

Alternative students' hot spot with great food. Try the Swabian lunch dishes.
FruchtrauschHafengasse 1, Neu-Ulm, Deutschland

Green, red, yellow or multi-coloured – drink your smoothie here or get it to go. Power to the vitamins!
SoundcircusFrauenstraße 40, Ulm, Deutschland

I'm a huge vinyl addict! This is my favourite place in Ulm for record shopping.
kunsthalle weishauptHans-und-Sophie-Scholl-Platz 1, 89073 Ulm, Deutschland

Modern art meets cool architecture – an inspiring place.
Ulmer RathausMarktplatz 1, Ulm, Deutschland

A sightseeing hot spot! I'm always taking pictures of the beautiful frescoes.
Stadtbibliothek UlmVestgasse 1, Ulm, Deutschland

The glass pyramid is a newer addition to Ulm's architectural landscape. Pretty cool!
FischerviertelFischerviertel-Blau, Weinhofberg, Ulm, Deutschland

Our old town is the best place to stroll around on summer days. I always enjoy the little places and beautiful sights.
SchwörhausWeinhof 12, 89073, Ulm, Germany

A historic building opposite the synagogue.
Schiefes HausSchwörhausgasse 6, Ulm, Deutschland

Yes, it's a tourist attraction, but it's lovely! It's fun to watch all the people standing in front of it with their heads as inclined as the house itself.
Zur ForelleFischergasse 25, Ulm, Deutschland

My favourite place when I'm craving fish for dinner.
Wilder MannFischergasse 2, Ulm, Deutschland

'Flammkuchen' is the speciality-you-have-to-try here.
QMUHLautengasse 4, Ulm, Deutschland

Quite simply the best burger in town.
Erstes Ulmer Pfannkuchenhaus / Allgäuer HofFischergasse 12, Ulm, Deutschland

What pancakes should be, in my eyes. Ever since I've been small I've Ioved pancakes and my parents always took me here.
Cafébar KutterMarktpl. 14, Ulm, Deutschland

A cool café/bar with a cool crowd.
becker'sPostgasse 1, Ulm, Deutschland

When the sun's out, get your afternoon coffee here.
MetzgerturmUnter der Metzig 7, 89073 Ulm, Deutschland

Ancient tower with an interesting myth – keep an eye out for the plaques on the walls.
StadtmauerUnter der Metzig, Ulm, Deutschland

The city walls are perfect to stroll along while people watching.
RosengartenAdlerbastei 2, Ulm, Deutschland

This is a beautiful, somewhat hidden place, perfect for relaxation.
BootshausGänslände 10, Ulm, Deutschland

In summer, I love to sit on the deck and have a cold drink outside, watching the everyday buzz of the Danube.
Friedrichsau / TiergartenTiergarten Ulm- Friedrichsau, Ulm, Deutschland

A beautiful park, great for sports and recreation.
LAGOBöfinger Str. 50, Ulm, Deutschland

Ideal for almost everything, be it a gourmet dinner or a light summer lunch.
ROXYSchillerstraße 1/12, Ulm, Deutschland

You can spend the whole night here, dancing to the music of whichever of its several floors you like best.
Cat / SauschdallPrittwitzstraße 36, Ulm, Deutschland

Cat is an alternative club and bar with a wealth of live acts and the jazz aficionados head to Sauschdall.
Trödler AbrahamKronengasse 12a, Ulm, Deutschland

Just sit down, relax and have a beer or two.
Bäckerei Zaiserherrenkellergasse 17

Also called the 'sugar bakery'!
'For me, Ulm was always the best place to grow up.'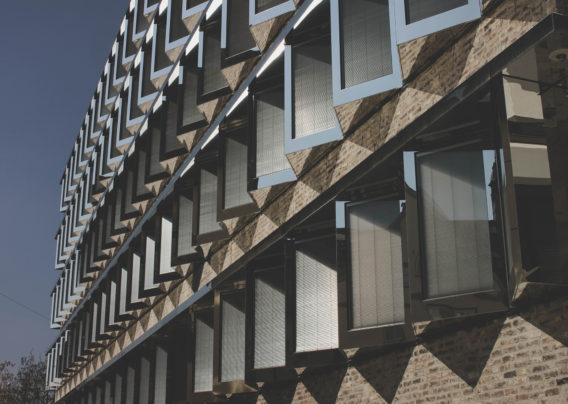 My thoughts about Ulm
What do you love about your destination?
Ulm is where I come from and I have countless memories of so many places here. It's a compact student city, with beautiful cafés, sightseeing spots and small shops all within walking distance. For me, Ulm was always the best place imaginable to grow up in. Its size is perfect, not too big and anonymous and not too small and conservative. Some even say it's the city with the highest concentration of bars in Germany. Our church Ulmer Münster and the river Danube are surely the top spots in town and what makes Ulm so unique – together with the lovely Swabian citizens, of course.
Which music fits best to your destination?
The following tracks are as different as day and night, but, well, that's how Ulm is. When just strolling through the streets of my town, one band fits perfectly: Tab Two. They were a hip jazz band from Ulm, combining rap, electro and trumpets in a very unique manner. They played all the world's stages, even at the Montreux Jazz Festival or Roskilde. 'No flagman ahead' is their most influential tune. Another successful band from my home town is Die Happy with frontwoman Marta Jandová. Try 'Supersonic Speed' for pure Rock feeling. Third recommendation, again wildly different: 'Für mich soll's rote Rosen regnen' by Hildegard Knef. She was born in Ulm and sometimes you just have to commemorate former divas. Try that one when standing on top of Ulmer Münster. Later, when walking along the Danube to the Donauturm, it's time for the 90s. Oasis with 'Don't look back in Anger' or 'Smells like teen spirit' by Nirvana. These are for the good old times when I was a teen partying there with my friends. When you finally arrive in Friedrichsau park and are if you are lucky enough to attend the Ulmer Zelt, listen to Frank Turner's 'Polaroid Picture'. It reminds me of a great concert. Listen to its lyrics and remember your old friends.
What's a "must do" in your destination?
Climb the tower of the Ulmer Münster – it's the highest church tower in the world and therefore this is a must to do when in town. No excuses.
Take a vacation into My life
What's your background?
I am a passionate traveller and have always been thrilled and inspired by exotic countries, as well as the mountains of Germany, which are closer by. I love the calmness and serenity of hiking deep down in the Alps. Travelling is somehow like personal therapy and a counterbalance to my stressful job in fashion PR.
My second passion is music: be it in intimate concerts, big venues or festivals, I spend a lot of money and even more time travelling the world to get to see my favourite bands. I even spent my honeymoon at a music festival. So guess where you'll most probably find me and my husband Stefan when in town? Browsing vinyl stores for new entrants to our huge CD and vinyl shelf.
What is the best moment of the day?
Coming home from a rough day at work and cooking a fresh delicious meal together with Stefan.
What inspires you?
Definitely music. I fall into a state of contemplation when I listen to my favourite tunes. The lyrics are and always have been the most important thing to me. I find it fascinating how music has the power to make you cry or smile.
Or, like The Eagles said in their song Hotel California: 'Some dance to remember; some dance to forget'.
How would a good friend describe you?
Loyal – to others as well as to myself. And that I have ants in my pants. It's very hard for me to sit down and do nothing. I always have to be outdoors or planning something.
Your lifestyle in 5 words?
Travelling. Visiting concerts. Meeting friends. Eating. Hiking. (Repeat.)
Which books, newspapers or magazines do you read?
As it's part of my job, I of course read a lot of fashion magazines. To inspire myself for my next hiking trip, I read the 'Outdoor' magazine. And for news, it's the 'Süddeutsche Zeitung'. When in a bookshop, I always end up flipping through the cookbooks of Jamie Oliver. I'm also a huge Harry Potter fan.
Which films blow your mind?
I'm a girl, so of course I like 'Sex and the City'. I am also a 'Vikings' and 'Big Bang Theory' addict. In terms of films, I am fond of horror, especially if it's of the subtle kind, such as in 'Paranormal Activity'.
Person you'd like to sit next to in an airplane?
Brian Molko from Placebo, my favourite band. For me, he's one of the greatest poets of all time.
What are your favourite destinations around the globe?
Southern Africa, for one, that is to say, Namibia, South Africa, Zimbabwe or Botswana – there's nothing like getting up early to see the Big Five at dawn. Being there feels like being home. You can truly feel that Africa is the cradle of mankind. I also love Scandinavia and Iceland, but for different reasons. My all-time favourites however are the United Kingdom and Republic of Ireland. A year that I don't visit these isles is a year lost to me.
Your life philosophy?
Life is what happens to you while you're busy making plans.
Suitcase, Backpack or Weekender?
Depends on the destination. But if a music festival is involved it's definitely a backpack with a tent in it.
What else should we know about you?
I'm pretty sure there are not many people on earth that love and respect animals the way I do. Unfortunately, I do not have a pet – yet. I am also fond of writing and photography. And even if you cannot see me, know that you quite possibly may be able to hear me. People say my laughter is loud and sounds like a scale. Well, I take that as a compliment?!
Travelling is…
the one thing I will remember in the very end; the countries I visited; the people I met; the places I saw; the food I ate; the water I swam in; the memories I collected in my mind forever.
Life is…
short. I hope you realise before it's too late. Honest.
Your daily travel inspiration
10 mal GLÜCKLICH IN ... Reiseführer
Hallo liebe Reisefreunde! Unsere GLÜCKLICH IN … Bücher, die wir gemeinsam mit der Süddeutschen Zeitung herausgeben, sind mehr als gewöhnliche Reiseführer. Sie sind eine Hommage an die Lebensfreude. Sie beinhalten unsere persönlichen, handverlesenen Lieblingsorte, Geschichten, Fotos und Zitate. Wir haben unser gesamtes Wissen, tiefgehende Recherche und Herzblut von über 10
WIN 2 NIGHTS AT ALPENLOFT CHALETS IN BAD GASTEIN
Hello lovelies, it's December, the first mountains are white and we celebrate this … Read more
OCTOBER PLAYLIST
Can you believe it? It's already October. Crazy! Here our playlist for you. With lo… Read more