Locations
Kaiser-Wilhelm-PromenadeStraubingerpl. 5, 5640 Bad Gastein, Österreich

Walk along the Kaiser-Wilhelm Promenade and at the very end you'll find a bridge from which you'll have a beautiful view of the waterfall.
Yoga PlattformWasserfallstraße 8, 5640 Bad Gastein, Österreich

The Yoga Plattform is a really unique and wonderful spot for doing yoga or meditating.
Das ReginaKarl-Heinrich-Waggerl-Straße 5, Bad Gastein, Österreich

One of the most beautiful hotels I know of. Not only does their breakfast make me come here frequently, I also love their interior design, and the owners are always pleasant to talk to.
SportgasteinSportgastein, Bad Gastein, Österreich

Sportgastein is near Bad Gastein and is a magnificent nature hideaway.
KraftwerkWasserfallstraße 7, 5640 Bad Gastein, Österreich

A place that is always abuzz with art, great food, events and lots of creative people. Especially during the festival sommer.frische.kunst, this is the place to be!
PavillonKaiser Wilhelm-Promenade 9, 5640 Bad Gastein, Österreich

The art gallery Pavillon is another place where great art is exhibited and where the crowds gathers during the festival sommer.frische.kunst.
KWP Concept StoreKaiser Wilhelm-Promenade 3, Bad Gastein, Österreich

Get yourself some lifestyle accessories at the KWP Concept Store and take Bad Gastein's alpine-urban/chic style back home with you.
Café SchuhKaiser Wilhelm-Promenade 9, Bad Gastein, Österreich

Their Topfenstrudel, a traditional local dessert, is the best I've tasted so far in my life, and I don't expect that to change anytime soon.
Haus HirtKaiserhofstraße 14, Bad Gastein, Österreich

An oasis of excellent style and service in the mountains.
Kötschach ValleyKötschachtal, Bad Gastein, Österreich

Leave stress behind and find peace and quiet in the beautiful Kötschach valley.
Luis Trenker WegLuis-Trenker-Weg, Bad Gastein, Österreich

My favourite trail – not so much a hike as a soothing little walk.
Waldhaus RudolfshöheHardtweg 1, Bad Gastein, Österreich

A lovely restaurant for an intimate and unique dinner.
MiramonteReitlpromenade 3, Bad Gastein, Österreich

Stay at this magnificent designer hotel and take a break from everyday life.
Hansi HansiPyrkershöhenstraße 15, Bad Gastein, Österreich

Every one of their five rooms is designed differently and exudes a love for details and an exciting creativity.
studio5640Kaiser Wilhelm-Promenade 7, Bad Gastein, Österreich

Another cool art space.
Villa MühlbergerKaiserhofstraße 2, Bad Gastein, Österreich

This beautiful villa, under monumental protection, provokes some sweet nostalgia of the old days of Bad Gastein.
Villa ExcelsiorReitlstraße 20, Bad Gastein, Österreich

A charming 19th century villa making you travel back in time to the historical heydays of this wonderful place.
KaiserhofKaiserhofstraße 6, Bad Gastein, Österreich

Enjoy the most delicious and typical Austrian delicacies offered in this fascinating historical building. Their sun terrace is great for treating yourself to some coffee and cake!
The Blonde BeansBahnhofpl. 4-8, Bad Gastein, Österreich

Great place to grab a coffee to go, just the boost you need for some outdoor adventures!
ValeriehausNassfeld 5, Bad Gastein, Österreich

Order the "Bauernpfandl", that's my favourite dish here!
Grand Hotel de l'EuropeKaiser Franz Josef-Straße 14, Bad Gastein, Österreich

This is one of the most impressive buildings, under monumental protection, of Bad Gastein. It's a hotel and a very cultural spot at the same time, go check it out!
Himmelwand HütteKötschachtal 50, Bad Gastein, Österreich

Austrians are famous for their mouth-watering sweet dishes and this place definitely serves one of the best "Weichseltopfenstrudel" of all times. Don't miss out on that!
Alpenhaus ProssauKötschachtal 55, Bad Gastein, Österreich

A picturesque mountain restaurant serving delicious and typical Austrian cuisine.
Café GamskarGamskarstraße 15, Bad Gastein, Österreich

From this place you have just the best view over Bad Gastein and the mountain panorama. Beautiful!
'Bad Gastein is wild and beautiful. A modern fairy-tale. A tiny town with infinite possibilities.'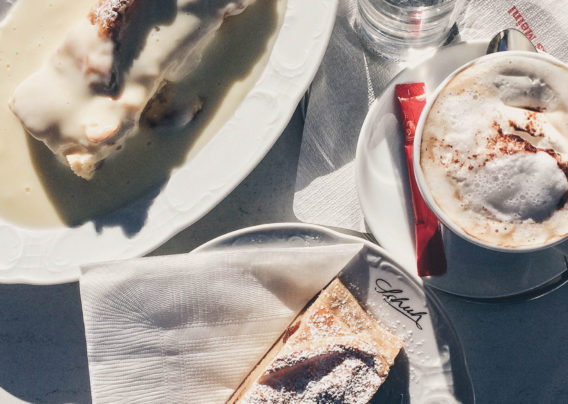 My thoughts about Bad Gastein
What do you love about your destination?
Bad Gastein is wild and beautiful. A modern fairy tale. A tiny town with infinite possibilities. Brutalism and Belle Epoque architecture built straight into the mountains. You get to enjoy city life and nature all at once. What makes Bad Gastein stand out from other tourist destinations in the Alps is the major transformation caused by all the artists and creatives – the dreamers & doers of Bad Gastein – that visit and live here similar to Ojai or Marfa. New and unconventional ideas – no matter how wild – are embraced and allowed to shine brightly, attracting more creatives to live out their dreams in Bad Gastein.
Which music fits best to your destination?
Any kind of ambient, dreamy, epic and orchestral tunes.
What's a "must do" in your destination?
Stand by the waterfall in Downtown Bad Gastein. Inhale all these powerful ions that are so good for your lungs, mood, sleep, energy levels and focus. You'll feel born again.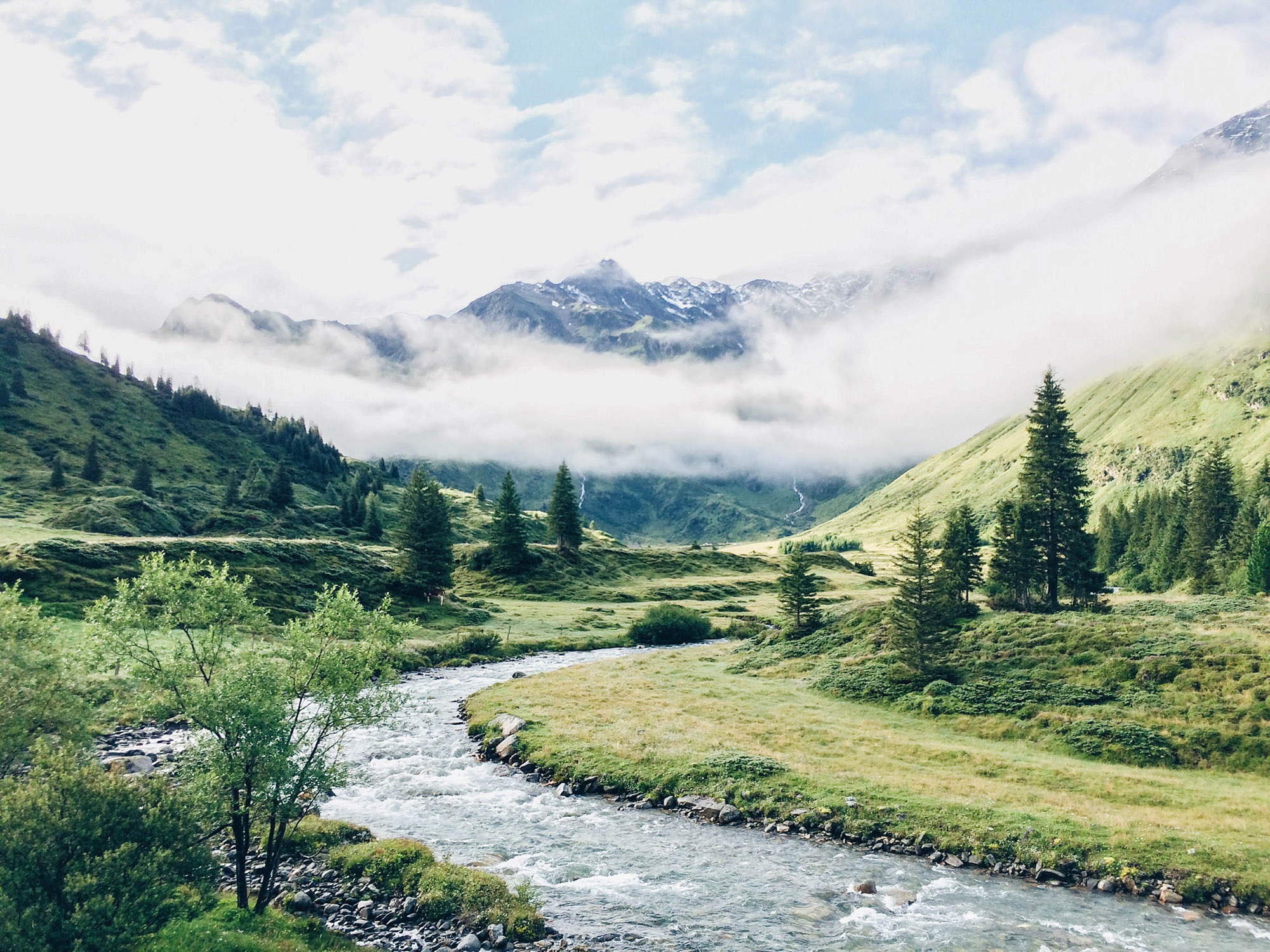 Take a vacation into My life
What's your background?
I was born into a family of travellers. My great aunt Emilia canoed along the Amazon River back in 1800 for research. Both my grandparents and parents traveled by train for a living. At 24 years old, I co-founded a European booking agency and tour production company. The focus was European touring strategy, PR, marketing, booking and production for artists like Broken Social Scene, Arcade Fire and Death Cab For Cutie. 10+ years in, I decided it was time for a change and new challenges. I moved from Berlin to Bad Gastein, the "Berlin of the Alps". I transformed my companies into Sweet Talk Creative, a creative umbrella agency. I now work on projects where I get to share my enthusiasm, love and passion with curious, conscious and progressive clients – right in the middle of the mountains. With grand panoramas, potential and perspective (both actually as well as symbolically) I unlock my creativity every day anew.
What is the best moment of the day?
Wandering the streets of Bad Gastein at midnight, dressed in nothing but our bathrobes, for some sexy nighttime floating in our secret hot springs.
What inspires you?
The truth, mountains, song lyrics, train travels, minimalism, flow, photography, meditation, genuine connections, and love.
How would a good friend describe you?
I was told I'm "always such a surprise!" And I like that. We all grow and change every day. However, I would hope that by 'surprise' he meant intuitive, spontaneous, creative, dedicated, thoughtful and adventurous.
Your lifestyle in 5 words?
In simplicity there is truth.
Which books, newspapers or magazines do you read?
I have a rather large appetite for books on matters of the heart, psychology and travel.
Person you'd like to sit next to in an airplane?
A grandma sharing her life's adventures as we sip on tomato juice (and maybe some red wine).
What are your favourite destinations around the globe?
My annual go-tos are the Alps, Venice, Provence, Lisbon, Copenhagen and Paris.
Your life philosophy?
I'm going to make everything around me beautiful – that will be my life.
Suitcase, Backpack or Weekender?
Weekender, or a small suitcase – as minimal as possible.
What else should we know about you?
My life fits into one suitcase.
Travelling is…
a way to discover and remember your truth.
Life is…
magic (most of the time).
Your daily travel inspiration
10 mal GLÜCKLICH IN ... Reiseführer
Hallo liebe Reisefreunde! Unsere GLÜCKLICH IN … Bücher, die wir gemeinsam mit der Süddeutschen Zeitung herausgeben, sind mehr als gewöhnliche Reiseführer. Sie sind eine Hommage an die Lebensfreude. Sie beinhalten unsere persönlichen, handverlesenen Lieblingsorte, Geschichten, Fotos und Zitate. Wir haben unser gesamtes Wissen, tiefgehende Recherche und Herzblut von über 10
WIN 2 NIGHTS AT ALPENLOFT CHALETS IN BAD GASTEIN
Hello lovelies, it's December, the first mountains are white and we celebrate this … Read more
OCTOBER PLAYLIST
Can you believe it? It's already October. Crazy! Here our playlist for you. With lo… Read more