Locations
ÅrstavikenSödertäljevägen, 117 61 Stockholm, Schweden

Stretching from Hammarbyslussen to Liljeholmsbron, this is a beautiful recreational area where people can walk, jog, bike, swim, and enjoy the calmness and views on the water. There are a few cafes scattered along the way if you get tired. A nice route is from Eriksdalsbadet to Hornstull or the other way around.
FabriqueRosenlundsgatan 28B, Stockholm, Schweden

A chain of traditional wood-fired bakeries offering delicious fresh baked bread, rolls, and cakes. The place on Rosenlundsgatan has an adjoining café with windows looking into the bakery. Don't miss the blueberry buns!
Urban DeliNytorget 4c, Stockholm, Schweden

A mix of grocery store, bakery, restaurant, and bar. Good for breakfast, drinks, and everything in between. Take a latte to go and sit in the park across the street, or choose the sidewalk terrace for a sit down meal. One of my favourite places in town! There are numerous locations, but the one in Sveavägen has a rooftop bar.
Pärlans KonfektyrNytorgsgatan 38, Stockholm, Schweden

A small shop selling addictive handmade caramel pralines the way Swedish grandmothers used to make them. The shop itself is worth a visit because of the décor, the music, and the staff that look like they've been transported here straight from the 1950's.
FotografiskaSTADSGÅRDSHAMNEN 24, 116 45 Stockholm, Schweden

Housed in a former industrial Art Nouveau style building (listed as a building of cultural interest) this museum is solely dedicated to photography. They've shown works by Annie Leibovitz, David LaChapelle and Nick Brandt, among others. The top floor hides a café and one of the best restaurants in Stockholm, both offering a breathtaking view of the city. The outdoor bar is also a concert venue in the summer and the museum offers photography courses.
BiblioteksgatanBiblioteksgatan, Stockholm, Schweden

Especially good if you're looking for Swedish fashion.
ACNE StudiosNorrmalmstorg 2, Stockholm, Schweden

Famous Swedish fashion brand offering clothing and accessories. The store is located in a former bank, and they've kept the vault. Best jeans on the planet. Several locations. For collection samples, one of a kind pieces, and sale items check out the ACNE Archive stores located in Vasastan and Södermalm.
&Other StoriesBiblioteksgatan 11, Stockholm, Schweden

Part of the H&M group, &OtherStories offers modern designs in bold colours and often collaborates with famous personalities from the fashion and art world on their collections. Their beauty range is developed by Ben Gorham of Byredo fame. It's worth checking out is the makeup counter and the jewelry.
Sempre Espresso BarJakobsbergsgatan 5, Stockholm, Schweden

The best coffee outside of Italy. Small space where you have your espresso by the bar while chatting with the baristas. Italian pastries, paninis, and prosecco are also offered, but you come here for the coffee. Not to be missed!
Svenskt TennStrandvägen 5, Stockholm, Schweden

The Swedish interior design company has been located at the same address since 1927. Beautiful furniture - posh, fancy, and pricey. But worth a visit, especially for the Josef Frank patterns that can be found on different furniture and accessories throughout the store.
Hallwylska bar/museumHamngatan 4, Stockholm, Schweden

Once upon a time this was the home of Count and Countess Walther and Wilhelmina von Hallwyl. The house now stands as a unique testimonial of the lifestyle and décor of the late Victorian period in Sweden. The museum is worth a visit and when you're done, grab a drink in the courtyard bar. The bar is only open during the summer season.
RåkulturKungstensgatan 2, Stockholm, Schweden

Located in an old locker room in the Stockholm School of Ballet is the best sushi restaurant I've come across… ever. The maki and the special maki rolls are not only delicious but small pieces of art. Open during lunch and dinner. Situated just above Råkultur is Esperanto (same owner), considered the best restaurant in Sweden.
LuzetteCentralplan 25, Stockholm, Schweden

The name of this spot comes from the word luz (light) and is inspired by a luminaire that Peter Behrens designed in the 1920s, found in Stockholm Central Station. A more modern version can be found in the restaurant. The modern brasserie contains a dining area, bar, outdoor dining space, and a takeout counter. Famous chef Tommy Myllymäki is the head creative. A visit is strongly recommended.
KatarinavägenKatarinavägen, Stockholm, Schweden

Stretches from Slussen into Fjällgatan. If you've ever received a postcard from Stockholm, chances are good the photograph was taken here. Best view of the city, located just above Fotografiska museum. Feel free to continue on Fjällgatan to stroll through buildings of cultural interest. #nofilter needed. And the best part? It's free!
MosebacketerassenMosebacke torg 6, Stockholm, Schweden

Biergarten located above Katarinavägen and the views only get better with each pint from the small indie breweries. No reservations. Only open in summer.
StrandvägenStrandvägen, Stockholm, Schweden

Nice boulevard to stroll along.
DjurgårdenDjurgården, Stockholm, Schweden

A beautiful island in Stockholm's east end.
B.A.R.Blasieholmsgatan 4A, Stockholm, Schweden

B.A.R. is the third restaurant from the award-winning chefs and gastronomic visionaries, Henrik Norström, Peter Johansson, and Daniel Frick. Great for fish!
'Being able to have so many places for skinny dipping is great.'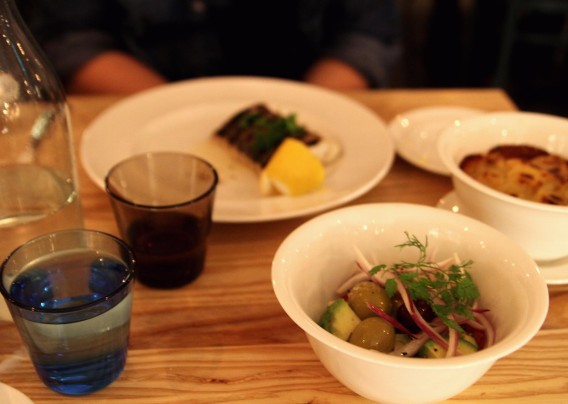 My thoughts about Stockholm
What do you love about your destination?
It's home. It's beautiful. It's quiet. It has a small town feel but at the same time is very international. There is so much water and green space. I love that after a night out I can walk home barefoot (summertime). So many good restaurants. And you can skinny dip in so many places 😉
Which music fits best to your destination?
I like the sounds of the city – they're the best backdrop. Good alternatives are "Dear Old Stockholm" by John Coltrane or "Sakta vi gå genom stan" by Monica Zetterlund.
Take a vacation into My life
What's your background?
Born in Poland, raised in Sweden, NYC mindset.
What is the best moment of the day?
Evening/cocktail hour.
What inspires you?
The four strong women I consider my best friends. People who turn their passions into something real. My parents.
How would a good friend describe you?
Independent, intelligent, funny, charming, loud, bon vivant, wine lover, open to new experiences.
Your lifestyle in 5 words?
Different than a year ago.
Which books, newspapers or magazines do you read?
Books: currently the Cormoran Strike novels by Robert Galbraith (also known as J.K. Rowling), actually anything by J.K. Rowling, Donna Tartt, "The Little Friend and A Personal History, a Bio" by Katharine Graham. I don't discriminate any genres and I'll read anything that strikes me as interesting.
Newspapers & mags: the dailies, the leisure section of the FT, The New Yorker, and some fashion magazines.
Which films blow your mind?
Series: House of Cards is my absolute favorite. Mad Men during the good seasons. And Friends, always Friends.
Films: the "Before…" trilogy by Linklater, Boyhood, Lost in Translation, Station Agent, Tinker Tailor Soldier Spy, Begin Again, Once, A Single Man, the Grand Budapest Hotel... to name a few.
Person you'd like to sit next to in an airplane?
Hmmm… tough one. Currently I would love to chat up J.K. Rowling but if Ryszard Kapuscinski was still alive, that would be a real treat.
What are your favourite destinations around the globe?
NYC, Istanbul, Amsterdam, London, Venice, Vienna, Hamburg, Warsaw, San Francisco.
Your life philosophy?
A friend once joked "better crazy than lazy." She has a point—enjoy life and cut the crap.
Suitcase, Backpack or Weekender?
Mostly weekender.
What else should we know about you?
I turn into a hobby bartender after dusk. Being the author of a published book is on my bucket list. I recently got that second piercing I always wanted. I do NOT share food. I love my freckles. I'll never think Pink Floyd is the best band in the world. I would love to have a great singing voice.
Travelling is…
something I long for when I'm not doing it.
Life is…
currently a bit up in the air.
More local soulmates in Sweden, Stockholm
Discover more perfect 24 hours
Your daily travel inspiration
10 mal GLÜCKLICH IN ... Reiseführer
Hallo liebe Reisefreunde! Unsere GLÜCKLICH IN … Bücher, die wir gemeinsam mit der Süddeutschen Zeitung herausgeben, sind mehr als gewöhnliche Reiseführer. Sie sind eine Hommage an die Lebensfreude. Sie beinhalten unsere persönlichen, handverlesenen Lieblingsorte, Geschichten, Fotos und Zitate. Wir haben unser gesamtes Wissen, tiefgehende Recherche und Herzblut von über 10
WIN 2 NIGHTS AT ALPENLOFT CHALETS IN BAD GASTEIN
Hello lovelies, it's December, the first mountains are white and we celebrate this … Read more
OCTOBER PLAYLIST
Can you believe it? It's already October. Crazy! Here our playlist for you. With lo… Read more