Locations
Sheung Luk Stream WaterfallSheung Luk stream, Sai Kung, Hongkong

Hike all the way out to Tai Long Wan and spend the day bathing in the natural rock pools. The waterfall gets busy on the weekend, so come during the week.
The Peak121 Peak Road, The Peak, Hongkong

One of the best views Hong Kong has to offer. Hike all the way up, take the tram or hop in a taxi to take you there.
Genie Juicery2096B, Podium Level 2, ifc Mall, Central, Hong Kong

The best place for raw, cold-pressed juices. The grab and go outlets are sprinkled all throughout Hong Kong.
Fineprint38 Peel Street, Central, Hongkong

A great place to kick-start your day with coffee. Fineprint serves almond milk, unlike many of the other coffee shops in this city.
Metta21/F California Tower, 30-32 D'Aguilar Street, Central, Hong Kong

A start-up hub for entrepreneurs. Come and meet other like-minded people who are starting their new business or come and find companies to invest in.
Gonpachi4/F, Lee Gardens One, 33 Hysan Avenue, Causeway Bay, Hong Kong

A Japanese resto that serves delicious salmon and hand-pounded homemade buckwheat soba noodles. The beautiful décor also completes the Japanese dining experience.
Grassroots Pantry108 Hollywood Road, Sheung Wan, Hong Kong

The restaurant and its chef, Peggy Chan, are spearheading the plant-based movement in Hong Kong. The menu of vegetarian and vegan dishes changes according to season.
Caelum GreeneG/F – 1/F, 90-92 Hollywood Road, Central, Hong Kong

Caelum Greene is Hong Kong's first lifestyle boutique that fuses fashion and wellness. Enjoy the latest athleisure, beauty products and homeware.
Oldish53 Tung Street, Sheung Wan, Hong Kong

A cute little retro-style café in Sheung Wan. Stroll over here from busy Central and let time stand still while you enjoy coffee and cake at this adorable hipster spot.
Chi Lin Nunnery5 Chi Lin Drive, Diamond Hill, Kowloon, Hong Kong

Chi Lin Nunnery is a haven of serenity in busy Hong Kong. The traditional Buddhist temples juxtaposed against the modern skyscrapers offer the perfect Instagram backdrop.
Barre 2 Barre4/F Cheung Hing Commercial Building, 37 Cochrane Street

One of the only two studios in Hong Kong that teaches barre classes. Other offerings include yoga, as well as cardio bounce classes.
China Club13-14/F, Old Bank of China Building, Bank Street, Central, Hong Kong

This members only club and restaurant serves traditional Chinese cuisine. Come for the excellent food or the chic décor.
Carbone33 Wyndham Street, LKF Tower, Hong Kong

This New York-style Italian eatery is like a scene out of The Godfather. Socialites and celebrities like to gather here, so don't be surprised if you spot someone you "know".
Float On HKBasement (Door Beside 7-11), 89 Caine Road, Mid-Levels, Hong Kong

Float On HK is Hong Kong's first deprivation centre. Dreampods are filled with 500 kg of Epsom salt and magnesium in water kept at 34 degrees Celsius. Float, relax and recharge.
"The more you like your own decisions, the less you need others to like them."
My thoughts about Hong Kong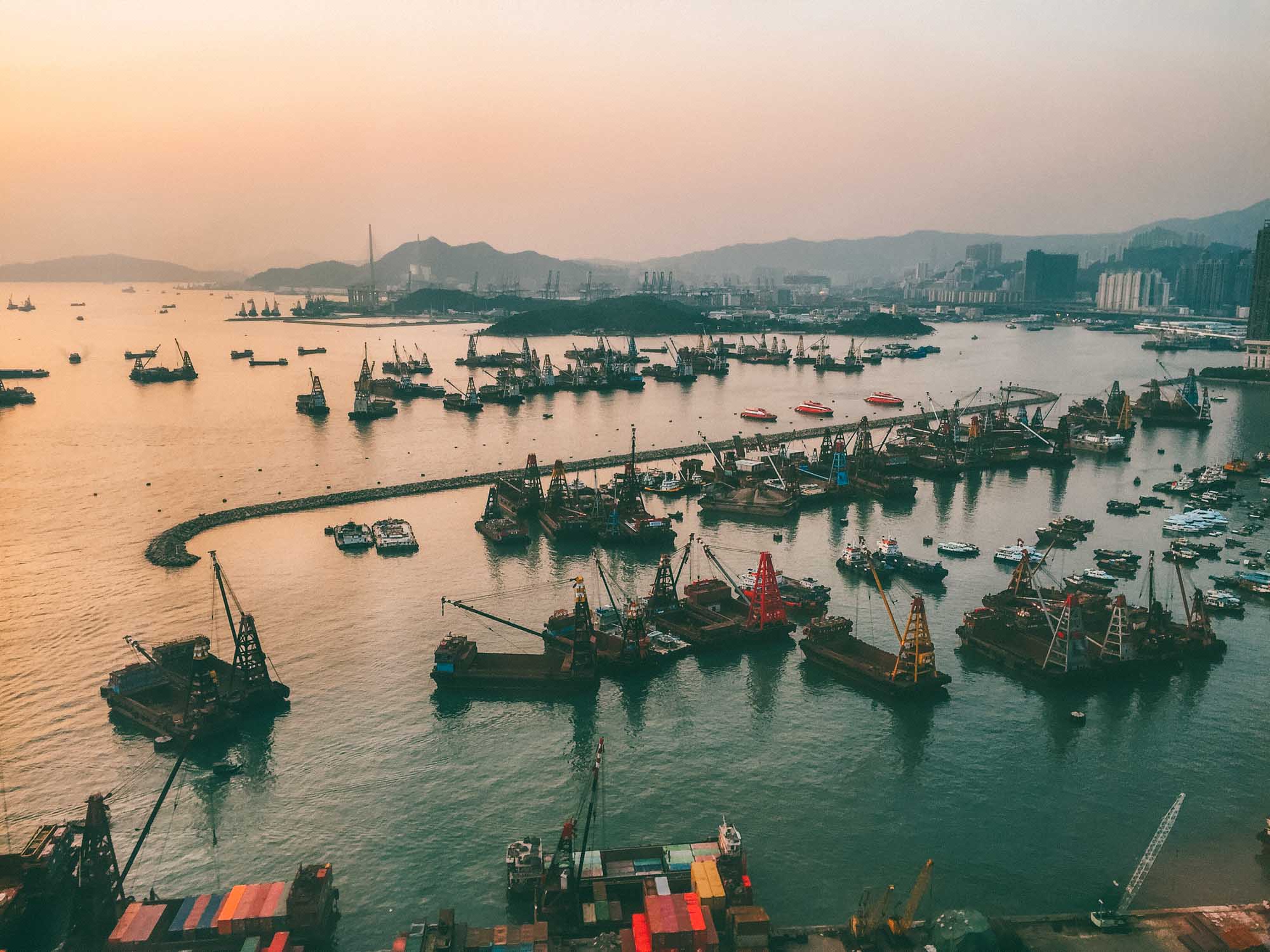 Take a vacation into My life
What is your personal background?
I was born in London, grew up in Switzerland and have been living in Hong Kong for the last 14 years. I've been in publishing my entire life. I started out in the fashion industry. While working as a fashion editor, wellness had become a big part of what I was exploring in my spare time. So I created one of the first online wellness magazines, The Source Asia. I went on to become the editor-in-chief of a spa/wellness publication and eventually launched my own travel and wellness online magazine, Destination Deluxe.
What is the best moment of the day?
I love mornings. I'm super productive in the morning and have tons of energy the minute I get up.
What inspires you?
I think travel never ceases to inspire me. I love learning about other cultures and visiting new destinations. I also love to bring wellness closer to others. At the moment it's mainly in form of information…articles.
How would a good friend describe you?
Curious, reliable, creative, spiritual.
Your lifestyle in 5 words?
Wellness, travel, meditation, nature, healing.
Which books, newspapers or magazines do you read?
I read a lot of spiritual books and travel magazines, including Condé Nast Traveler, Travel + Leisure. Online I read wellandgood.com, hipandhealthy.com, eluxemagazine.com, thediscoverer.com.
Which films / series blow your mind?
Film: Samsara. It takes you around the world in 99 minutes and zero words.
TV series: I started watching The Young Pope and loved it.
Person you'd like to sit next to in an airplane?
Elon Musk
What are your favourite destinations around the globe?
My favourite destination is Raja Ampat in Indonesia. Loved swimming with the sharks and turtles there. I like Indonesia in general. I love Bali, and I also want to go back to Central Java.
Your life philosophy?
The more you like your own decisions, the less you need others to like them.
Suitcase, weekender or backpack?
People always laugh, because no matter where I go, I always bring my massive Tumi suitcase.
What else should we know about you?
I love martial arts.
Traveling is:
enriching.
Life is:
happening now
All images from Vivienne Tang.
More local soulmates in Hong Kong
Discover more perfect 24 hours
Your daily travel inspiration
10 mal GLÜCKLICH IN ... Reiseführer
Hallo liebe Reisefreunde! Unsere GLÜCKLICH IN … Bücher, die wir gemeinsam mit der Süddeutschen Zeitung herausgeben, sind mehr als gewöhnliche Reiseführer. Sie sind eine Hommage an die Lebensfreude. Sie beinhalten unsere persönlichen, handverlesenen Lieblingsorte, Geschichten, Fotos und Zitate. Wir haben unser gesamtes Wissen, tiefgehende Recherche und Herzblut von über 10
WIN 2 NIGHTS AT ALPENLOFT CHALETS IN BAD GASTEIN
Hello lovelies, it's December, the first mountains are white and we celebrate this … Read more
OCTOBER PLAYLIST
Can you believe it? It's already October. Crazy! Here our playlist for you. With lo… Read more