Locations
Adega NovaR. Francisco Barreto 24, 8000-363 Faro, Portugal

The restaurant Adega Nova serves typical Portuguese food in an old warehouse location.
Praia da MarinhaPraia da Marinha, Lagoa, Portugal

This beach is said to be one of the most wonderful and quaint beaches in the world.
Helydoce Padaria in LagoaR. Francisco Sá Carneiro LE, 8400-386 Lagoa, Portugal

A lovely breakfast spot. Gorge on some delicious Pastéis de Nata!
Nossa Senhora da RochaNossa Senhora da Rocha, Portugal

A medieval castle from where you have fantastic views of the beach and the sea.
CarvoeiroCarvoeiro, Portugal

Visit the little village Carvoeiro where you have plenty of opportunities to eat and drink or just stroll around.
Casa ArteCASA ARTE, Lagos, Portugal

Casa Arte is located in a somewhat remote area and offers five beautiful rooms for guests to stay in. Truly a hidden gem, run with great love and passion by its friendly owners Sarah and Freek!
Tasca do KikoEstr. de São Roque A, 8600-315 Lagos, Portugal

Enjoy great tapas here!
Chico ZeR. da Torre, 8600 Odiáxere, Portugal

At the Chico Ze great fish dishes are served in an authentic way.
Cantinho do MarRua do Alentejo, Armação de Pêra, Portugal

A little farther away from Lagos but still worth a visit, owing to the excellent kitchen and service.
Chachoa RestaurantEstr. Funchal-Lagos, 8600 Lagos, Portugal

A top-notch restaurant in a beautiful setting!
Restaurante dos ArtistasR. Cândido dos Reis 68, Lagos, Portugal

Located at the old town of Lagos, this restaurant serves a delicious mix of regional and international cuisine.
MonchiqueMonchique, Portugal

Monchique is a beautiful small village located in a mountainous region, offering great views from the two peaks of Foia and Picota. Another popular highlight of the area are the "Caldas de Monchique", the natural hot springs.
Café RouxinolN266 204z, 8550-232 Monchique, Portugal

When it's still cold in the evenings, enjoy dinner in front of the wonderful open fireplace inside.
Restaurante O Luar da FoiaN266-3 2, 8550 Monchique, Portugal

Come here for excellent Portuguese cuisine and an incredible view of the area.
O Poço da SerraN266, 8550, Portugal

We instantly felt welcome at this lovely hidden spot in the mountains, and the food they serve here is typical Portuguese home cooking. Yummy!
BarradasN124-1 604, 8300 Silves, Portugal

Fine dining in a remote farmhouse.
Marisqueira RuiR. Comendador Vilarinho 27, Silves, Portugal

Another one of those absolutely great seafood restaurants in the Algarve!
Burgau Beach BarR. da Praia, Burgau, Portugal

Our friends Marco and Iris are doing a great job with this beach side restaurant where you can witness stunning sunsets while having a drink and watching your kids play in the sand.
Casa ModestaCasa Modesta, Rua das Fontes Santas, Olhão, Portugal

Casa Modesta perfectly combines clean minimalist architecture and interior design with the traditional way of life of the Algarve. Simply beautiful!
Fazenda NovaEM514 642X, 8800-509, Portugal

Stay at this heavenly boutique hotel and indulge in all their luxurious amenities.
Dona AnaPraia Dona Ana, Lagos, Portugal

This magical beach with its golden sand, crystal clear water and high cliffs is within walking distance of Lagos city centre.
Praia Do CamiloPraia do Camilo, Lagos, Portugal

Protected from the wind by the cliffs framing the bay, this beach is the ideal spot for a long day in the sun!
Praia de Porto de MosPraia de Porto Mós, Portugal

Perfect for surfing and wind surfing!
Meia PraiaMeia Praia, Lagos, Portugal

Take long and relaxing beach walks at the 4 km long Meia Praia.
Praia da RochaPraia da Rocha, Portimão, Portugal

Next to the Praia da Rocha are many small restaurants and cafés for a nice lunch break on a long beach day.
Praia de BenagilPraia de Benagil, Portugal

A small beach where you can watch fishermen bring in their catch of the day while sunbathing.
Casas da CercaCasas da Cerca, Portugal

In the middle of nowhere inside the Parque Natural do Sudoeste Alentejano e Costa Vicentina lies this hidden gem. Three little huts can be rented from the lovely owner and architect Graça Jalles. The perfect hideout for your Portuguese adventure!
'It's time for the first family holiday as the four us!'
Our thoughts about Portugal South
What do you love about your destination?
The spectacular cliff line, the surfers, the family-friendly locals, the multitude of diverse beaches, the hidden gems…
What's a "must do" in your destination?
Swim, eat, play golf, hike along the cliff line, visit the westernmost point of Europe in Sagres, snorkel, surf, have fun!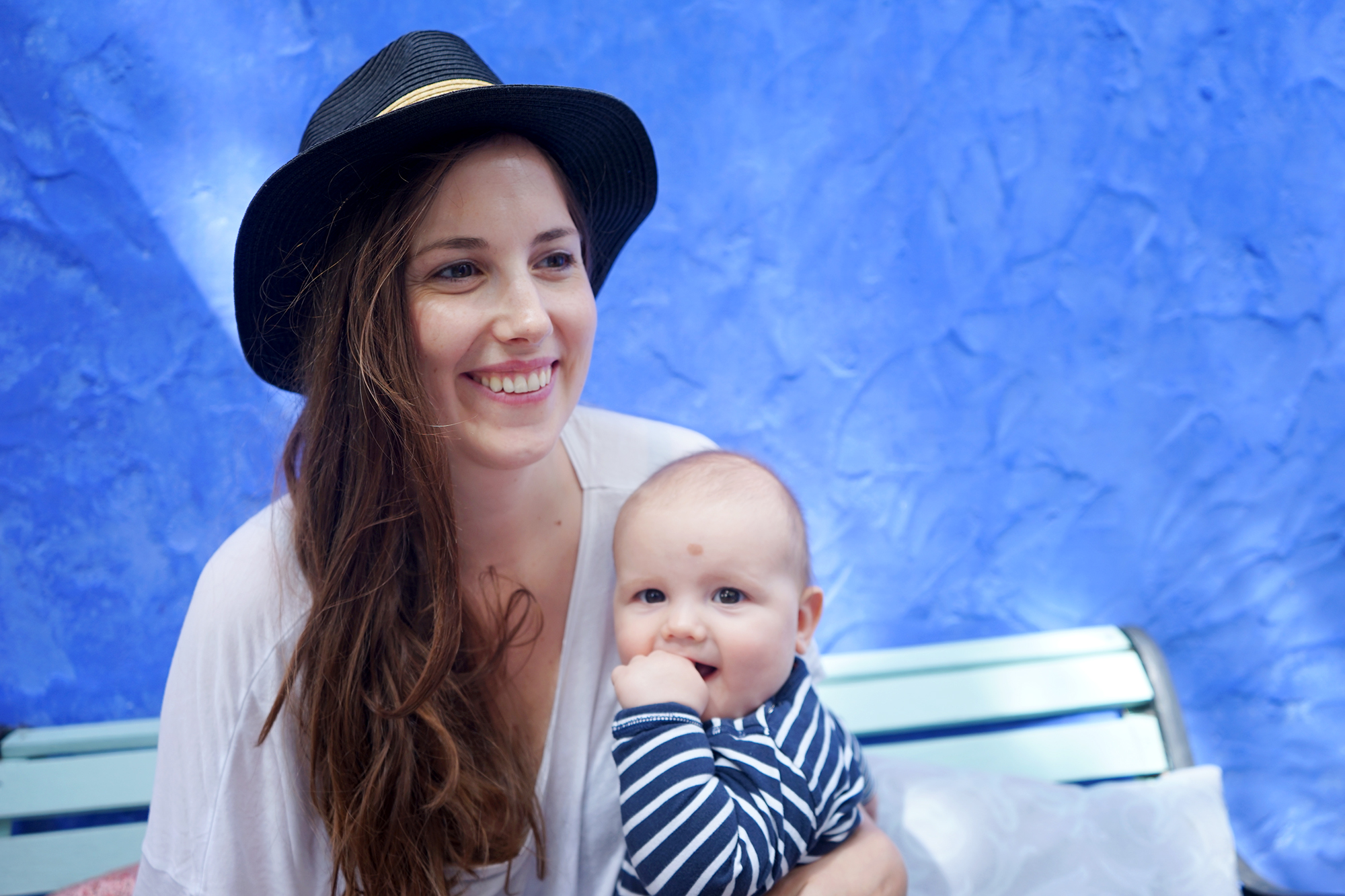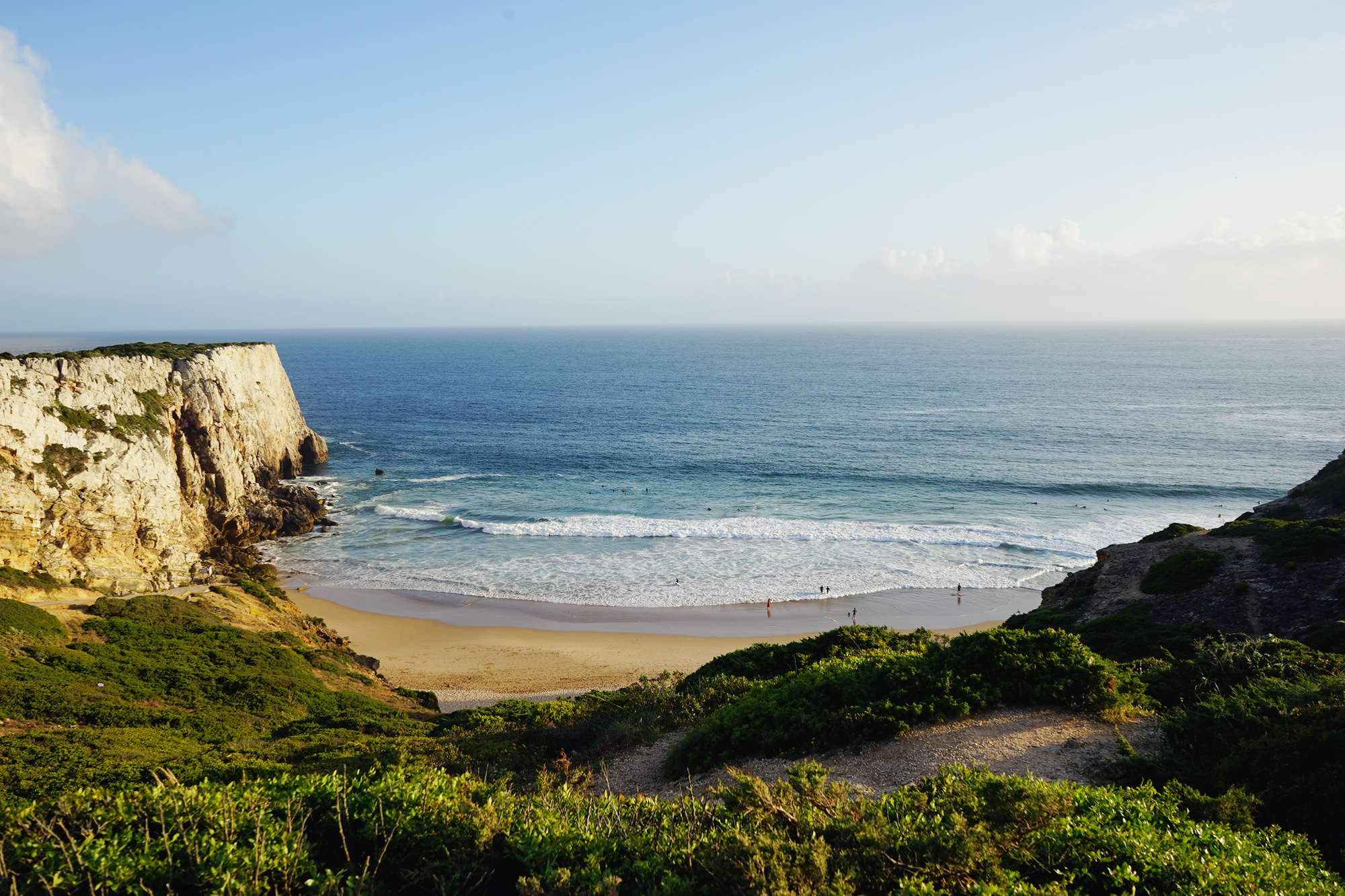 Take a vacation into Our life
What's your background?
We are a family of four currently based in Berlin but we love to go on adventures near and far. Tanja (with both Swedish and Austrian roots) started Nectar & Pulse in 2010. Chris (originally from Hamburg) and Tanja met in 2011, fell in love, got married, and became parents to their beloved kids, Jonathan and Victor. Chris worked for BMW and holds a PhD in Mechanical Engineering but switched over to working at Nectar & Pulse in 2015. We are soulmates with a shared love for family, business, travel, transformation, fashion, music, exceptional hotels and wonderful places made with love. From luxury trips to getting up close and personal with nature and locals, we love it all. Come along and follow us! ☺ We love to show you the world from our perspective.
What is the best moment of the day?
Oh so many, but mostly the tiny little moments in between, when we realise we're living the life we always dreamed of.
What inspires you?
People of all kinds. Smart people, happy people, passionate people, funny people, successful people, small people (=kids ☺ ), old and wise people, people who dare to be pioneers and do something really well or love to do it.
Travelling. Nature. Sex. Urbanity. Fashion. Photography. Music. Films.
Each other. Love.
How would a good friend describe you?
Soulmates who just HAD to meet! Make babies, business and life together. ☺
Your lifestyle in 5 words?
Love. Family. Business. Wanderlust. Nectar&Pulse.
Which books, newspapers or magazines do you read?
Books by: Haruki Murakami, Susan Sontag, Amelie Nothomb, Martin Suter, Thomas Bernhard, António Lobo Antunes, Benedict Wells.
Books about: Entrepreneurs, business stories, photography, brands, design. Biographies.
Magazines: brandeins, Zeit magazine, sz-Magazine, Vogue, Stern, Monocle, Interview, i-D, 032, Travel Almanac, the gentlewomen, Another Man, Harvard Business Manager, Business Punk, New York Times Mag, Kinfolk, Cereal, Vanity Fair, AD, The Weekender, Numéro, apartamento, Suitcase, Elle Traveller.
Newspapers: Zeit, FAZ, SZ, New York Times.
Online: Zeit, Spiegel, Monocle, Refinery29, Huffington Post, New York Times, Guardian, Twitter, Harvard Business, Süddeutsche,..
Blogs: Mit Vergnügen, A Cup of Jo, Little Years, Journelles, Man Repeller, bleubird, Mother Mag, Romy and the bunnies, Lillies and León, Primer & Lacquer, This is Jane Wayne, Daily Dose, ohhhhmhhhh...
Which films blow your mind?
Films: City of God, most by Quentin Tarantino, Lost in Translation, Magnolia, Before Sunset, Schmetterling und Taucherglocke, Woody Allen Films, Ziemlich beste Freunde, Nowhere Boy, Peaceful Warrior, Margarete Steiff, Into the Wild, Interstellar, Darjeeling Limited, Blow, Das Leben der Anderen, Victoria, Wer früher stirbt ist länger tot, Gegen die Wand, die Verurteilten, Der Pate, Forrest Gump, Grand Budapest Hotel, Garden State, Wie ein einziger Tag, Amelie, Her, Babel, Herr der Ringe, 12 years a slave, Wall Street, Die Kinder des Monsieur Mathieu, Entdeckung der Unendlichkeit, Twice Born,...
Series: True Detective, Game of Thrones, House of Cards, Love, Chef's Table, Homeland, Die Brücke, Narcos, Mad Men, Suits, Last Chance U, The Affair,...
Person you'd like to sit next to in an airplane?
Each other.
What are your favourite destinations around the globe?
Sweden, Iceland, California, Austria, Walchensee, Japan, Lago Maggiore, Italy, New York, Maldives, Berlin, Hamburg,...wherever loved ones are.
Your life philosophy?
You only live once — make it a grand journey. Taste the NECTAR. Feel the PULSE.
Suitcase, Backpack or Weekender?
All three. Tanja: Suitcase. Chris: Weekender. Boys: Backpack. ☺
Travelling is…
broaden our horizons.
Life is…
a fulfilling journey.
Your daily travel inspiration
10 mal GLÜCKLICH IN ... Reiseführer
Hallo liebe Reisefreunde! Unsere GLÜCKLICH IN … Bücher, die wir gemeinsam mit der Süddeutschen Zeitung herausgeben, sind mehr als gewöhnliche Reiseführer. Sie sind eine Hommage an die Lebensfreude. Sie beinhalten unsere persönlichen, handverlesenen Lieblingsorte, Geschichten, Fotos und Zitate. Wir haben unser gesamtes Wissen, tiefgehende Recherche und Herzblut von über 10
WIN 2 NIGHTS AT ALPENLOFT CHALETS IN BAD GASTEIN
Hello lovelies, it's December, the first mountains are white and we celebrate this … Read more
OCTOBER PLAYLIST
Can you believe it? It's already October. Crazy! Here our playlist for you. With lo… Read more