Locations
Café der ProvinzMaria-Treu-Gasse 1-3, 1080 Wien, Österreich

A french café with a really nice garden area to sit in during summer. Their brunch buffet on the weekend is a winner!
MuseumsQuartierMuseumsplatz 1, 1070 Wien, Österreich

This is the place to be—not only during summer, because in the winter you can go and visit all the great exhibitions.
Glacis BeislBreite G. 4, Wien, Österreich

When you sit here in the summer, you feel as though you're outside the city although you're right in the centre of it, because it's just that green.
Burggasse 24Burggasse 24, Wien, Österreich

This is where the cool kids shop their latest outfits.
ErichNeustiftgasse 27, Wien, Österreich

They've got such a splendid outdoor area and a delicious menu. This is one of my favourite restaurants, to be for sure!
VeganistaNeustiftgasse 23, Wien, Österreich

All vegan, all delicious. It's a good thing the queue so long whenever I come here—gives me time to choose what flavour ice cream I'll get.
LieblingZollergasse 6, Wien, Österreich

This café is a real all-rounder: meet your tinder date, have coffee or drinks with friends or just sit down and work.
1500 Foodmakers / DachbodenMuseumstraße 9, Wien, Österreich

Before I go up to the rooftop bar Dachboden, I love to have on one of their damn fine pizzas. From the rooftop bar Dachboden you have have one of the best views over the city. The interior is also a highlight.
Zum Gschupftn FerdlWindmühlgasse 20, Wien, Österreich

This is the best Heurigen in the city. Their food is very good and the staff is great with customers.
Club TitanicTheobaldgasse 11, Wien, Österreich

This cool underground club has been an institution in Vienna for more than 30 years now.
PratersaunaWaldsteingartenstraße 135, Wien, Österreich

A kick-ass venue in summer!
VolksgartenBurgring, Wien, Österreich

This is the café society in Vienna: long queues and expensive. Still, from time to time they throw really good parties!
CelesteHamburgerstraße 18, Wien, Österreich

The entry fee is dirt cheap and the crowd's always great, but the music might not always be to your liking, so check the event schedule beforehand.
Grelle ForelleSpittelauer Lände 12, Wien, Österreich

This is Vienna's techno and electro hot spot! Great location, right next to the canal, with a large outdoor area. They renovated recently, so it's better than ever!
BitzingerAugustinerstraße 1, Wien, Österreich

One of my favourite booths selling sausage and beer. It's a little pricey, though.
Würstelstand LeoDöblinger Gürtel 2, Wien, Österreich

A typical booth selling sausage and beer, it's 'ur-wienerisch' (very typical for Vienna). From the outside it looks rather modest, but it's definitely a good choice for a midnight or early morning snack.
NußdorfNußdorf, Wien, Österreich

Many wonderful Heurigen are located here.
KahlenbergKahlenberg, Wien, Österreich

Also a few beautiful Heurigen around here. Furthermore, you've got a great view of Vienna up on the hill.
SassKarlsplatz 1, Wien, Österreich

A club with a modern design: dark finishes accentuated with shining lustres and golden elements here and there. Chic but still very cool.
Das WerkU-Bahn Bogen 332, 1090 Wien, Österreich

Das Werk is close to the club Grelle Forelle, and is a perfect afterhour location. Also a concert venue, movie theater, exhibition space and club rolled into one.
Puff, die BarGirardigasse 10, Wien, Österreich

Not a brothel, even if the name would have you think otherwise. I like to come here for very-late-night-early-morning drinks.
'I love that you can go from one hot spot to the next in no time at all.'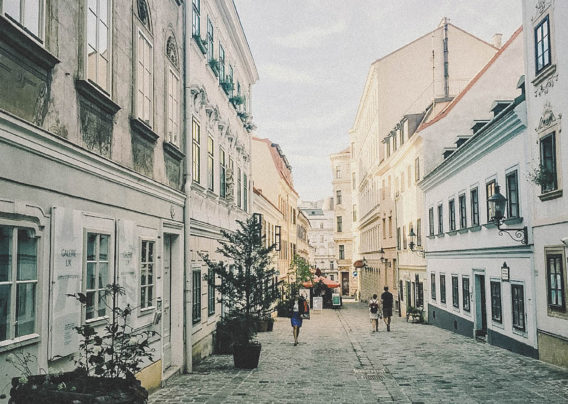 My thoughts about Vienna
What do you love about your destination?
Even though Vienna is a big city, sometimes it still feels like a village. I love that you can go from one hot spot to the next in no time at all: within 30 minutes I can be at the riverside of the Danube, having a swim, or inside the wilderness of the forest Wienerwald, or having a cup of coffee in the city centre. In my opinion, this is quite unique!
Which music fits best to your destination?
Morning: https://www.youtube.com/watch?v=xWq0EVj3pVA
Afternoon: https://www.youtube.com/watch?v=qByHiwXiBBg
Evening: https://www.youtube.com/watch?v=gMrH_UdPrY8
What's a "must do" in your destination?
Having a spritzer or beer at the Museumsquartier or next to the canal of the Danube during summertime. Also, look out for events like Spontan Techno—huge open air parties, organised and announced spontaneously (via Facebook). And it's free!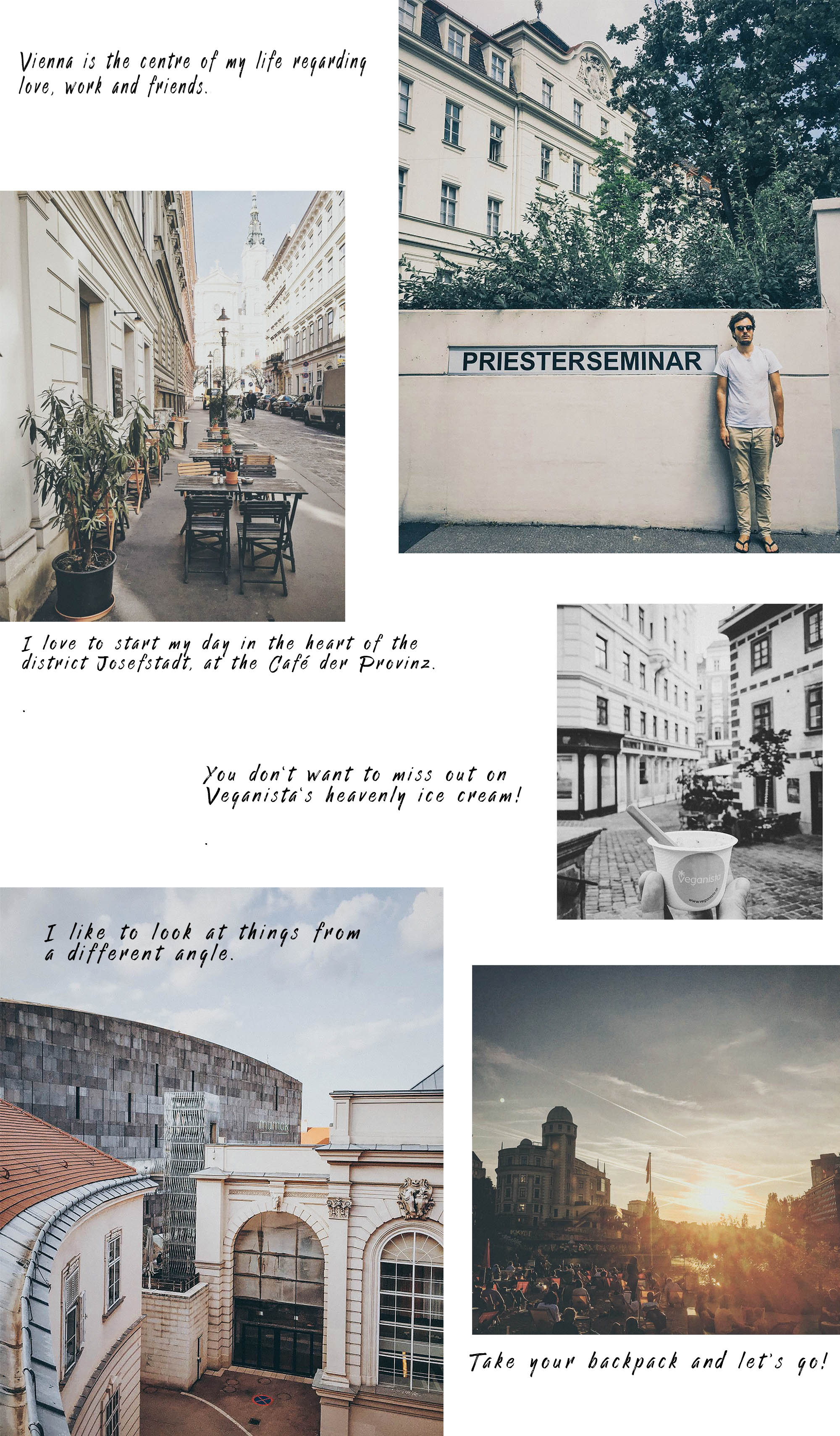 Take a vacation into My life
What's your background?
I'm actually a real hillbilly. I'm from Upper Austria, more specifically the 'Salzkammergut', which is an area about 45 minutes away from Salzburg. For those who don't know Salzburg: just watch 'The Sound of Music'. 😉
I moved to Vienna to study, about five years ago. These days, Vienna is the centre of my life in regards to love, work and friends.
What is the best moment of the day?
In the morning, when I'm sitting on the rooftop terrace of our office, having a 'Wiener Melange' (typical Viennese coffee), thinking about which hot spots of Vienna I'm going to present to our community today.
What inspires you?
All the start-ups we share our office with. We're all the same age and we all work in the field of media in one way or another. We motivate and inspire each other a lot!
How would a good friend describe you?
Reliable and a doer who knows what he wants in life!
Your lifestyle in 5 words?
Creative, start-up, coffee, beer, late riser.
Which books, newspapers or magazines do you read?
Since I studied journalism, I've been following the media very closely, online and off. It starts with newspapers on a daily basis and ends with specific marketing / social media blogs. On the weekends, reading 'Die Zeit' is a regular ritual, and I love turning those big pages. Because I tend to read newspapers and magazines, reading books unfortunately falls by the wayside; but if I do read a book, it'll probably be a crime or fantasy novel.
Which films blow your mind?
Currently, it is the Danish series 'Borgen' and the German movie 'Victoria'.
Person you'd like to sit next to in an airplane?
I'm so tall, I think it's best if nobody sat next to me.
Your life philosophy?
Swaghetti Yolonese.
Suitcase, Backpack or Weekender?
What a question. Take your backpack and let's go!
What else should we know about you?
Never hand me a bag of gummi bears, you won't be able to talk to me for the next half hour. Because then it'll be only the gummi bears and me! Yum!
Travelling is…
the best thing to do in life!
Life is…
worth living since 1992.
Hero Image © goodlifecrew
More local soulmates in Austria, Vienna
Discover more perfect 24 hours
Your daily travel inspiration
10 mal GLÜCKLICH IN ... Reiseführer
Hallo liebe Reisefreunde! Unsere GLÜCKLICH IN … Bücher, die wir gemeinsam mit der Süddeutschen Zeitung herausgeben, sind mehr als gewöhnliche Reiseführer. Sie sind eine Hommage an die Lebensfreude. Sie beinhalten unsere persönlichen, handverlesenen Lieblingsorte, Geschichten, Fotos und Zitate. Wir haben unser gesamtes Wissen, tiefgehende Recherche und Herzblut von über 10
WIN 2 NIGHTS AT ALPENLOFT CHALETS IN BAD GASTEIN
Hello lovelies, it's December, the first mountains are white and we celebrate this … Read more
OCTOBER PLAYLIST
Can you believe it? It's already October. Crazy! Here our playlist for you. With lo… Read more