Locations
Beter en leukEerste Oosterparkstraat 91, Amsterdam, Niederlande

Great vegetarian food, you've never had such a great veggie burger.
AmstelparkAmstelpark, Amsterdam, Niederlande

So many nice, tiny gardens in one park are very entertaining during a long run and beautiful to look at.
Chateau FrankendaelMiddenweg 72, Amsterdam, Niederlande

Good wine and very yummy snacks. 100% tourist and hipster free!
Kerkstraat/UtrechtsestraatKerkstraat, Amsterdam, Niederlande

This is where I buy stuff to take on a boat ride, like Prosecco and Haring.
Bright Side GalleryPrinsengracht 737, Amsterdam, Niederlande

Awesome contemporary art. Definitely worth paying a visit to!
W HotelSpuistraat 175, Amsterdam, Niederlande

Rooftop terrace, outdoor pool, DJ nights and great cocktails. This combination gives you the same feeling the Standard Hotel in NYC does, plus it is a great place to watch the sunset.
Wilde zwijnenJavaplein 23, Amsterdam, Niederlande

Great, hearty food!
TerpentijnRokin 103, Amsterdam, Niederlande

Beautiful interior and lovingly prepared dishes!
JanszReestraat 8, Amsterdam, Niederlande

Amazing interior design in a former pharmacy in the middle of the 9 Straatjes.
Café CoxMarnixstraat 429, Amsterdam, Niederlande

Great upcoming DJs and musicians perform here. A place to dance the night away.
De SchoolDoctor Jan van Breemenstraat 1, Amsterdam, Niederlande

De School not only has amazing food but partying there is just great!
Stenen hoofdWesterdoksdijk 705-c, 1013 Centrum, Amsterdam, Niederlande

You can come here for a nice swim and to hang out.
Nieuwe MeerNieuwe Meer, Niederlande

Another favourite spot of mine where you can take a dip on hot summer days!
River AmstelAmstelzijde 22, 1184 VA Amstelveen, Niederlande

Sit down next to the river and have a relaxing picnic with friends. A perfect Sunday!
Bloemendaal BeachParnassiaweg 1, 2051 EC Bloemendaal aan Zee, Niederlande

Make it a beach day and don't forget to bring a nice picnic!
Zuid KennemerlandNationaal Park Zuid-Kennemerland, Zeeweg, Overveen, Niederlande

This wonderful national park is perfect for riding your bike for hours without seeing anybody.
NoordwijkNoordwijk, Niederlande

You can go from Amsterdam over Driehuis (next to the National Park) to Noordwijk with your bike and back, it is a very nice tour!
River VechtVecht, Utrecht, Niederlande

Drive all the way along the river Vecht from Amsterdam to Utrecht and back with your bike. I love this tour!
'I love the freedom of the Dutch mentality, the soft humid air, the great metropolitan variety of things to see, do and experience.'
My thoughts about Amsterdam
What do you love about your destination?
The freedom of the Dutch mentality, the soft humid air, the great metropolitan variety of things to see, do and experience.
Which music fits best to your destination?
Illesnoise.
What's a "must do" in your destination?
Go for a boat ride, cycle in the country side, look at Amsterdam from the 18th floor of the brand-new Shell Tower. Eat Haring, laugh with an old Dutch man, touch a prostitute's fake boobs, get drunk and dance.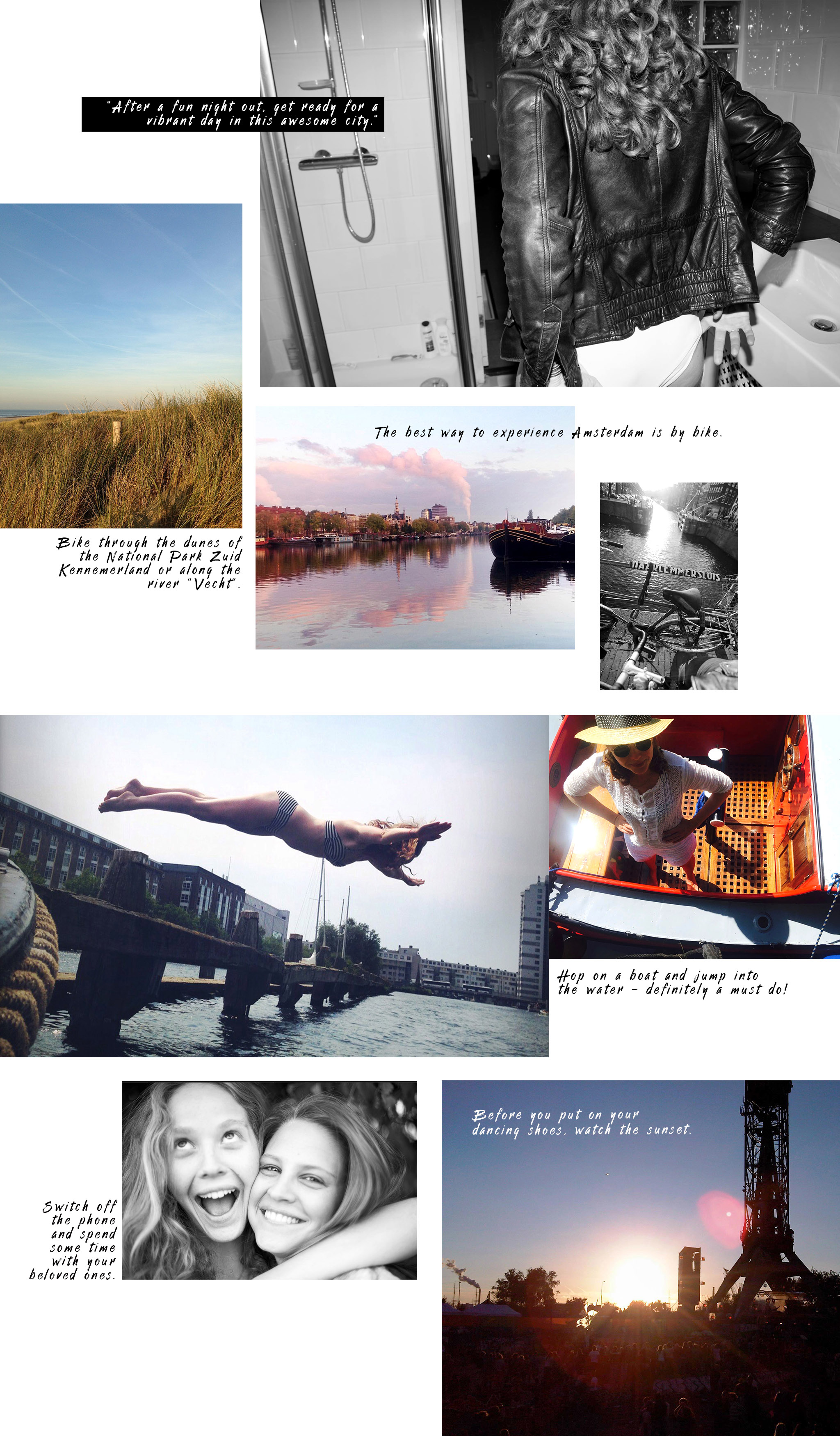 Take a vacation into My life
What's your background?
'Freely floating through the exciting life of Amsterdam, enjoying the long nights of summer, diving deep into the Dutch culture and inspiring mindsets. Amsterdam reveals the best in you. No shame, no ties, honest, true and happy living.' This is how I would describe my life in Amsterdam for the past four years. I came here to study Psychology, which was a great challenge because I'm studying in Dutch (I am German). Just finished my bachelor's degree in Psychology/Cognitive Neuroscience and can't wait to learn more about the human brain when I start my master's in September. I am a 24-year-old, Bavarian red head that wanted to truly experience more of the world than just the 'hometown' (Munich). I thought I might stay in Amsterdam for a year and go back to Munich. Still hasn't happened. Now I live at the Amstel river, studying hard, partying hard, painting and enjoying all the great opportunities this life has to offer.
What is the best moment of the day?
The mornings! Sipping my first cup of coffee on the balcony. Still a bit tired, with a little smile on my face thinking back to last night.
What inspires you?
A lot and nothing! Nowadays 'inspiration' is everywhere, especially on the internet. This is why nothing really inspires you anymore. Nothing is new, you have seen everything already. There is just too much out there. This is why I find it very inspiring to switch off the phone, shut down the computer, get on my bike. It is surprising how much inspiration comes from a moment of relaxation.
How would a good friend describe you?
Spontaneous. Crazy. Loving. Honest.
Your lifestyle in 5 words?
Jumping into cold water!
Which books, newspapers or magazines do you read?
The Expression of Emotions in Man and Animals by Charles Darwin. Konzert ohne Dichter by Klaus Modick. Farbenlehre. National Geographic. Lots of study books of course.
Which films blow your mind?
None!
Person you'd like to sit next to in an airplane?
My mother. Then we would finally have enough time to catch up.
What are your favourite destinations around the globe?
The places I haven't explored yet. Next stops will be Bali, Sweden and Iceland.
Your life philosophy?
Say it and do it now. Tomorrow might be too late.
Suitcase, Backpack or Weekender?
Backpack!
What else should we know about you?
This is a tricky question :)
Your daily travel inspiration
10 mal GLÜCKLICH IN ... Reiseführer
Hallo liebe Reisefreunde! Unsere GLÜCKLICH IN … Bücher, die wir gemeinsam mit der Süddeutschen Zeitung herausgeben, sind mehr als gewöhnliche Reiseführer. Sie sind eine Hommage an die Lebensfreude. Sie beinhalten unsere persönlichen, handverlesenen Lieblingsorte, Geschichten, Fotos und Zitate. Wir haben unser gesamtes Wissen, tiefgehende Recherche und Herzblut von über 10
WIN 2 NIGHTS AT ALPENLOFT CHALETS IN BAD GASTEIN
Hello lovelies, it's December, the first mountains are white and we celebrate this … Read more
OCTOBER PLAYLIST
Can you believe it? It's already October. Crazy! Here our playlist for you. With lo… Read more