Locations
Classic CampersSilverdale, 105A Newman Rd, Stillwater, New Zealand

Pick up your rental camper van here and start your New Zealand camping adventure!
Bay of IslandsBay of Islands, New Zealand

The Bay of Islands is home to 140 subtropical islands. You have to explore this stunning area on water: by canoe, catamaran or sailing boat.
Aroha Island177 Rangitane Road, Kerikeri, New Zealand

This is the best place to stay with your camper van when you're about to explore the Bay of Islands. It's away from the tourist hurly-burly, located in a huge sanctuary. Your chances of spotting kiwi birds in their natural habitat is quite high! The camp also offers canoes – a beautiful way to discover the bay on your own.
Uretiti Beach DOC Campsite3149 State Highway 1, Waipu, New Zealand

A nice camp site, right by the beach. Try to find a spot behind the dunes so you're further away from the street and closer to the water. They also have good shower facilities (and enough of them!).
Omaha BeachOmaha Beach Superette, Omaha, New Zealand

Omaha Beach is a mile-long sandy beach, perfect for tanning and jumping into the water. Before you cross the bridge that brings you to the beach town, take a left and stop at the little shop to buy fresh fruit.
Waiake BeachWaiake Beach, Auckland, New Zealand

If you're passing through Auckland and it happens to be lunch time, leave the highway and you'll be at Waiake Beach in 10 minutes. It's a nice little spot for having a picnic and a refreshing jump into the water before hitting the road again.
Food department45 Wainui Road, Raglan, New Zealand

This tiny place serves the best pizza and the best ice cream, made with a lot of love and creativity. We loved it!
Bow St. Depot2 Bow St, Raglan, New Zealand

A very laid-back place with a nice outdoor area and a yummy soul food menu!
Kaiori Lodge5B Whaanga Rd, Raglan, New Zealand

A great camp site to stay at with the camper van. The parking spots are surrounded by a lush green, jungle-like forest and it's super quiet. Book a surf lesson at the office and walk the loop trail at the camp site!
RotorouaRotorua, Bay of Plenty, New Zealand

Rotoroua is renowned for its geothermal activity and the hot springs that result from it. There's plenty of places in town where you can dive into the healing and soothing water. Great for bad weather days when camping!
Oakura Holiday Park2 Jans Terrace, Oakura, New Zealand

One of our favourite camp sites throughout the journey. The shower and kitchen facilities are very clean, but the best thing is that you get to stay right by the beautiful beach of this surf hot spot (when the swell is good!). The cute little town is just up the street.
Holy Guacamole22 Tasman Parade, Oakura 4314, Neuseeland

Holy Guacamole is a food truck that parks next to the camp office and starts selling delicious Mexican food from 5:30 pm to 9 pm (only over the summer months). The owner, a lady from Austria, is very nice and good to talk to when it comes to surfing.
Kin&Co1151 South Road, Oakura, New Zealand

A beautiful and very stylish café which serves great food and even better coffee. Try the haloumi sandwich!
Oakura Fish Shop1153 South Rd, Oakura, New Zealand

Fancy some fish & chips? Get it to take away from here. It's very good, very fresh and there's just a whole lot of it.
Vertigo Surf Shop2 Tasman Parade, Oakura, New Zealand

The have everything you could need for surfing and they know everything about surf in the area. Moreover, they serve one of the best coffees we had in New Zealand. Not just a store, but a great place to hang out and talk to the locals over coffee.
Bangalore Polo Club63 Courtenay Pl, Wellington, New Zealand

Their interior is awesome and it's a good place to have a pre-dinner drink.
Chow45 Tory St, Wellington, New Zealand

A recommendation by a local guy and – trust us – he did a good job! The exquisite Asian fusion cuisine is a culinary highlight and the interior design is cool, urban industrial chic.
The Library53 Courtenay Place, Wellington, New Zealand

The Library is on the 1st floor, along with the restaurant Chow. You can enter it separately or through the restaurant. It's an amazing cocktail bar in a Prohibition era style.
Gusto33 High St, Picton, Marlborough, New Zealand

When you arrive in Picton by ferry in the morning, what you need is a good breakfast. Head to Gusto and start your day right!
Queen Charlotte TrackQueen Charlotte Track, Big Bay, New Zealand

The (71 km long) Queen Charlotte track is one of New Zealand's leading hiking tracks. You can do lovely 2–3 hour hikes or multiple-day hikes – up to you!
Cable Bay Holiday Park799 Cable Bay Rd, Cable Bay, New Zealand

A very small and intimate camp site at the secluded Cable Bay. Peaceful and quiet nights are guaranteed.
Nelson MarketMontgomery Square, Nelson, New Zealand

A wonderful weekend market, perfect for strolling, trying everything the food stalls have to offer and buying local produce. Don't be put off by the long queue in front of the burrito stall, every bite is worth the wait!
Abel Tasman National ParkAbel-Tasman-Nationalpark, Abel Tasman National Park, Tasman, New Zealand

The Abel Tasman National Park is a must-go on the South Island. Book a canoe in Marahau, head up the coastline, drop them at a beach and walk back. The stunning nature will leave your mouth agape.
Alpine Adventure Holiday200 Jacks Pass Rd, Hanmer Springs, New Zealand

If you want to visit Hanmer Springs, another hot spring location, the Alpine Adventure Holiday Park is the ideal camp site. You're surrounded by forest and the best part is the starlit sky at night.
Strawberry Fare15 Bealey Avenue, Christchurch, New Zealand

Without a doubt one of the best restaurants we've ever been to. Everything was absolutely perfect: lovely, lovely service, mouth-watering food, great wine, laid-back atmosphere, cool interior. You don't want to miss this!
'It's 5:30 in the morning, the rising sun is dip-painting the sky a fluorescent red and pink and we're about to touch down in Auckland.'
Our thoughts about New Zealand
What do you love about your destination?
Driving through No man's land for hours on end, only spotting sheep, sheep and more sheep, as well as some cows, farms, rivers, lakes, hills, canyons, jungle-like forests and huge mountains. Earthporn at its best!
What's a "must do" in your destination?
Bring time!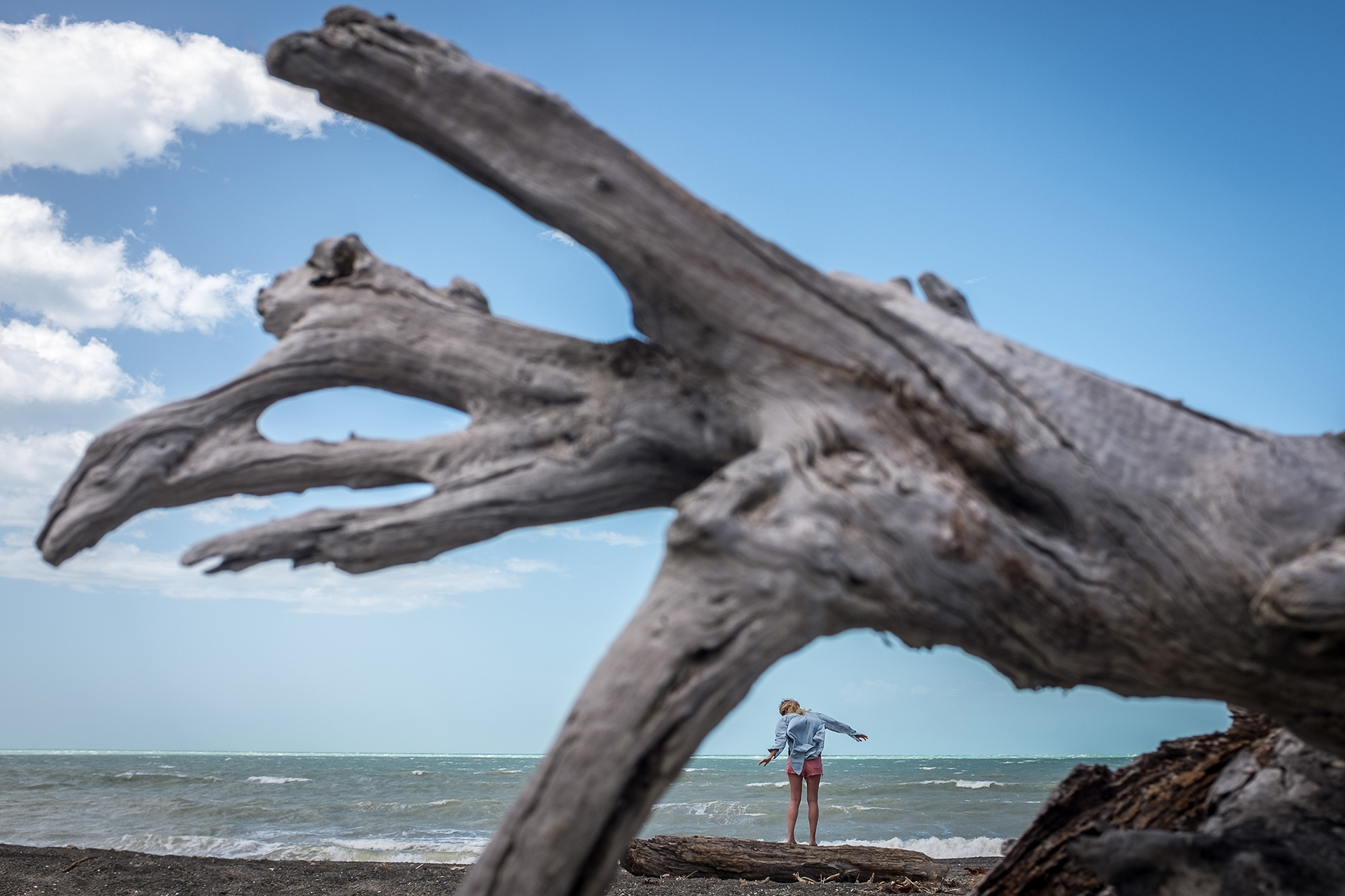 Take a vacation into Our life
What's your background?
Tatjana: I was born in a little town surrounded by mountains and with a lake at its centre – quite picturesque. But I've been drawn to the sea from a young age, when I first smelled the salty breeze and felt the sand beneath my feet. On the other hand, there is also this passionate love for big cities and for exploring every little corner of concrete jungles. To process all the experiences and impressions of life, I write them all down, and I guess I could call myself lucky that I've the chance to turn this into a profession as well.
Matze: I have Franconian roots and I'm an international marketing manager with great passion for sports, music and photography.
What is the best moment of the day?
Tatjana: The stretch of time after waking up slowly (without an alarm clock, of course), still drowsy and half-asleep, when you realise how cosy your bed feels, when you catch daylight through the curtains and are suddenly hit by the excitement of a new day and all the adventures it promises to hold.
Matze: Sipping a good coffee early in the morning – ideally after a session of running, surfing, or yoga.
What inspires you?
Tatjana: Passionate people, trees, intense colours, conversations with soulmates, bike rides, running, love and anger, envisioning my future life, old but highly energetic people, travelling.
Matze: People who have a different approach to things, but still with good karma. The greatness of nature, especially the ocean and the mountains.
How would a good friend describe you?
Matze on Tatjana: she is very open-minded, super communicative and always very snoopy. She loves to explore the world and have casual chats with its taxi drivers. She has a good sense of humour. She prefers letters over numbers and loves good food. She is very reliable.
Tatjana on Matze: he is very communicative and active but he can also be super lazy and switch into panda mode, more specifically a grumpy panda in the morning. He is an authentic, determined and emotional character. He loves to dawdle, which drives me crazy. But most importantly, Matze is 100% reliable whenever you need him.
Your lifestyle in 5 words?
Tatjana: Writing, travelling, love, nature, curiosity.
Matze: Cosmopolitan, generous, casual, sporty, spiritual.
Which books, newspapers or magazines do you read?
Tatjana: Lots of books, currently 'The Heart Goes Last'. My favourite magazine right now is 'Stern Crime' – I have not missed one edition yet. Thrilling and very well done!
Matze: There is no common theme. More books than magazines, I guess. I prefer paper over digital for sure. At the moment, I'm reading 'Barbarian Days' by William Finnegan.
Which films blow your mind?
Tatjana: All the films of Alejandro González Iñárritu and currently a lot of Netflix series really blow my mind. 'Love' and 'Making a Murderer' are two I can highly recommend!
Matze: Everything which is not Hollywood blockbuster. I love the series 'Tatort', although only one in 100 is really good, but watching it is this holy-Sunday-ritual-thing. My You-have-to-watch-this tip: 'Searchin' for Sugarman'.
Person you'd like to sit next to in an airplane?
Tatjana: Michelle Obama or my mum.
Matze: My dad, who suffers from a fear of flying (which I hope to rid him of).
What are your favourite destinations around the globe?
Tatjana: Cape Town, Paris, South Tyrol, Portland, New York, the Algarve.
Matze: Any place where you don't need shoes, can surf without a wetsuit, meet friendly locals and get a coconut at the next street corner.
Your life philosophy?
Tatjana: (#1) If you don't love yourself, you can't love anyone else. So you better make sure to love yourself by (#2) making the most out of your life every day and not regretting a single thing, because (#3) everything happens for a reason.
Matze: This is work in progress but it will be deep.
Suitcase, Backpack or Weekender?
Tatjana: Suitcase.
Matze: I am flexible but mostly weekender.
What else should we know about you?
Tatjana: In almost every city I'm new to I go on a 'Big Bus Tour' and am the perfect tourist. I wish I could wink. If I were an animal I'd be a cat or a bird, although my spirit animal is probably a panda. I can be very stubborn. I have a great memory when it comes to gossip.
Matze: -
Travelling is…
Tatjana: the liberation of your soul.
Matze: luxury, so is the time to do it.
Life is…
Tatjana: now!
Matze: limited time, you better do things you love.
Your daily travel inspiration
10 mal GLÜCKLICH IN ... Reiseführer
Hallo liebe Reisefreunde! Unsere GLÜCKLICH IN … Bücher, die wir gemeinsam mit der Süddeutschen Zeitung herausgeben, sind mehr als gewöhnliche Reiseführer. Sie sind eine Hommage an die Lebensfreude. Sie beinhalten unsere persönlichen, handverlesenen Lieblingsorte, Geschichten, Fotos und Zitate. Wir haben unser gesamtes Wissen, tiefgehende Recherche und Herzblut von über 10
WIN 2 NIGHTS AT ALPENLOFT CHALETS IN BAD GASTEIN
Hello lovelies, it's December, the first mountains are white and we celebrate this … Read more
OCTOBER PLAYLIST
Can you believe it? It's already October. Crazy! Here our playlist for you. With lo… Read more