Bamboo architecture, dense jungle, a fascinating flora and fauna, unforgettable adventures, ecotourism and committed locals make a perfect mix.
The Pulse
This year we traveled as a family through Thailand for two wonderful months. Our route took us from Berlin to Bangkok, Koh Phangan, Koh Lanta, Khao Sok National Park, Koh Phayam and back to Berlin via Bangkok. It was oh so wonderful! One of our highlights: we spent 4 unforgettable nights in Khao Sok National Park. The magical Khao Sok National Park in the south of Thailand has been on our bucket list for a long time - so we were so happy to finally discover it live! It is know for dense, very old rainforest (some claim it is the oldest rainforest in the world!), gigantic limestone formations, waterfalls, an impressive, unique flora and fauna and the picturesque Cheow Lan Lake (Rachabrapha Lake).
Thanks to a hot tip from friends, we ended up in what is probably the most beautiful (and most sustainable) accommodation in the area: OUR JUNGLE CAMP.
The Nectar
The Camp: There are 1- and 2-story tree houses, bungalows and a single-story house. The reception, the restaurant and the bar consist entirely of bamboo and renewable raw materials and are in harmony with the untouched environment. A large part of the vegetables and fruits are grown on site. Among other things: rice, pumpkin, carrots, cucumber, lettuce, broccoli, Thai herbs and flowers such as roselle, butterfly pea and lemongrass as well as the full variety of wild banana and papaya. There is also a great yoga tree house on the edge of the resort along the nature trails. Various excursions are organized from the camp (both in a group and privately). We visited the elephants, went on a night safari through the jungle and did a day tour with the longtail boat across the lake. All trips were more than worth it!
Our treehouse: A spacious two-story tree house where you can sleep comfortably in the middle of the jungle. With fans, shower, mosquito nets, ... Right after checking in, two lovely monkeys visited us on the balcony. The views of the dense greenery and the river are incomparably beautiful and the sounds of the jungle make everything else forget.
The restaurant: It is considered one of the best in the Khao Sok National Park and skilfully combines traditional and modern Thai cuisine. Most of the products come from the in-house farm. After dinner, you can chill out in the bar while the kids play in the green.
The philosophy: In addition to a unique accommodation option, the camp also endeavors to make an ecological difference: ecotourism, ecologically sustainable agriculture, nature education and mindfulness for locals and tourists are part of the Our Jungle Camp experience. The wins from the resort are used to fund free nature camps for local school children. They work with local schools to offer complementary programs that demonstrate basic concepts of sustainability and science. Instead of simply studying in a classroom, students can experience these concepts firsthand! This is done through nature walks, wildlife viewing, educational games and gardening activities.
Prices: Our two-story tree house costs approx. 120 € / night (depending on the season more or less), but there are also accommodations for 40 € upwards, each excursion and meal are added
Must Do
+ A guided night hike through the jungle. The kids still talk about it today ... We saw glowing scorpions, four snakes, beetles, bats and many other animals on the 2-hour tour
-
+ a one day or multi-day tour on the picturesque Cheow Lan Lake
-
+ Feed and bathe elephants
-
+ Bathe in the river and, if there is enough water, float on it with tires or a boat
-
+ Yoga
-
+ Thai cooking class with a guided tour of the organic farm
Our visit to the OUR JUNGLE CAMP
Arriving in our beautiful tree house
with view over the richt flora and fauna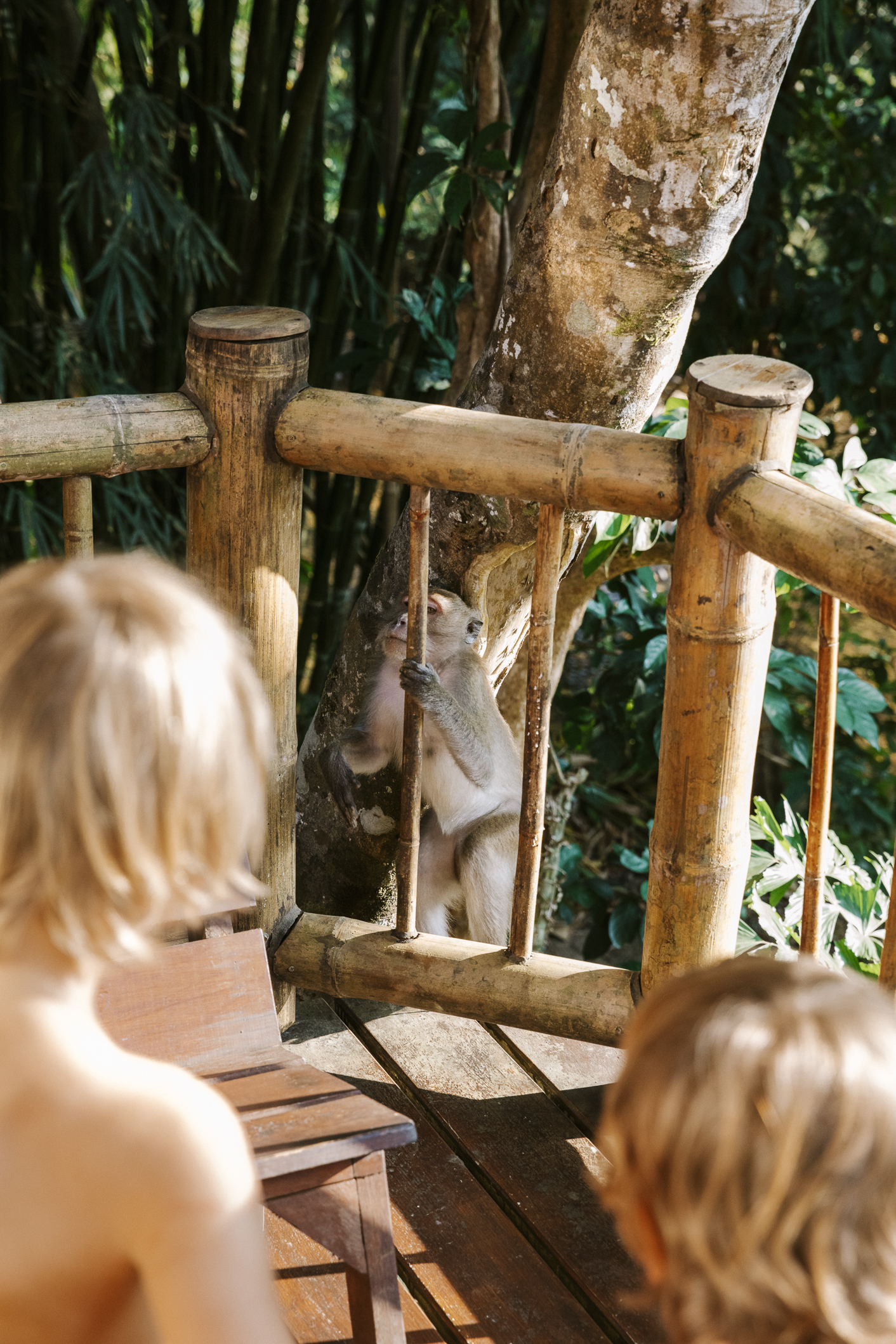 Hello
lovely
friends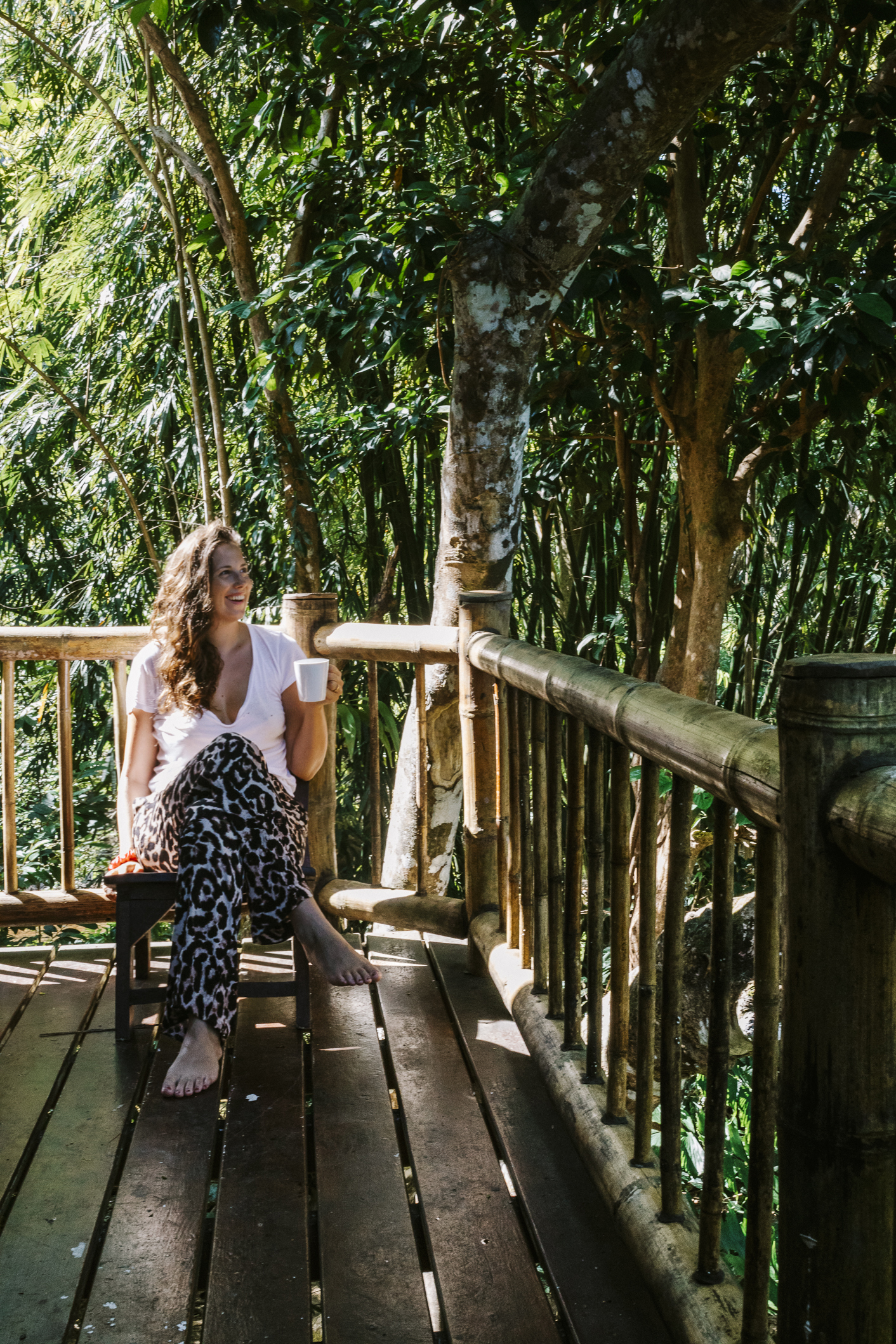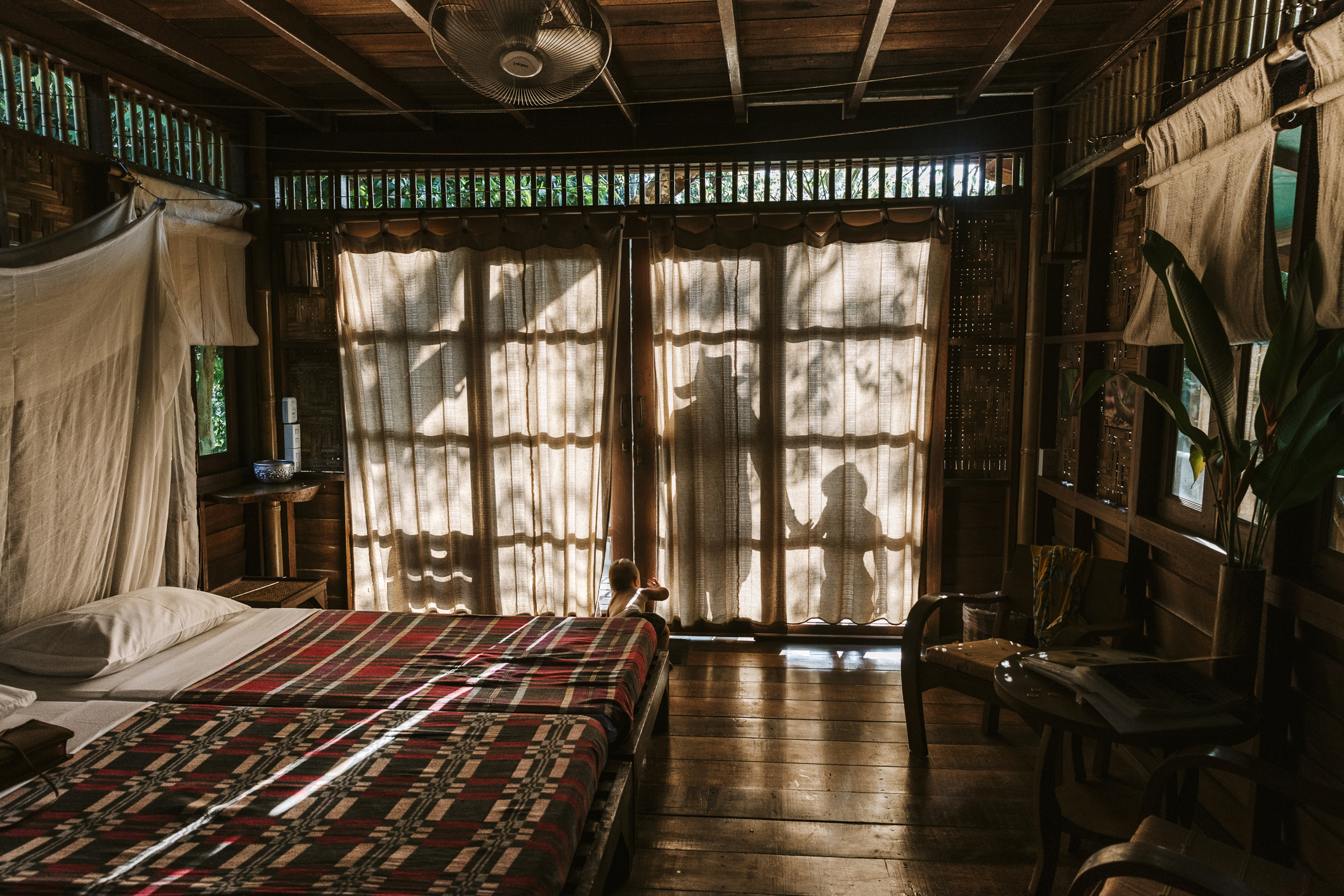 Magic evening light
Chilling before our night safari to the jungle starts ...
An adventure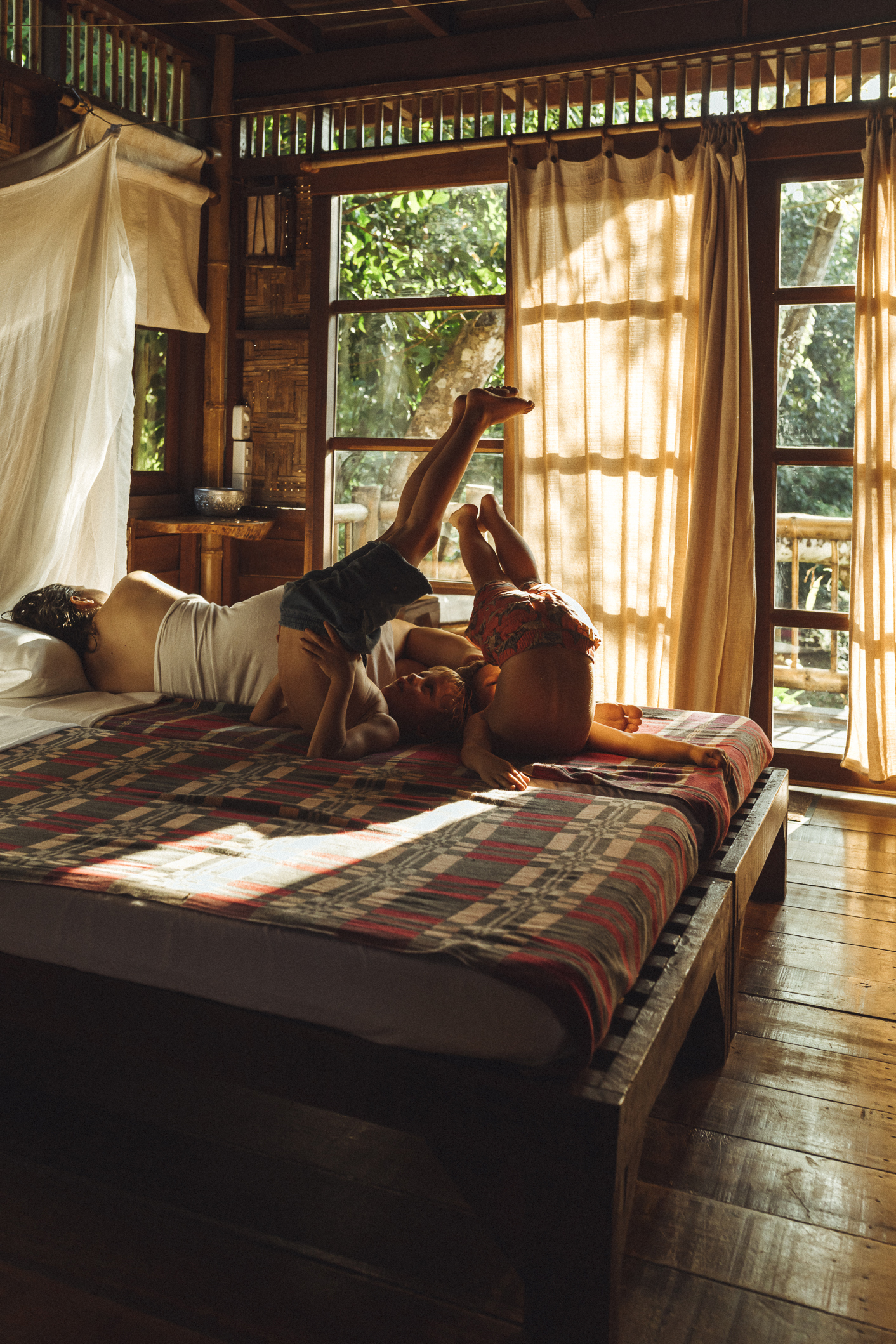 for big and small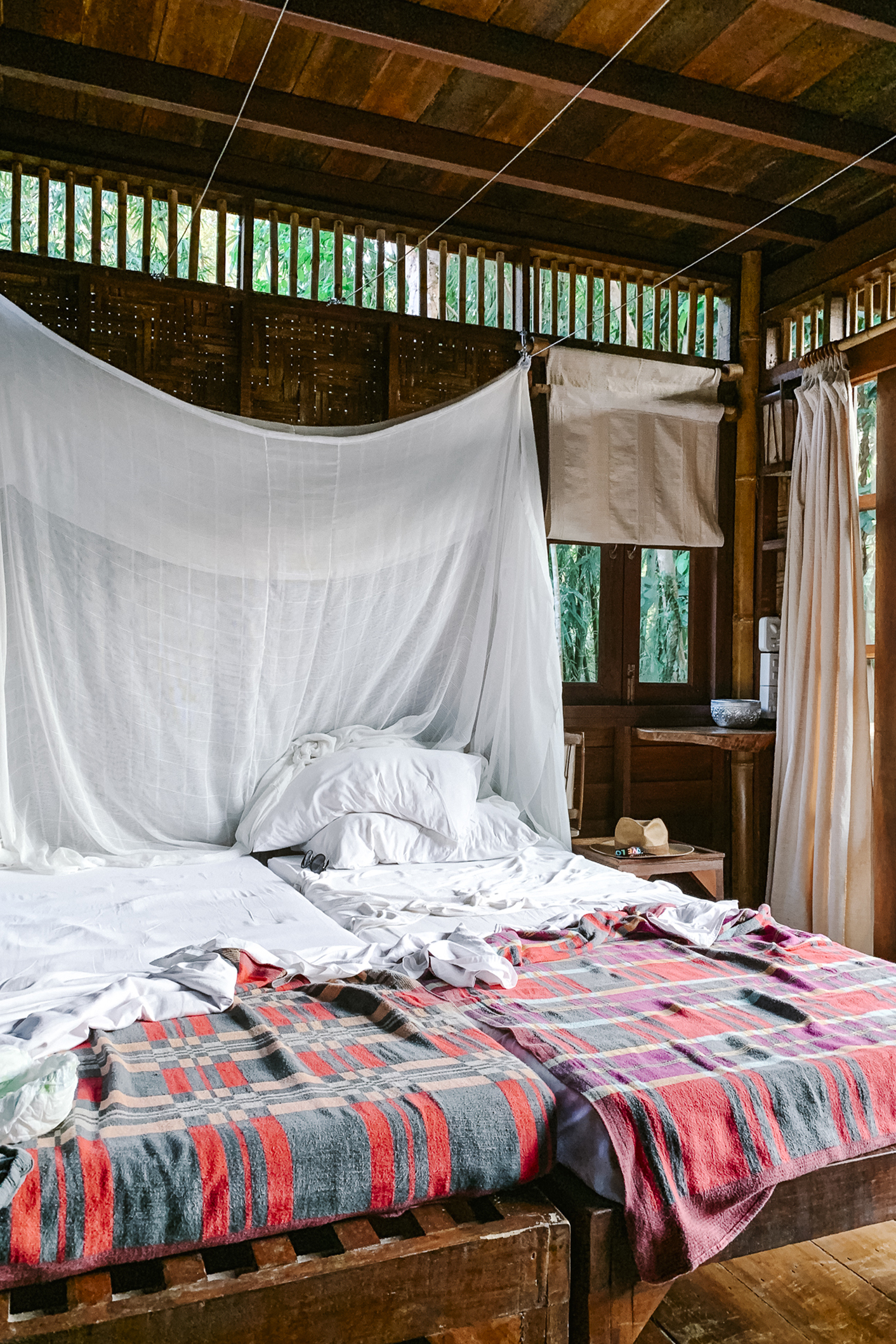 Cosy jungle experience
The airy restaurant and bar with very delicious home-grown food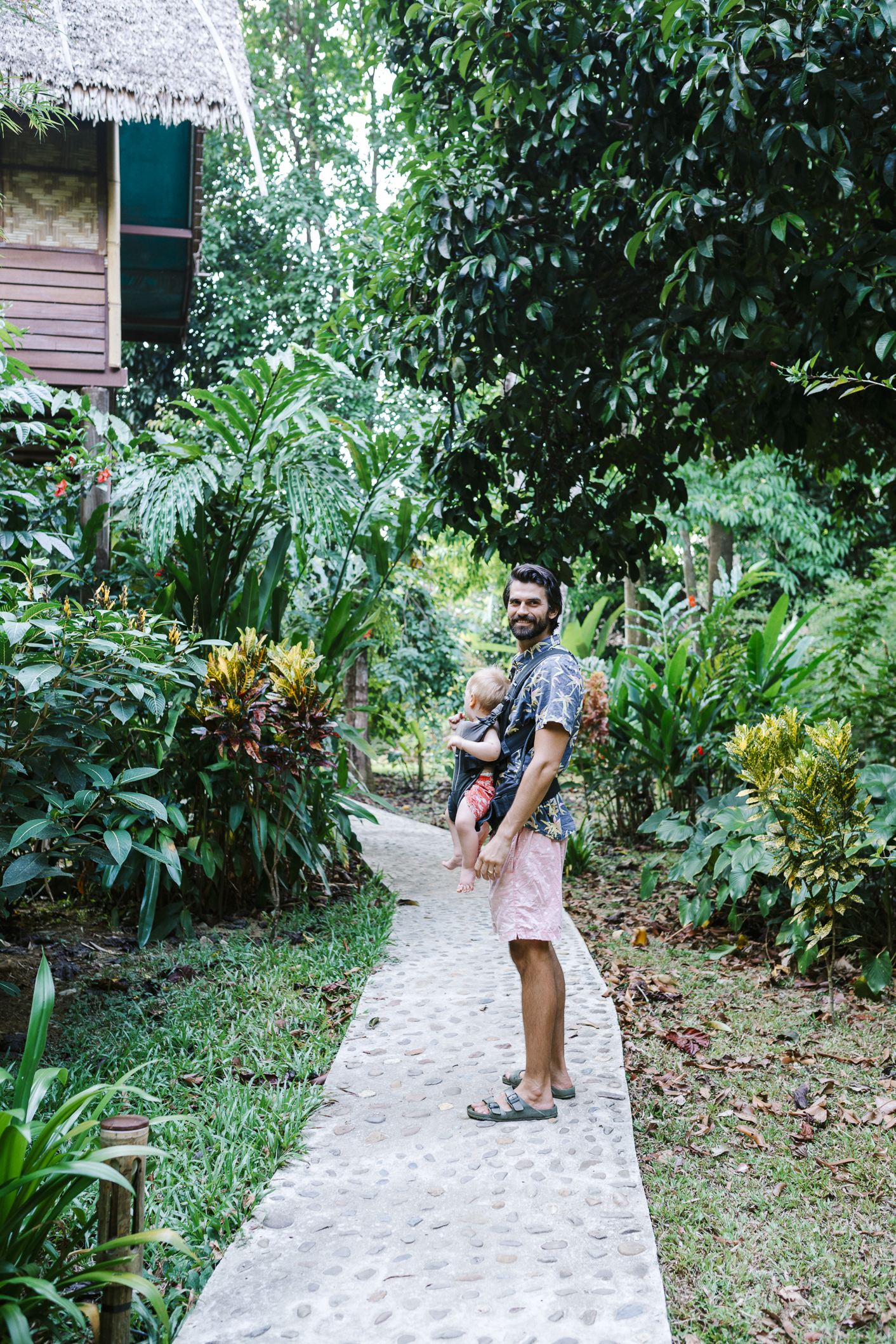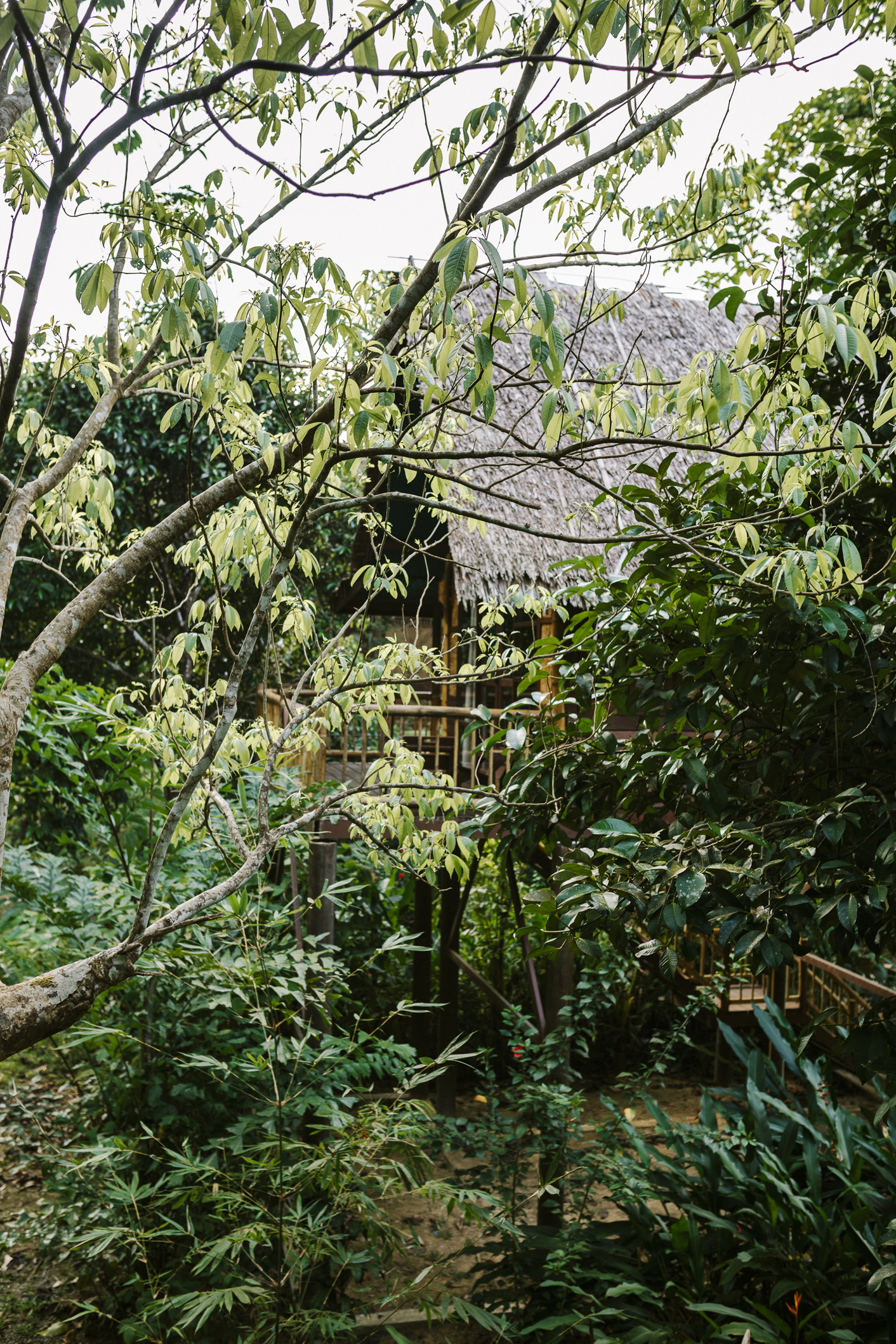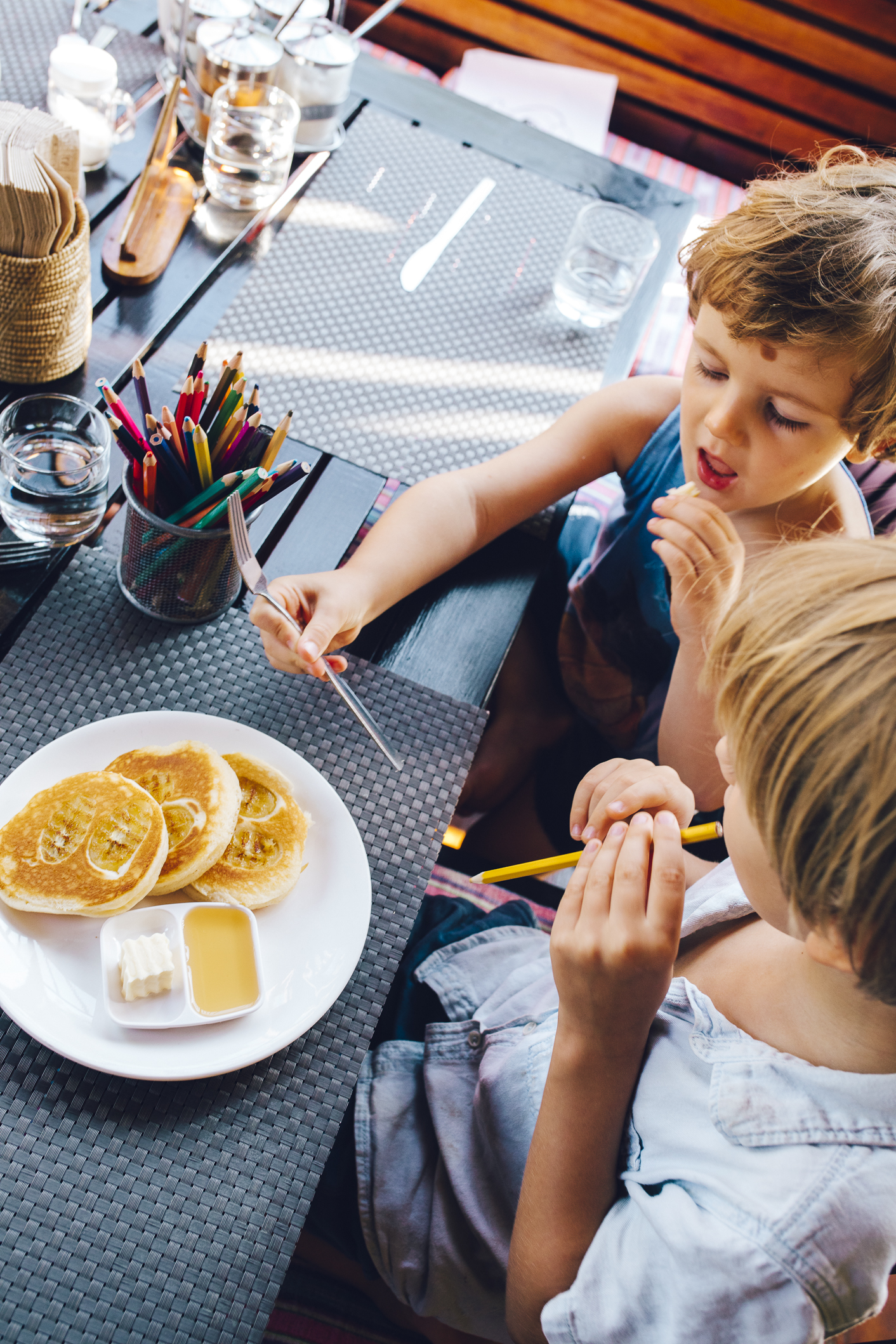 Eating organic food in the green paradise
On our guided night walk through the jungle we saw many interesting animals ...
To meet a toxic snake in the free wild will stay in our minds forever ...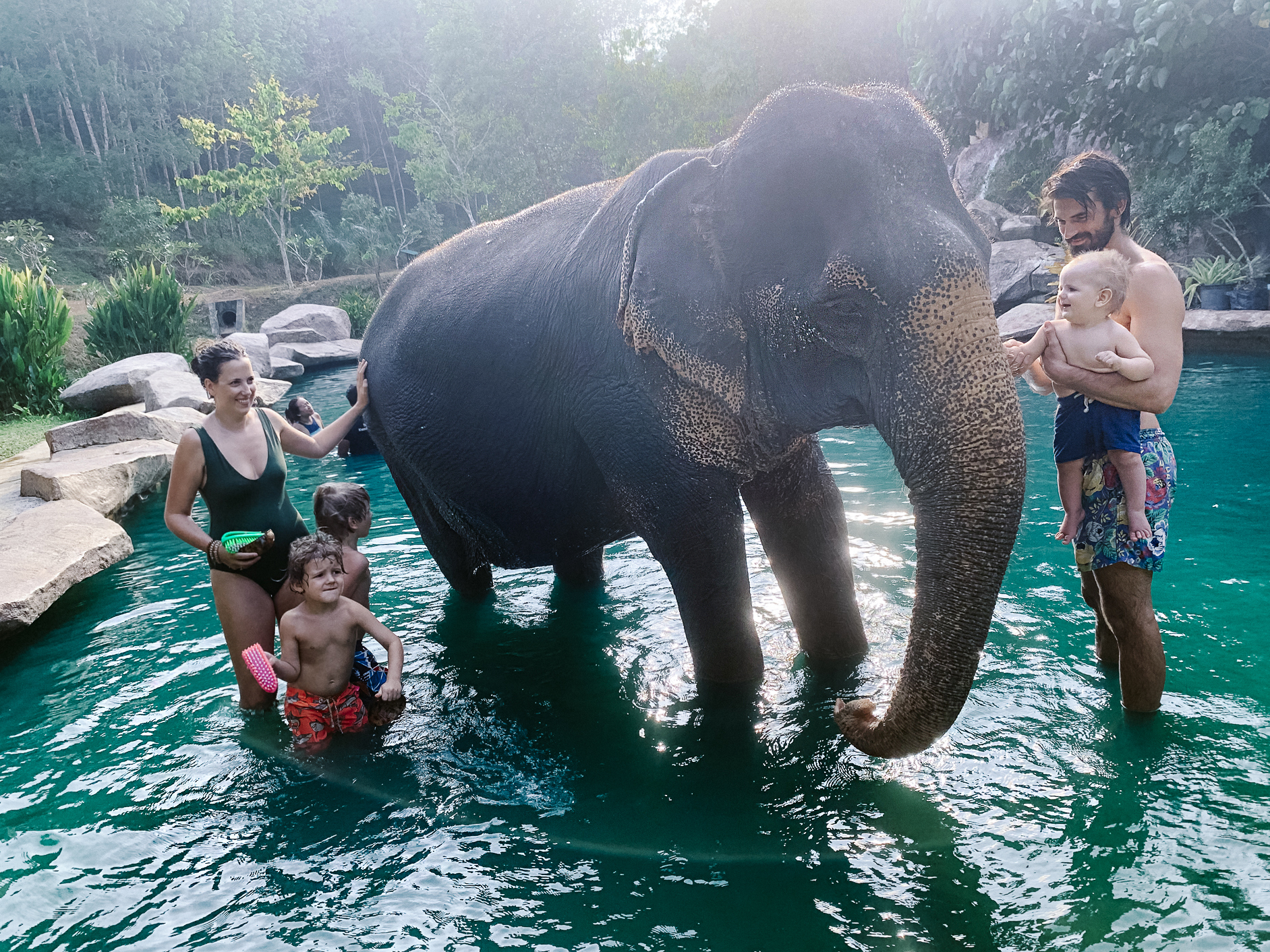 All elephants in the Hillside Elephant Sanctuary are retired and rescued elephants from the wood- and entertainment industry who are now enjoying their well deserved retirement on beautiful grounds of the elephant sanctuary. Our jungle camp in Khao Sok follows a strict no-riding policy! As an eco-tourism company, Our Jungle Camp is responsible for supporting sustainable elephant camps and protected areas in order to maintain the well-being of the domestic elephant population in Thailand.
Our 85 year old elephant granny ...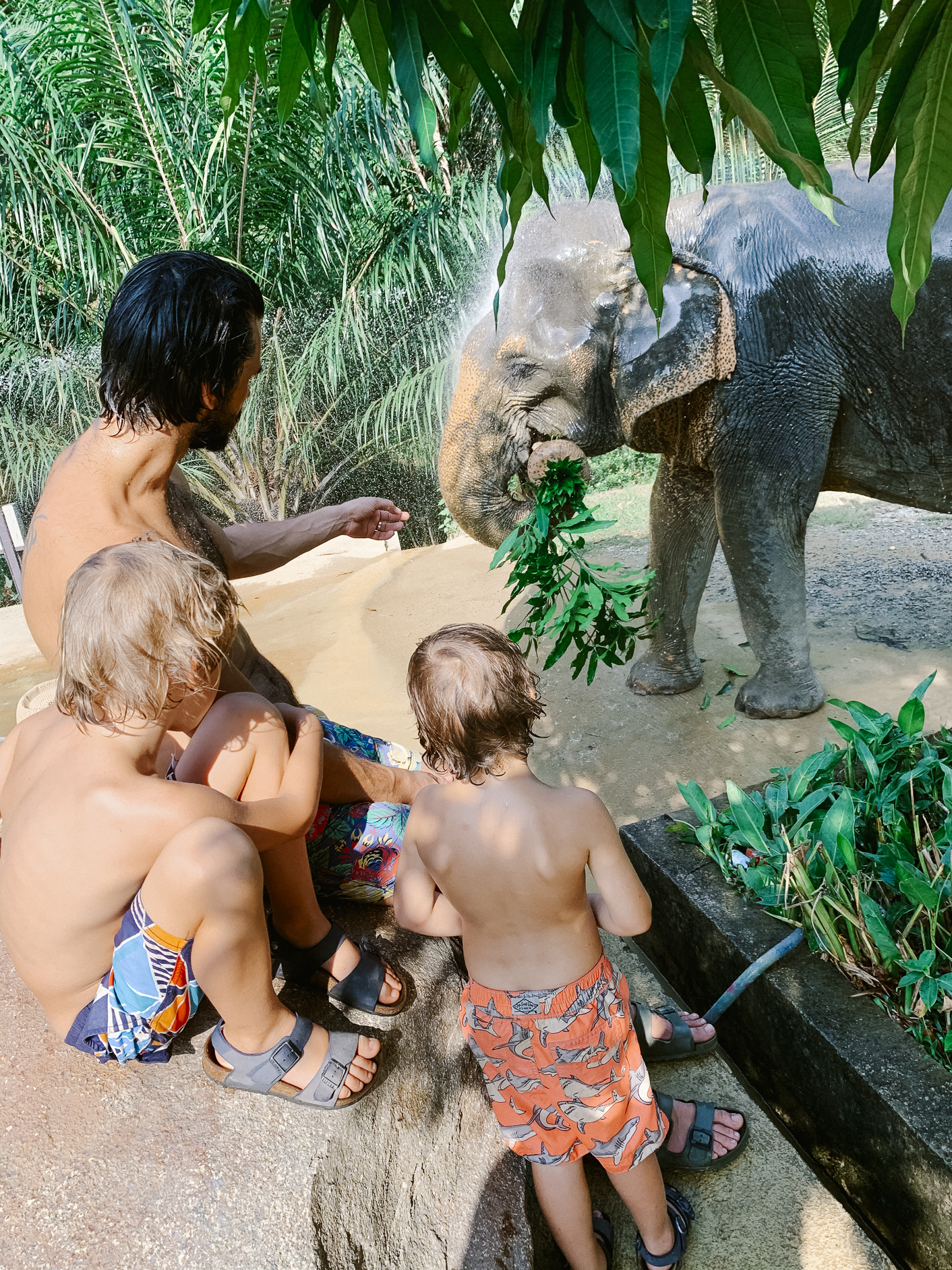 An unforgettable
washed, fed and pampered
experience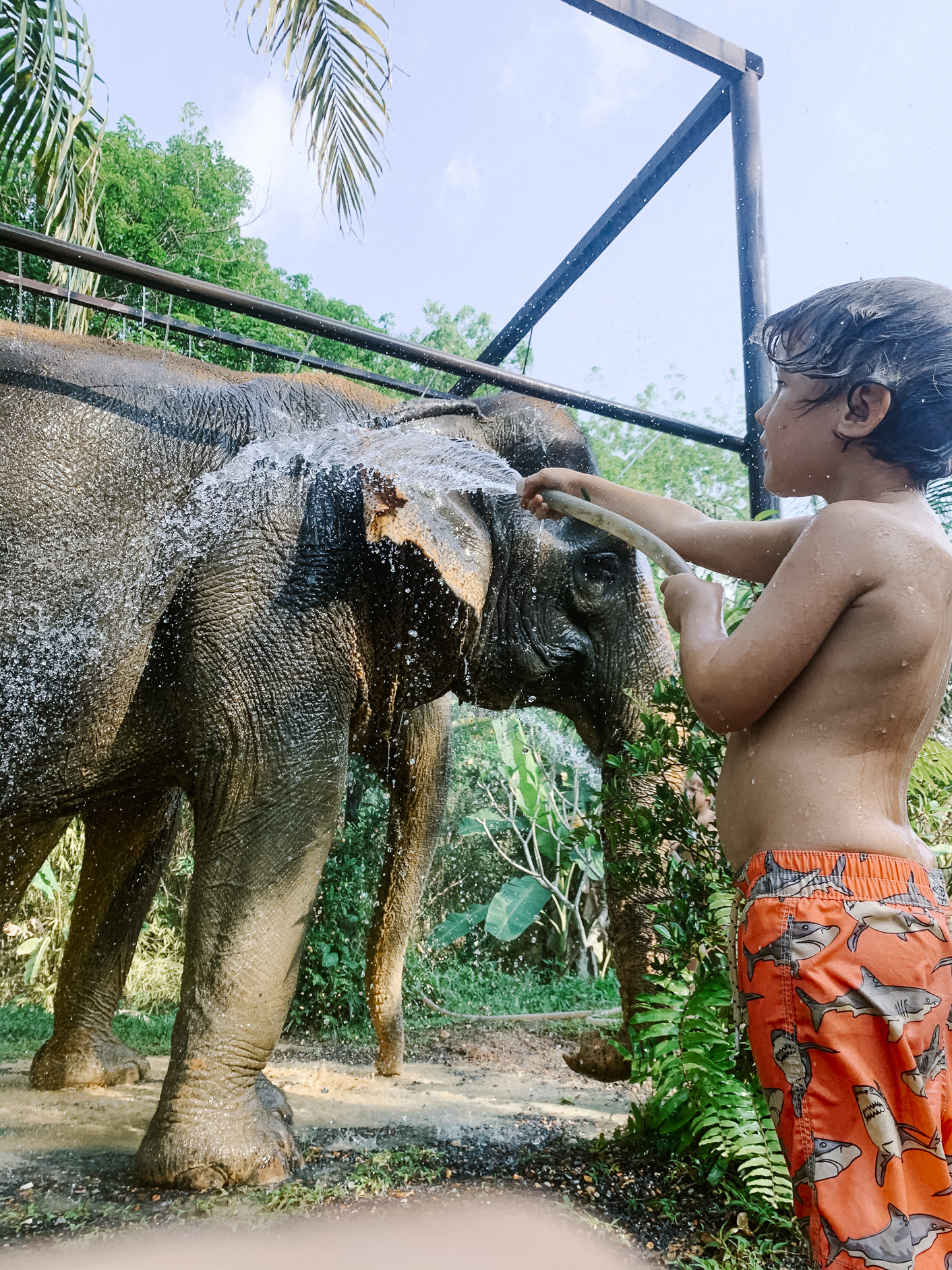 and getting a good wash
for the whole family
Around 30 years ago, there was no water in the valley where the lake is located now. Small villages layed between the high limestone cliffs. In the early 80s, the villages were relocated to build a dike. Since then, it has been damming the Khlong Saeng River, flooding the entire plain and still producing electrical energy. Our tour guide, who grew up in one of the small former villages, tells us the story with great sadness and numerous childhood memories. You can either explore the lake as a day tour with a longtail boat (we did), or sleep in one of the rafthouses, which is rather unsuitable with children, but is otherwise beautiful. We had lunch in one of the Rafthouses, were kayaking and swimming in the most beautiful places in the lake.
With our local guide Liam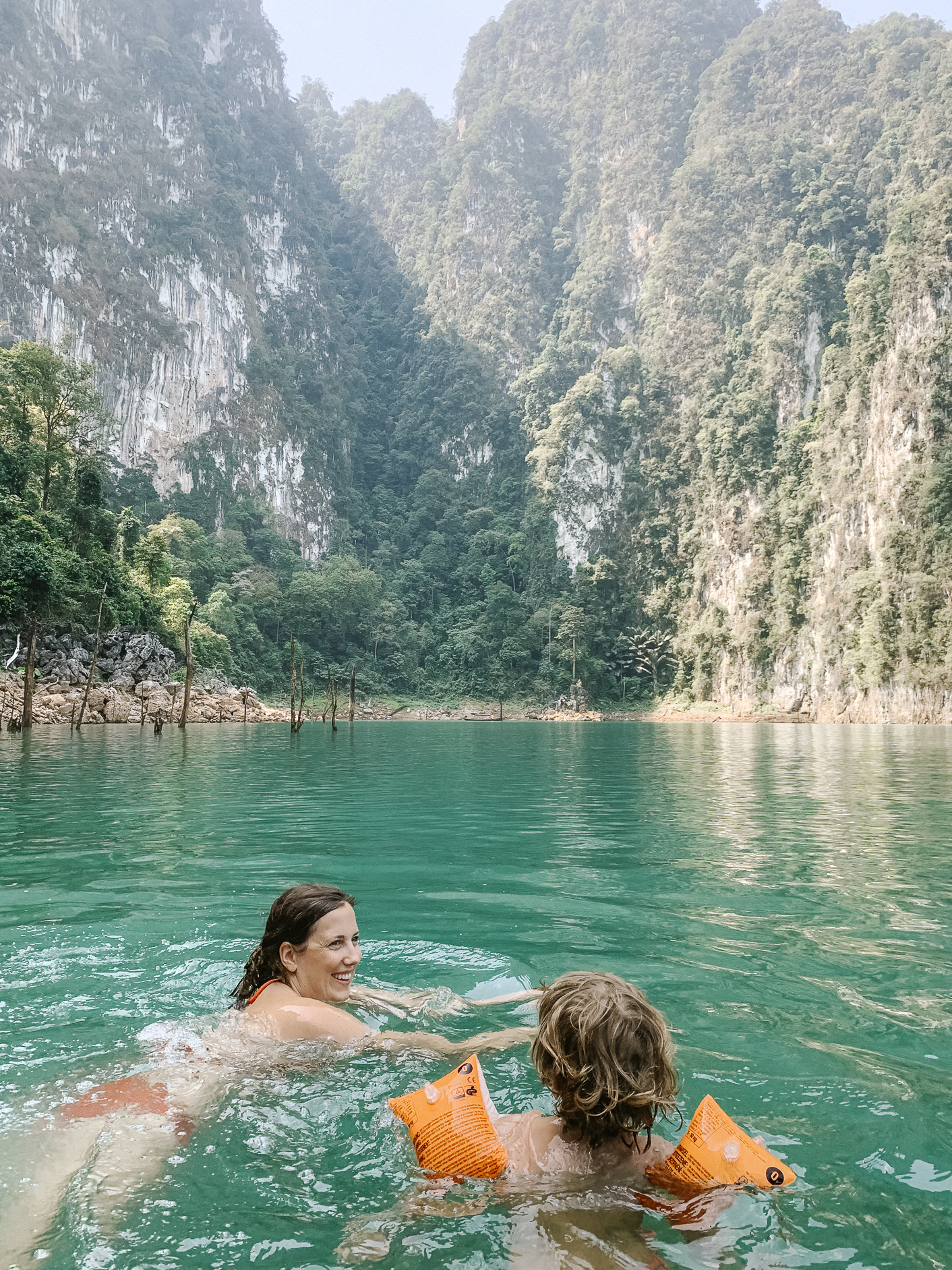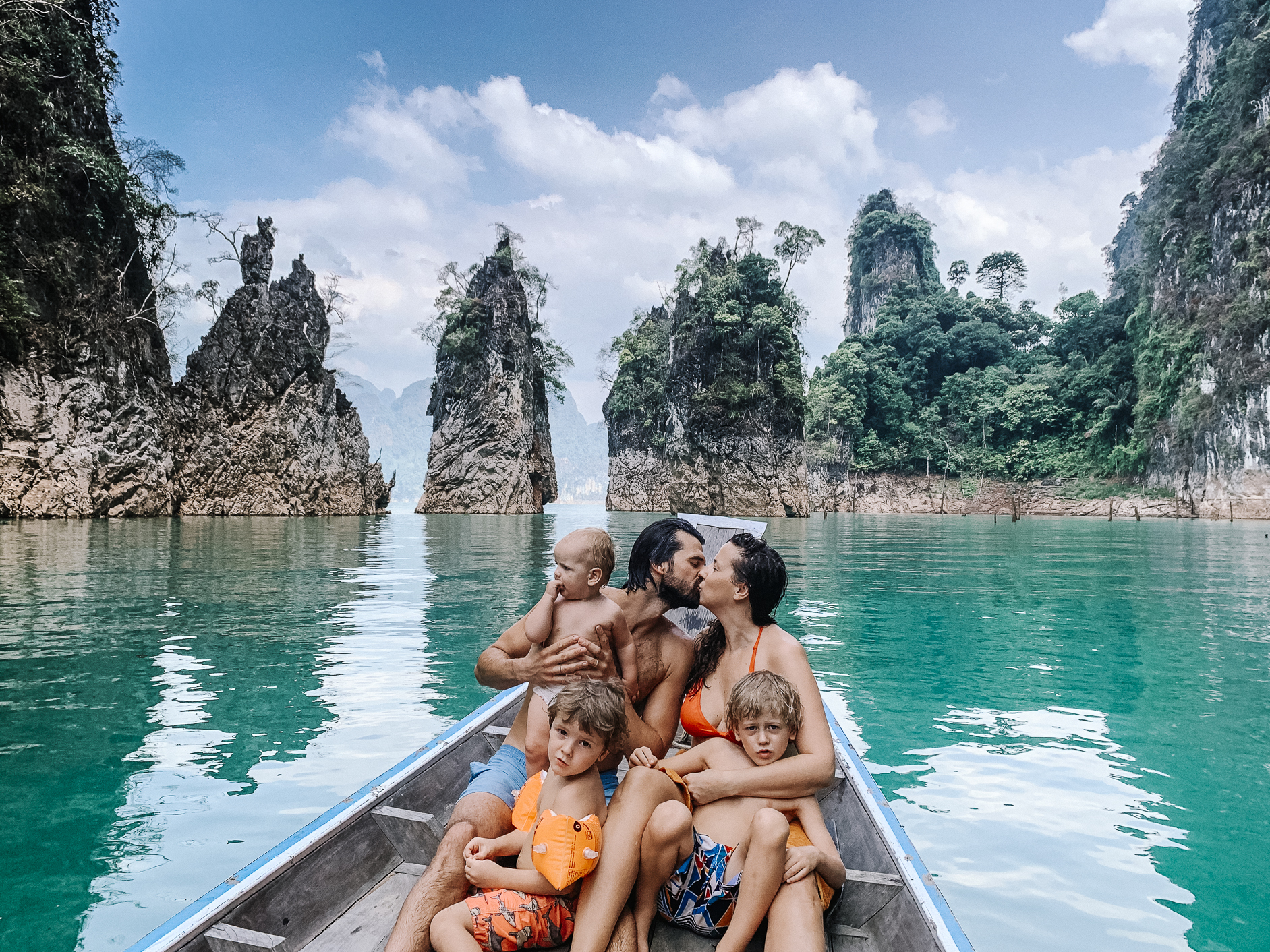 In front of the lakes symbol: the 3 BROTHERS. 🙂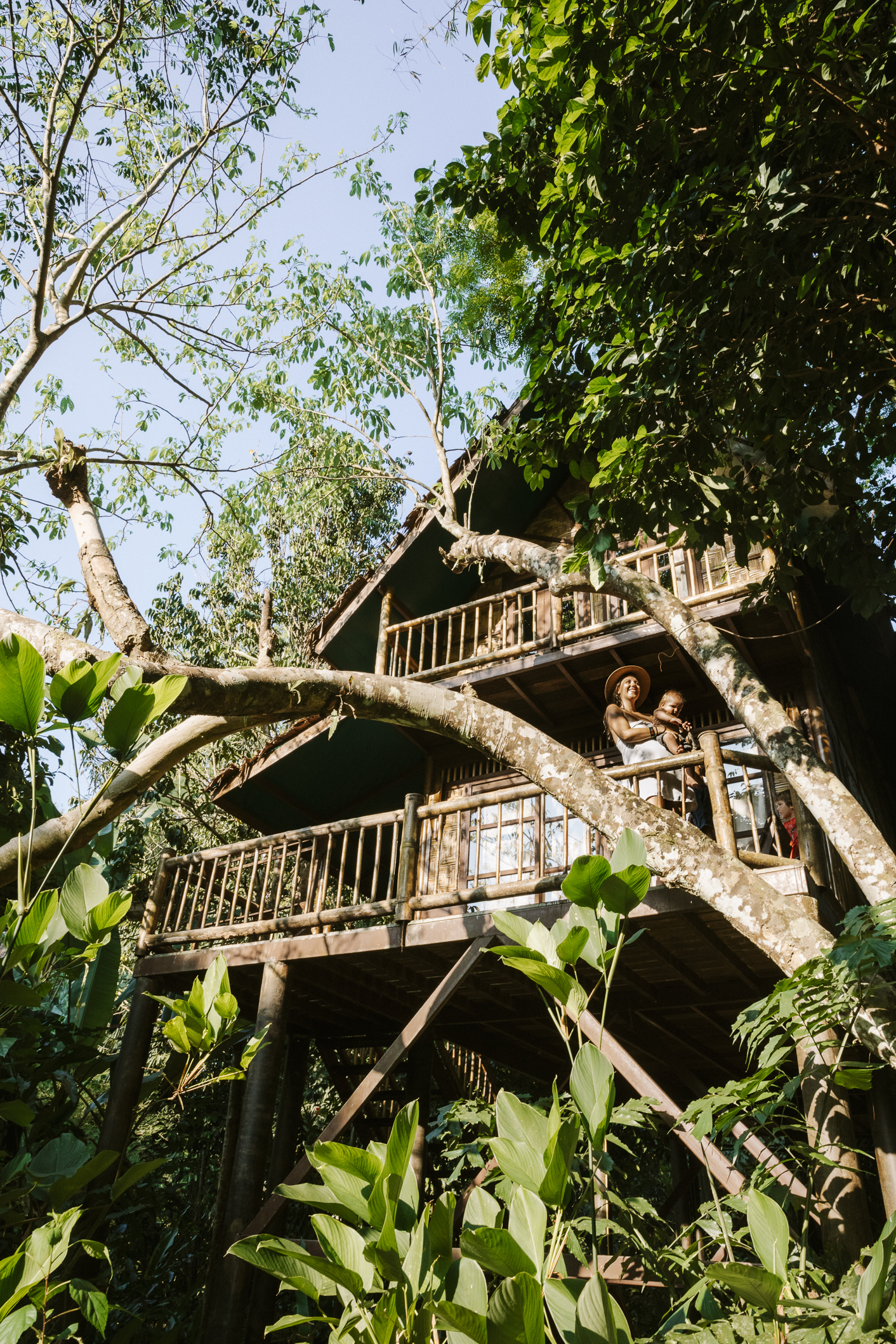 Time to say goodbye ...
and pack our bags once again.
Other Hotels for more memorable nights
ABOUT HOTELS WITH SOUL
Hotels with Soul by NECTAR & PULSE is a personal collection of our favourite hotels around the globe. They have two things in common: soul and passion. Some serve the best coffee we've ever tasted. Some the comfiest beds and linen. Some have a sauna in the woods and delicious home-made jams. Others have a butler available 24/7 or a hunter ready to take you on a hunt. One has a library where you'll want to while away the hours, another one a kitchen stocked with the best midnight snacks.
What they all have in common is great design, friendly people, and authenticity. We call it the NECTAR & PULSE vibe. It's that feeling where it's so comfortable, it almost feels home, but you feel like there's so much to learn, see, and do. These are the places that make you think to yourself, "there's nowhere else I'd rather be." Hotels with Soul are the ultimate destination for curious travellers with a good taste. Discover their story. Experience their soul.
WANT TO JOIN OUR COLLECTION OF SOULFUL HOTELS?
We love to discover new places and to add more beautiful places to our collection. If you think that your hotel reflects our philosophy, please get in touch with us at hello@nectarandpulse.com. We are happy to give you further information, our media kit and our terms. We are looking forward to get to know you and eventually to work together.
Your daily travel inspiration
10 mal GLÜCKLICH IN ... Reiseführer
Hallo liebe Reisefreunde! Unsere GLÜCKLICH IN … Bücher, die wir gemeinsam mit der Süddeutschen Zeitung herausgeben, sind mehr als gewöhnliche Reiseführer. Sie sind eine Hommage an die Lebensfreude. Sie beinhalten unsere persönlichen, handverlesenen Lieblingsorte, Geschichten, Fotos und Zitate. Wir haben unser gesamtes Wissen, tiefgehende Recherche und Herzblut von über 10
WIN 2 NIGHTS AT ALPENLOFT CHALETS IN BAD GASTEIN
Hello lovelies, it's December, the first mountains are white and we celebrate this … Read more
OCTOBER PLAYLIST
Can you believe it? It's already October. Crazy! Here our playlist for you. With lo… Read more