What does a happy life mean for you? "Punto numero uno e la famiglia - Il motore per tutto!" (The family comes first. It is the engine of everything!) Gianni Lo Franco
Arrive and be warmly welcomed
We reach the Fattoria in the afternoon and are welcomed with an excellent platter of delicious homemade Italian antipasti
INTRO
There are these special places with soul, warmth and passion - places where we feel right in our midst, where we can be completely, relax, discover new things and make friends. The Fattoria La Vialla is such a place for us. It is a relaxing and personal retreat for the otherwise rare real Tuscany experience. But the Fattoria is also the best international organic wine producer for the fifth time and at the same time the largest agricultural company in Europe, which is committed to complying with the new Demeter standards for biodynamic cultivation. The company with more than 150 employees is run by the three warmly sympathetic Lo-Franco brothers, whom we also introduce as soulmates with an interview. Gianni, Antonio and Bandino grew up on the farm and are leading a family tradition into the future.
THE NECTAR
We are housed in one of the many authentic Tuscan farmhouses, it smells of grapes - there is a wine cellar in the house. The apartment has a kitchen in which you can prepare all the great products of the Fattoria yourself: pasta made from own-grown grain, the homemade tomato sauce, olives, pickled vegetables, fabulous cantucci, olive oil, wonderful salami, delicious sheep's cheese and of course excellent natural wine in the greatest variants. Our favorite was the Casal Duro 2015 and a fantastic unfiltered white wine.
The Fattoria La Vialla is truly a unique place that, despite or perhaps because of its size, enables a very authentic and intimate Tuscany experience. We will never forget the evening when we had an excellent dinner in the in-house restaurant under a fig tree, made new friends and learned a lot about the history of the house and the people who fill the house with life. We wish you an equally wonderful time in this place. And if the next trip to Tuscany is still a long way off, you can simply have the delicious products of the Fattoria sent to your home. >>> order ONLINE
THE PULSE
For many, Tuscany is a place of longing! But as picturesque as the Chianti and historic towns are like San Giminiano, they have also lost part of their magic when the sheer amount of people changes the scenery. That's why we like to recommend the east of Tuscany, where the soul of the region can still be felt and understood. During a walk through Arezzo or a hike to Cortona you will be awakened again, the desire to discover and immerse yourself in a region instead of "just" marveling at it. We wish you a lot of fun in Tuscany, preferably with our own travel guide "Happy in Tuscany", which we publish together with the Süddeutsche Zeitung.
Requests only via mail to fattoria@lavialla.it
OUR STAY IN PICTURES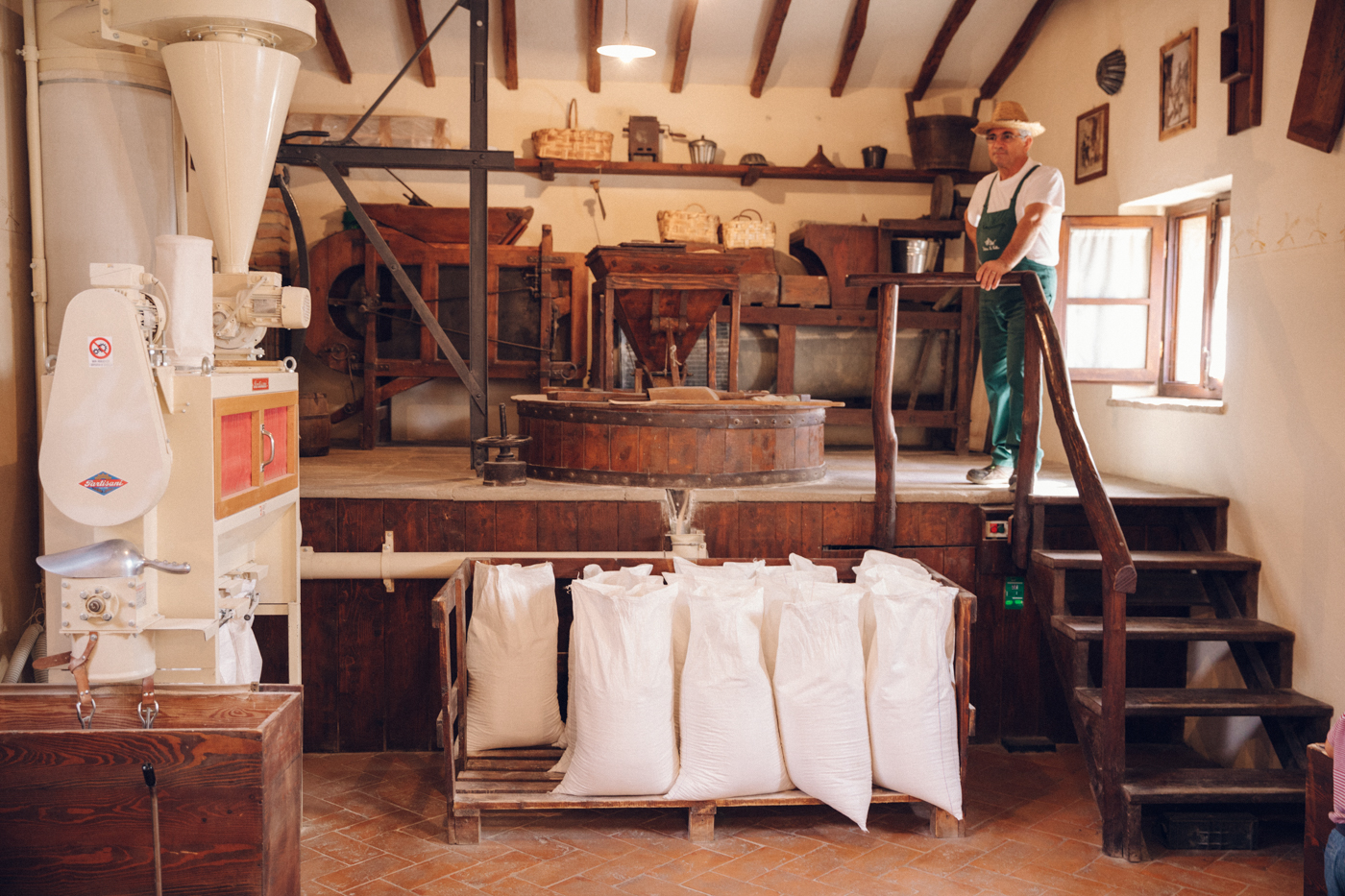 A highlight for young and old:
in the production of the popular
See La Vialla products (and taste!)
Romantic evenings on the farm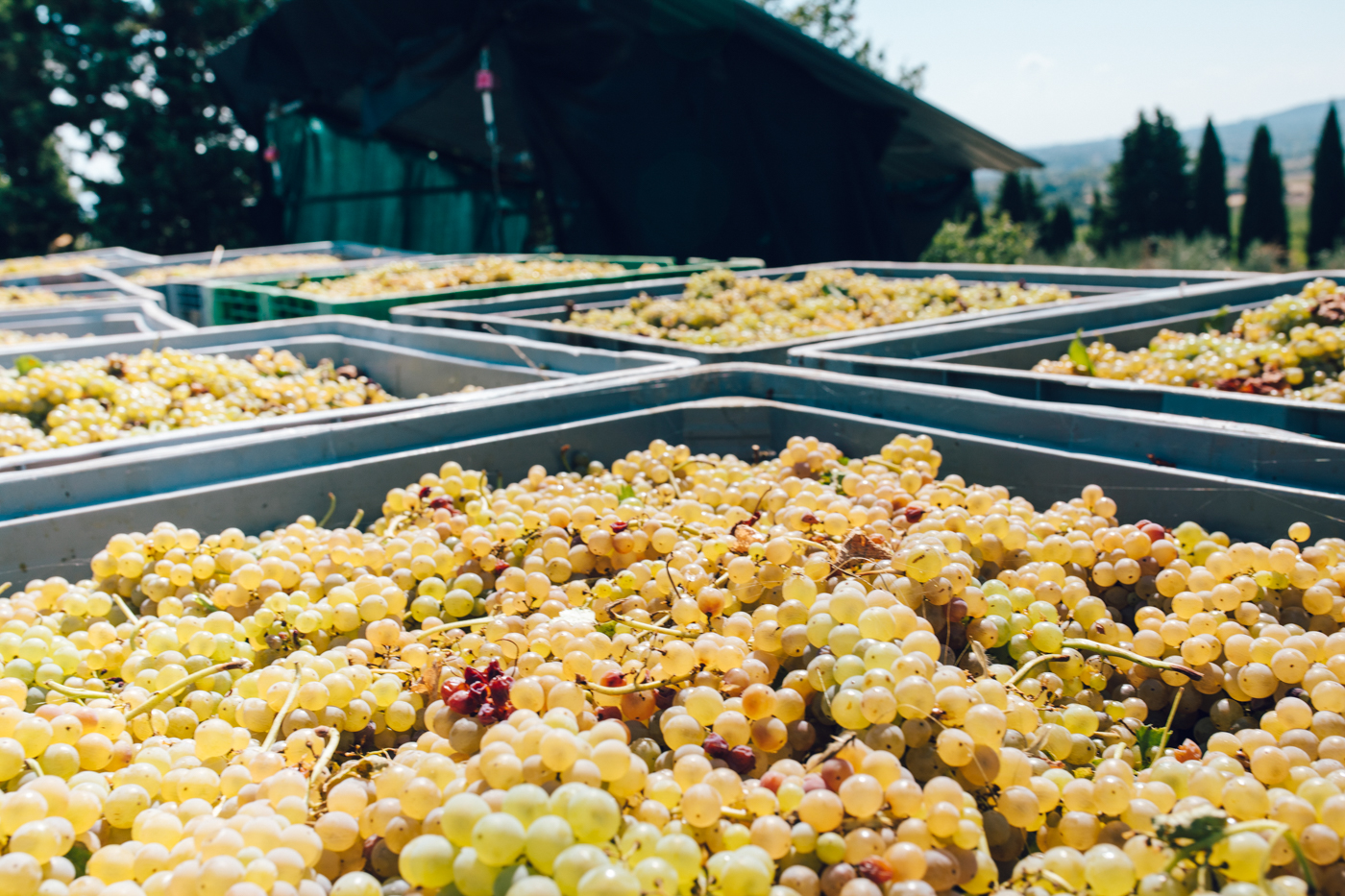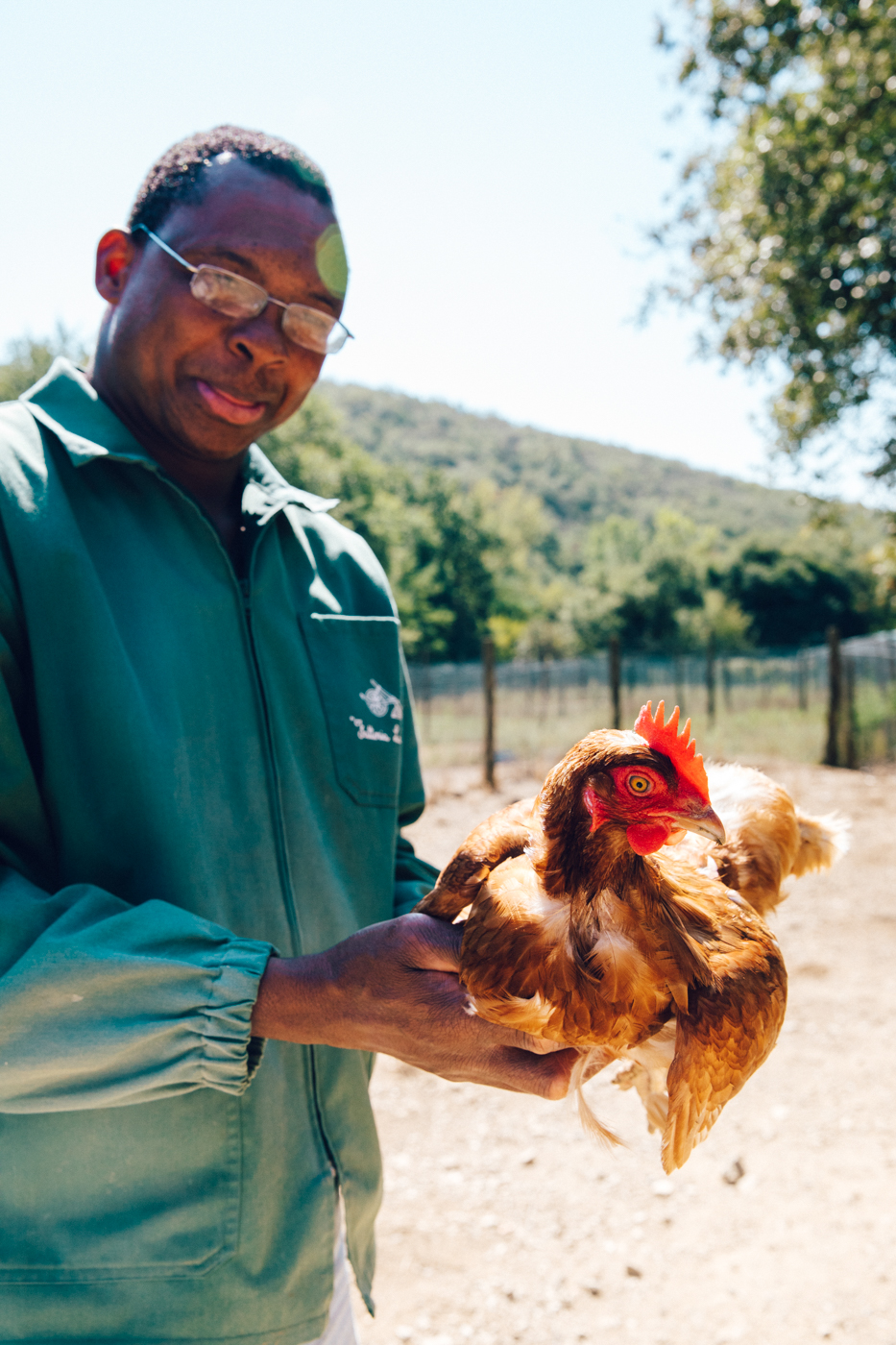 A picture-book lunch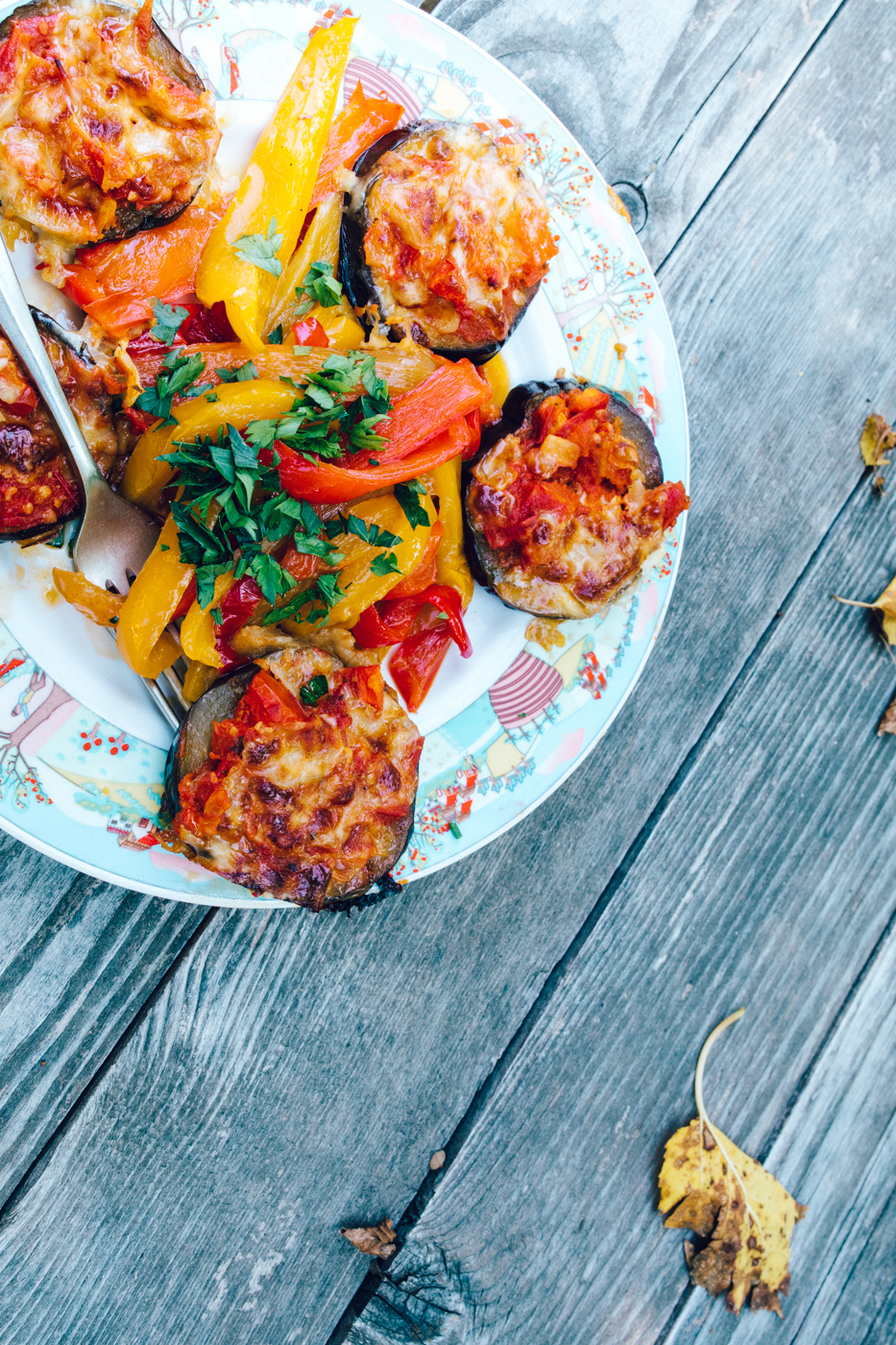 In the evening we stroll through the cypress alley to our romantic house
This is where the first La Vialla wine was stored ... a place steeped in history!
Another feast with our own products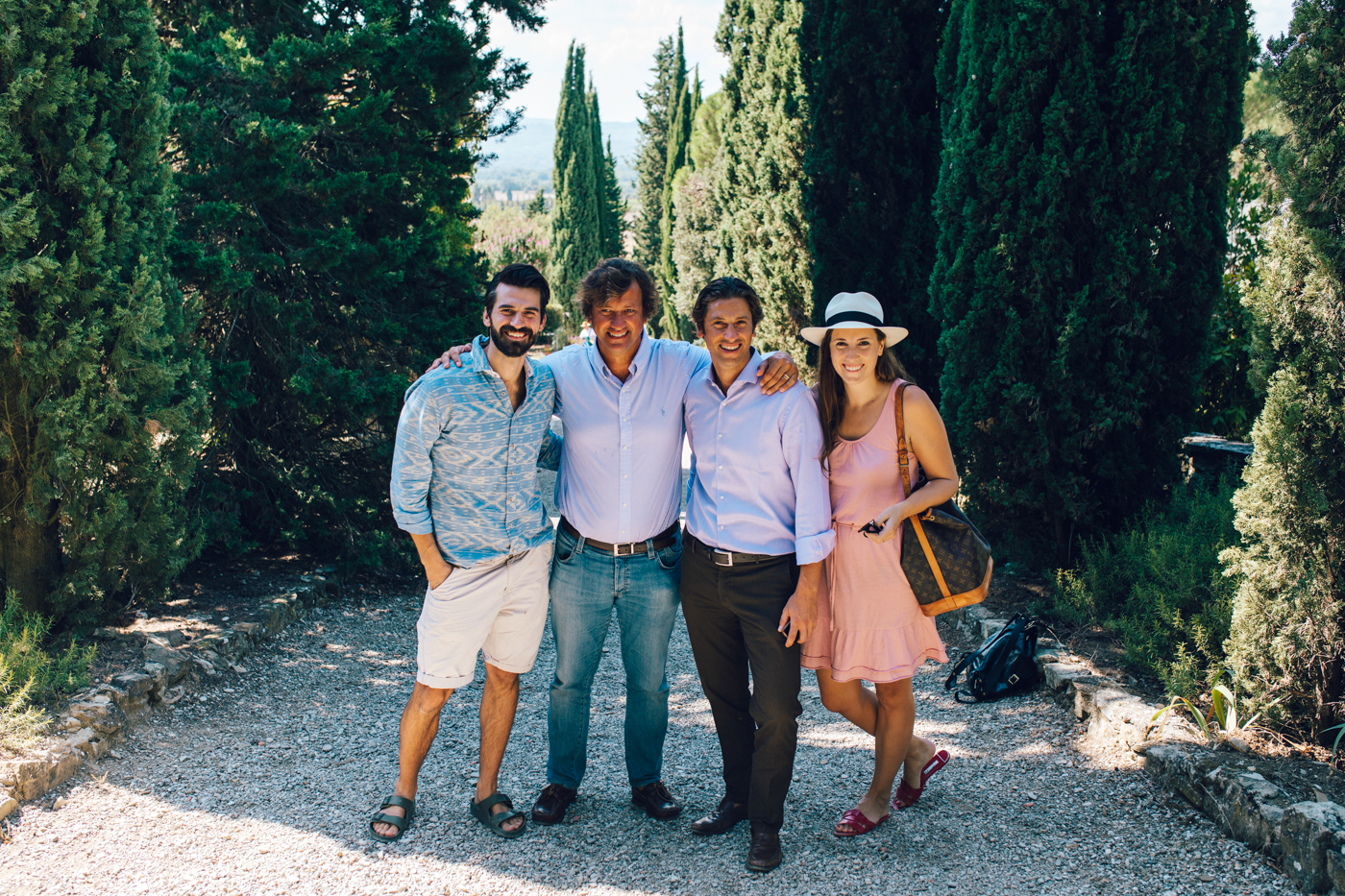 Getting to know each other before the interview
Two of the three Lo Franco brothers: Gianni and Bandino
What contribution would you like to make with Fattoria La Vialla?
We want to offer people an authentic and intimate experience of Tuscany. You should experience the old traditions, taste the land and the natural, delicious harvest that it produces and feel the atmosphere of an Italian extended family, which we create here together with our more than 150 employees. We call it the La Vialla experience. We notice that now more and more people want to experience the true and genuine Tuscan life in addition to the classic historical cities such as Florence, Siena and San Gimignano. That's what we want to offer here.
Where did your family originally come from and how did La Vialla come about?
All three of us were born in Siena, as was our mother, and then after four years we moved to Arezzo, where we all live again today. In between, of course, we all lived on La Vialla when my parents were renovating the old oil mill on their own for several years.
Our grandfather originally came from Sicily and was transferred to Siena as a Carabinieri after the Second World War, where he met our grandmother. Although he has never worked in agriculture himself, he had an urgent dream to do just that. He bought a piece of land and started growing grapes. La Vialla is still growing there today. Some dreams are only realized through the following generations and so our father decided many years later to sell his shares in a textile company and to purchase around 1000 hectares of land for it. He took a step back towards the future! Today we are continuing this young tradition in the third generation and have expanded agriculture to include many products and switched to demeter-certified biodynamic production.
What is Tuscany for you?
Life in Tuscany has always been determined by the earth and the land. Many Tuscans live as self-producers from their own harvest in a very natural way. "Each" mom cooks her own canned food for the winter, bakes bread and cooks pasta from her own grain and drinks excellent wine from her own cultivation. The high quality of the products that the country and the climate make possible also allow an enjoyable, beautiful existence. Florence is certainly the exception here, as the people here have long lived from trade and handicrafts. At La Vialla we live the modern Tuscan life. Our family knew life in the city and working in trade and has decided on a new form of farming.
Your parents founded La Vialla 40 years ago. When did you three brothers take over the business from your parents?
Never (* laugh)! Our parents Piero and Giuliana are still quite young, they are only 70 years (!) And work on La Vialla every day. We run La Vialla naturally together as a family. We grew into it, because we all helped here as children: in the vineyards, with the bottling, with the preparation of the gift baskets, etc. v. m.
What makes the Arezzo region so special?
The Chianti Classico, Siena, Florence and San Gimignano are beautiful, but no more surprises. In Arezzo and the East, it is much easier to experience authentic Tuscan life. There are still these small restaurants that "only" cook food for the locals and do not even think about tourism. We have three favorite restaurants in Arezzo:
1) Ristorante La Pieve. The owner is a passionate sommelier and chef and his food is modern and excellent. In the first month after opening, his restaurant was packed.
2) Osteria Giovanna. The son of the house, Luca Martini, was recently named the best sommelier in the world. His grandmother Giovanna only stopped working in the kitchen two years ago at the age of 90. She used to make fresh tagliatelle for hundreds of guests on Sunday! The recipes have stayed the same though, and the homemade pasta and meat are fantastic! From the outside, however, it is very inconspicuous.
3) La Tagliatelle Nuova. The place is modern and has sophistication. The best tartare in the world is served here! The quality of the ingredients used is phenomenal. The owner Cristiano is also a sommelier and guarantor for an excellent selection of wines. His grandparents opened this restaurant over 30 years ago. You never see Cristiano's mother, really never, because she is always in the kitchen and conjures up homemade dishes with tradition.
What is your favorite wine?
We have over 40 different wines, but my favorite among the reds is the Casal Duro from the 2011 vintage. He's a real Tuscan: full-bodied, taste of blackberries and ripe fruits, complex and with beautiful scents. It lies between tradition and modernity. In the case of white wines, it is the Torbolino non filtrato that is not filtered and therefore tastes fruity.
Where to find us
---
Florenz (Amerigo Vespucci)
Other Hotels for more memorable nights
ABOUT HOTELS WITH SOUL
Hotels with Soul by NECTAR & PULSE is a personal collection of our favourite hotels around the globe. They have two things in common: soul and passion. Some serve the best coffee we've ever tasted. Some the comfiest beds and linen. Some have a sauna in the woods and delicious home-made jams. Others have a butler available 24/7 or a hunter ready to take you on a hunt. One has a library where you'll want to while away the hours, another one a kitchen stocked with the best midnight snacks.
What they all have in common is great design, friendly people, and authenticity. We call it the NECTAR & PULSE vibe. It's that feeling where it's so comfortable, it almost feels home, but you feel like there's so much to learn, see, and do. These are the places that make you think to yourself, "there's nowhere else I'd rather be." Hotels with Soul are the ultimate destination for curious travellers with a good taste. Discover their story. Experience their soul.
WANT TO JOIN OUR COLLECTION OF SOULFUL HOTELS?
We love to discover new places and to add more beautiful places to our collection. If you think that your hotel reflects our philosophy, please get in touch with us at hello@nectarandpulse.com. We are happy to give you further information, our media kit and our terms. We are looking forward to get to know you and eventually to work together.
Your daily travel inspiration
10 mal GLÜCKLICH IN ... Reiseführer
Hallo liebe Reisefreunde! Unsere GLÜCKLICH IN … Bücher, die wir gemeinsam mit der Süddeutschen Zeitung herausgeben, sind mehr als gewöhnliche Reiseführer. Sie sind eine Hommage an die Lebensfreude. Sie beinhalten unsere persönlichen, handverlesenen Lieblingsorte, Geschichten, Fotos und Zitate. Wir haben unser gesamtes Wissen, tiefgehende Recherche und Herzblut von über 10
WIN 2 NIGHTS AT ALPENLOFT CHALETS IN BAD GASTEIN
Hello lovelies, it's December, the first mountains are white and we celebrate this … Read more
OCTOBER PLAYLIST
Can you believe it? It's already October. Crazy! Here our playlist for you. With lo… Read more