"Lankanfushi Island puts you in a trance of sublime relaxation."
THE NECTAR
Rooms: With only a few (45) wooden villas placed over the waters of the Indian Ocean, every suite at Gili Lankanfushi feels like a water palace, offering guests absolute privacy. But take note! This is eco-friendly luxury done right. Every part of the property, from bedrooms to bathrooms, from the dining area to the sun deck to the rooftop terrace, spreading over 250 square metres, is built for sustainability. The environmental kick isn't at the expense of good design however. Large windows create spaces with abundant natural light and incredible panoramic views on the beautiful ocean, shimmering in a thousand shades of blue. From morning to night, the sundeck and the terrace are the perfect places to chill out and take it all in. Sun, sea, ocean breeze – Gili Lankanfushi is heaven sent.
Specials: It's hard to choose just one special highlight of the resort. The friendly, service-orientated staff is just the start of an entire slate of extraordinary experiences. From the moment you step foot on the island, you're welcomed by your personal concierge, Mr. Friday (referring of course to the famous character in Robinson Crusoe), who will ensure that every moment of your time at Gili Lankanfushi is unforgettable. If you want to go snorkelling (a must-do!), or are keen on any other activity, the concierge will make it happen. And at some point, when you step away from the sun and sea, there are two incredible restaurants, serving up creative and mouth-watering dishes every day.

THE PULSE
Close your eyes and imagine the sound of the sea, the sun warming your skin, and the feel of the salty air breeze across the water. Your pulse slows down, you deepen your breath, and your soul is suddenly at peace. Lankanfushi Island puts you in a trance of sublime relaxation. Don't worry about meeting people, making small talk, or being "on" - there will be another time and place for that! At Gili Lankanfushi it's all about feeding your soul and catering to your own desires. It's all about you.
If you want to find out more about the Maldives and the capital Malé check out our Local Soulmate's travel guide.

MUST DO

Enjoy every single minute in your spectacular villa sitting over the ocean.
*
Let Mr. Friday take care of everything for you - sit back and relax
*
Swim with the little sharks that appear under your villa (Don't worry, they're not hungry!)
*
Enjoy the fantastic food at every meal
*
Watch a movie at the outdoor cinema
Walkway leading to the beautiful water villas.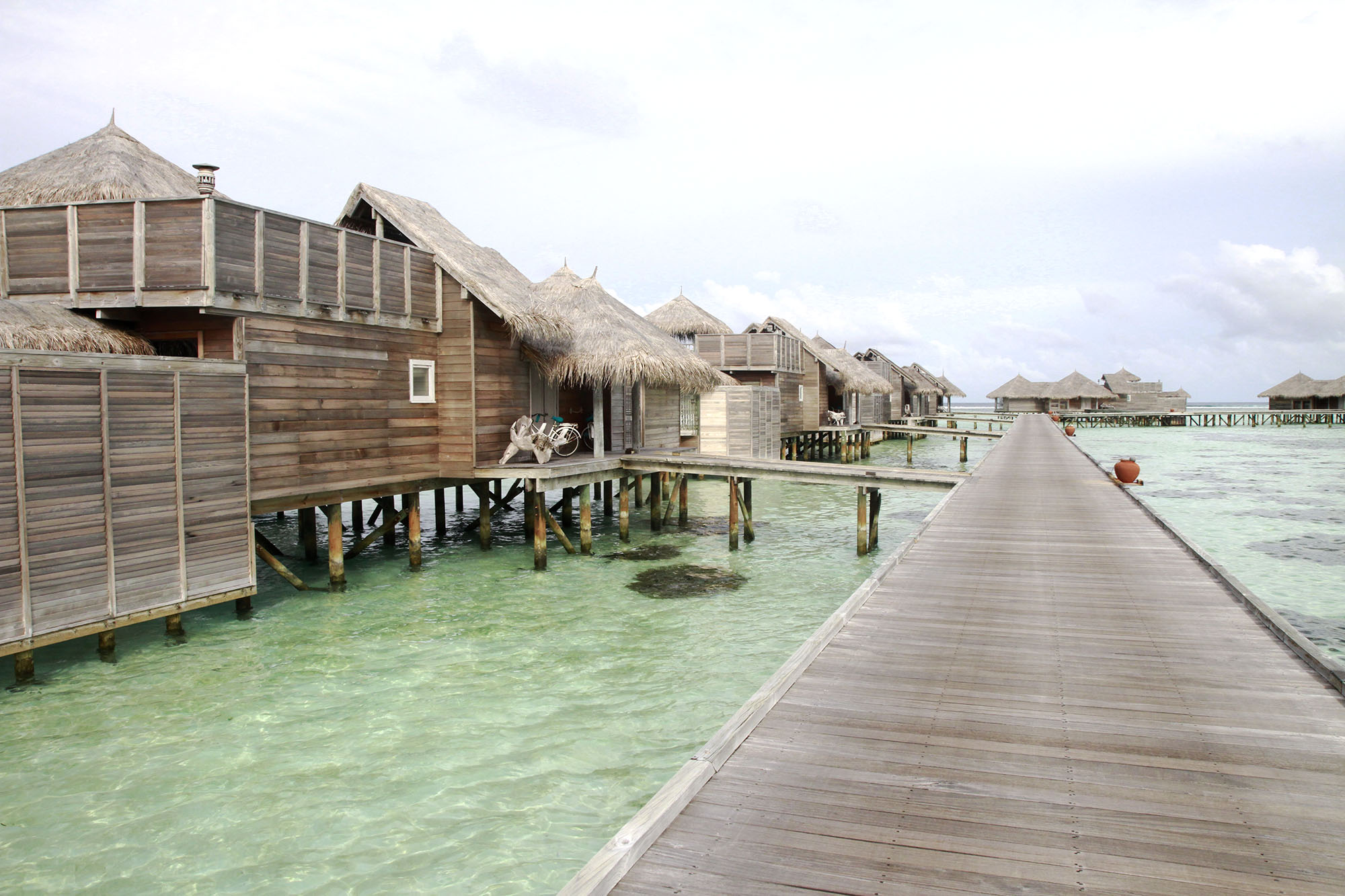 The jetty to an unforgettable holiday experience!
The food is delicious at the Gili Lankanfushi resort.
The panorama window front of the water villa.
Boost you energy levels with fresh fruit from the Maledives!
Listen to the wind rustling in the palm trees, enjoy the view over the ocean and watch all your stress and negativity disappear.
Banana pancakes, oh yes!
The bikes (come with every water villa) will take you all over the island.
You might want to have some of these delicious bites in between bouts of swimming, snorkelling, cycling or just hanging at the beach.
The "Mr/s. Friday Service" is referring of course to the famous character in Robinson Crusoe.
NECTAR & PULSE - Queens of the Maldives!
We could not have asked for a better Mr. Friday!
Look around you and you will be able to see the wonderful ocean in every direction.
Beach breakfast!
Where to find us
---
Velana International Airport
Other Hotels for more memorable nights
ABOUT HOTELS WITH SOUL
Hotels with Soul by NECTAR & PULSE is a personal collection of our favourite hotels around the globe. They have two things in common: soul and passion. Some serve the best coffee we've ever tasted. Some the comfiest beds and linen. Some have a sauna in the woods and delicious home-made jams. Others have a butler available 24/7 or a hunter ready to take you on a hunt. One has a library where you'll want to while away the hours, another one a kitchen stocked with the best midnight snacks.
What they all have in common is great design, friendly people, and authenticity. We call it the NECTAR & PULSE vibe. It's that feeling where it's so comfortable, it almost feels home, but you feel like there's so much to learn, see, and do. These are the places that make you think to yourself, "there's nowhere else I'd rather be." Hotels with Soul are the ultimate destination for curious travellers with a good taste. Discover their story. Experience their soul.
WANT TO JOIN OUR COLLECTION OF SOULFUL HOTELS?
We love to discover new places and to add more beautiful places to our collection. If you think that your hotel reflects our philosophy, please get in touch with us at hello@nectarandpulse.com. We are happy to give you further information, our media kit and our terms. We are looking forward to get to know you and eventually to work together.
Your daily travel inspiration
10 mal GLÜCKLICH IN ... Reiseführer
Hallo liebe Reisefreunde! Unsere GLÜCKLICH IN … Bücher, die wir gemeinsam mit der Süddeutschen Zeitung herausgeben, sind mehr als gewöhnliche Reiseführer. Sie sind eine Hommage an die Lebensfreude. Sie beinhalten unsere persönlichen, handverlesenen Lieblingsorte, Geschichten, Fotos und Zitate. Wir haben unser gesamtes Wissen, tiefgehende Recherche und Herzblut von über 10
WIN 2 NIGHTS AT ALPENLOFT CHALETS IN BAD GASTEIN
Hello lovelies, it's December, the first mountains are white and we celebrate this … Read more
OCTOBER PLAYLIST
Can you believe it? It's already October. Crazy! Here our playlist for you. With lo… Read more