"Our manor house is our greatest adventure. We can live where you go on vacation. We work so that you have a nice, happy, relaxed, unforgettable time. In short: a dream, our dream. "
Out of Berlin and into country life! A wonderful weekend is waiting ahead.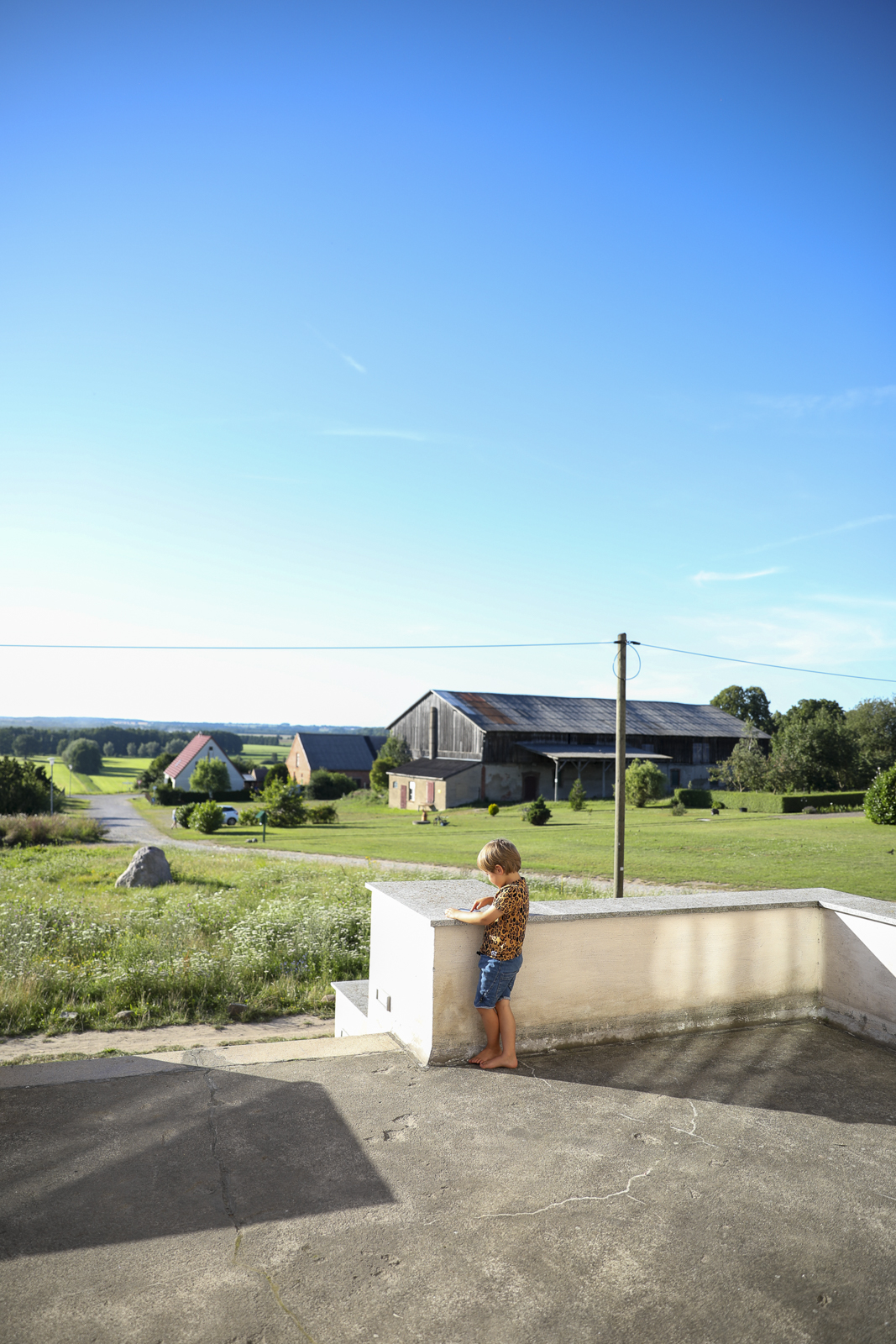 A visit to Gut Pohnstorf feels like visiting long-standing friends. The owner Kamila welcomes you warmly without many formalities and invites you to sit in the park-like garden. On the way to the garden, we stop by the neighboring courtyard café, which surprises us with its modern aesthetic and truly fantastic cakes. In the garden we sit with new friends and chat, the children harvest apples, pick berries and are on a discovery tour with the other children. So we got head over heels in the good country life at Gut Pohnstorf!
Our sunny 90 m² apartment: Bertha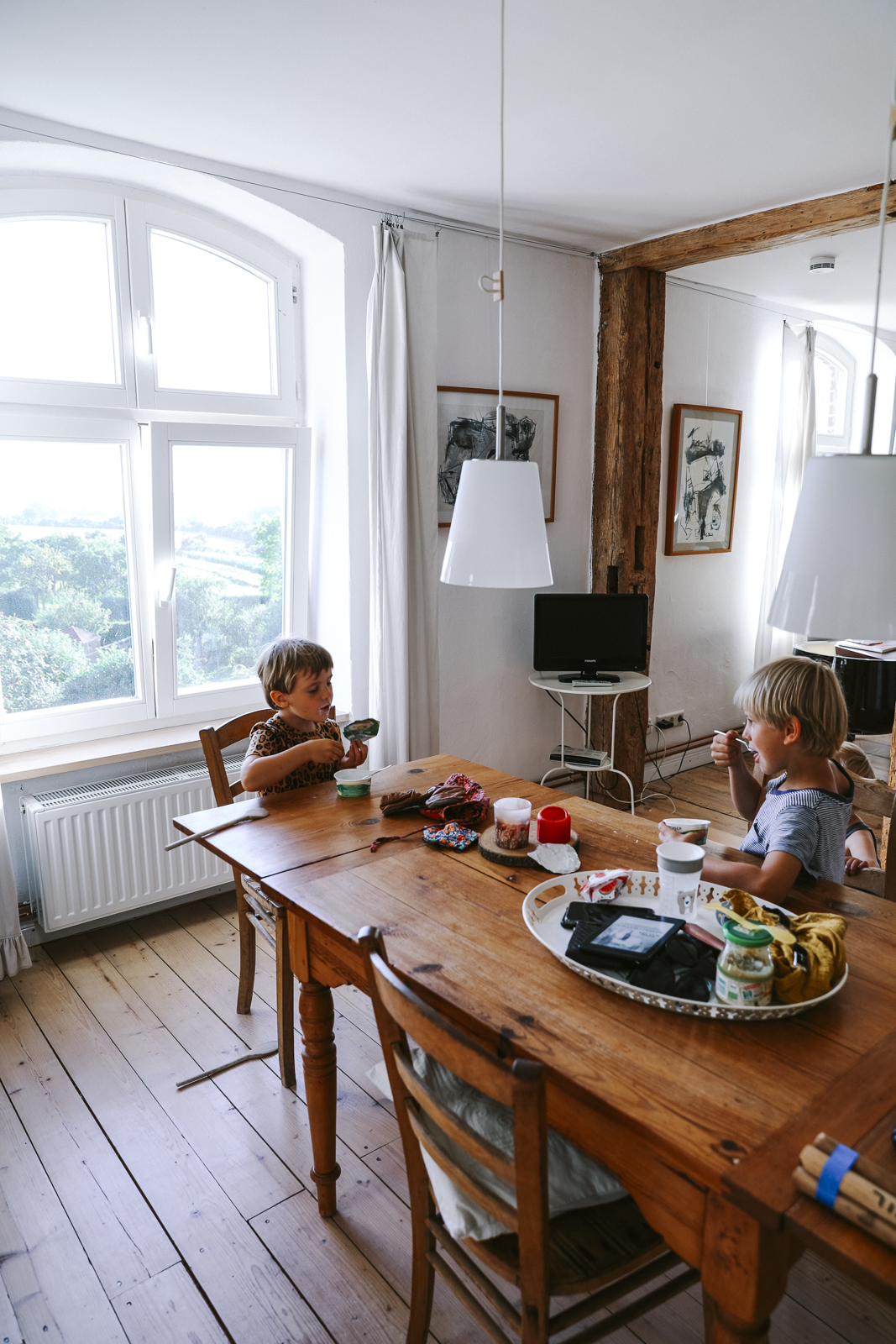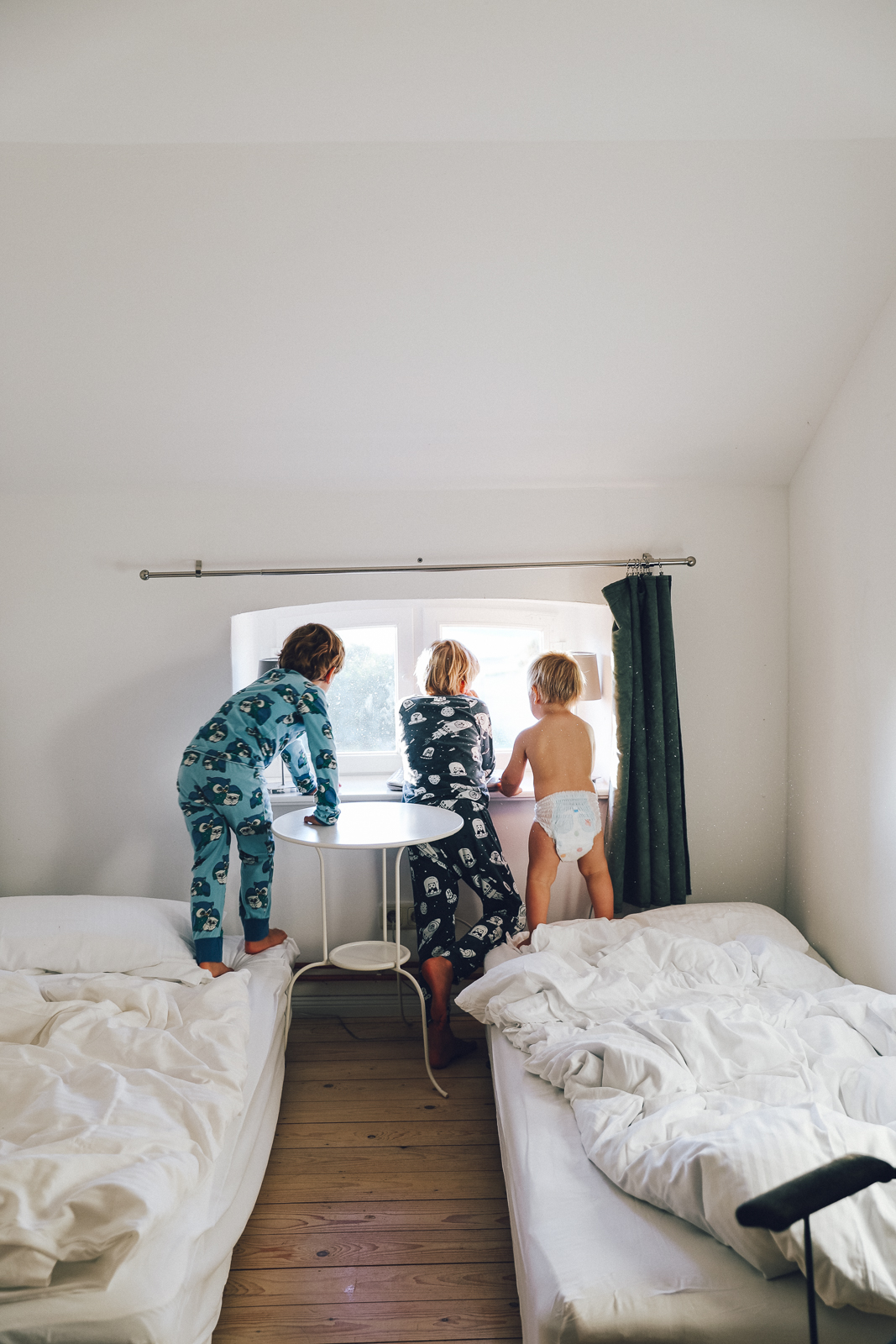 THE PULS
The manor house dates back to the 18th century and has a total of 6 enchantingly beautiful and elegantly renovated apartments - the word suite actually does better justice to the chic ambience of the rooms. Each apartment also has a fully equipped kitchen. Herringbone parquet, high ceilings, chandeliers, open half-timbered buildings and everywhere you go with a view of the green. From our apartment we look out over the gentle hills of Mecklenburgische Schweiz, while the swallows perform their wonderful choreography every evening.
The wide view over Mecklenburg Switzerland
Enjoy the last evening sun
and watch the swallows fly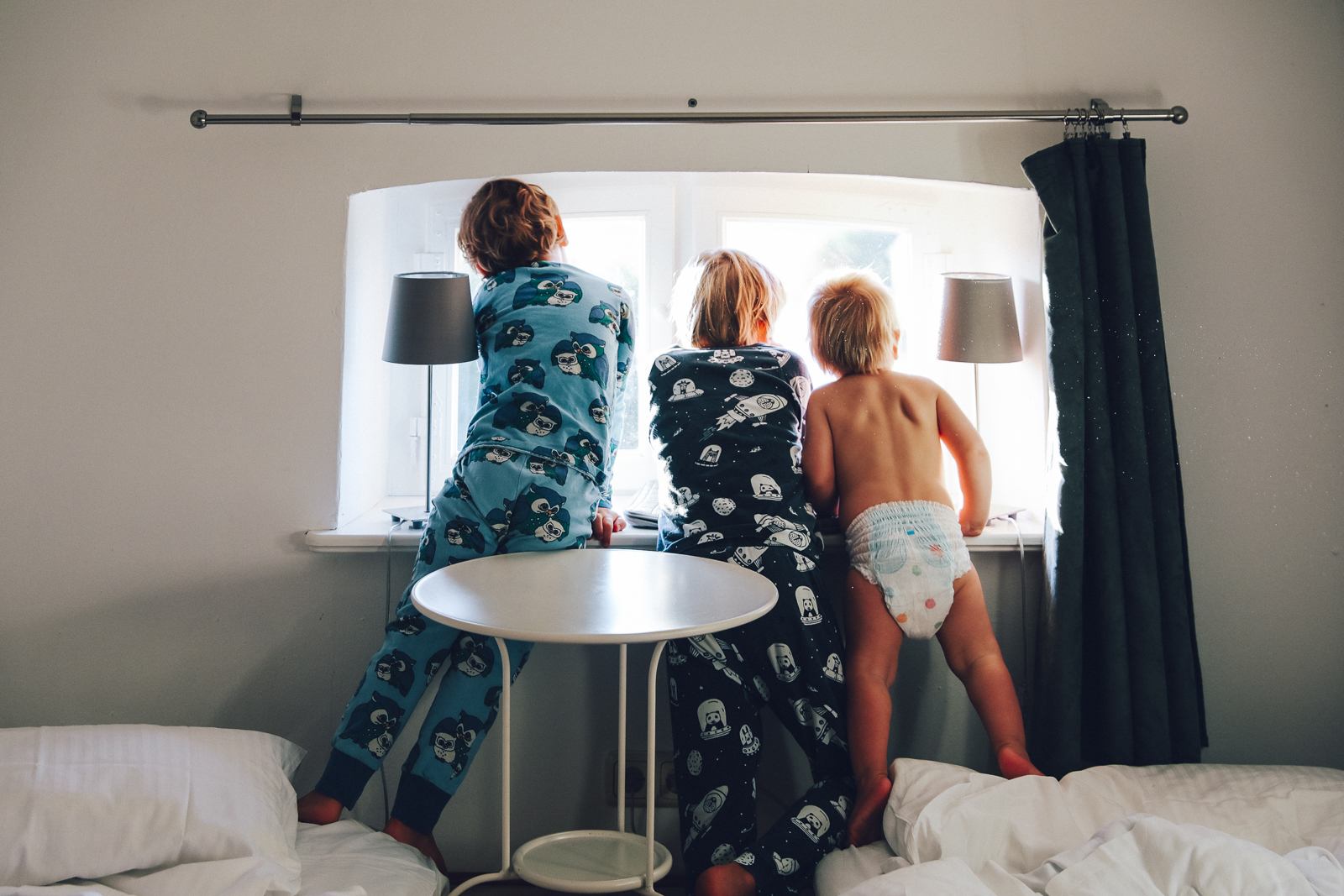 an happening for young and old
THE PULSE
Gut Pohnstorf is far away from any larger town and the nature of Mecklenburg Switzerland begins on the doorstep. A small swimming pond is just a few minutes' walk away and if you are looking for a bit more space, you will find it in the idyllic Kumerower See - another real insider tip! The area is wonderfully suitable for bike trips to the lake and so there are also e-bikes and SUP boards for day trips to borrow in the manor. If you prefer to stay "at home", you can have fun with a variety of games in the garden or hide with your novel in the hammock under the old maple tree.
Good Morning Sunshine
Beautiful artwork and lovely spaces throughout the 18th century house
Time for the apple harvest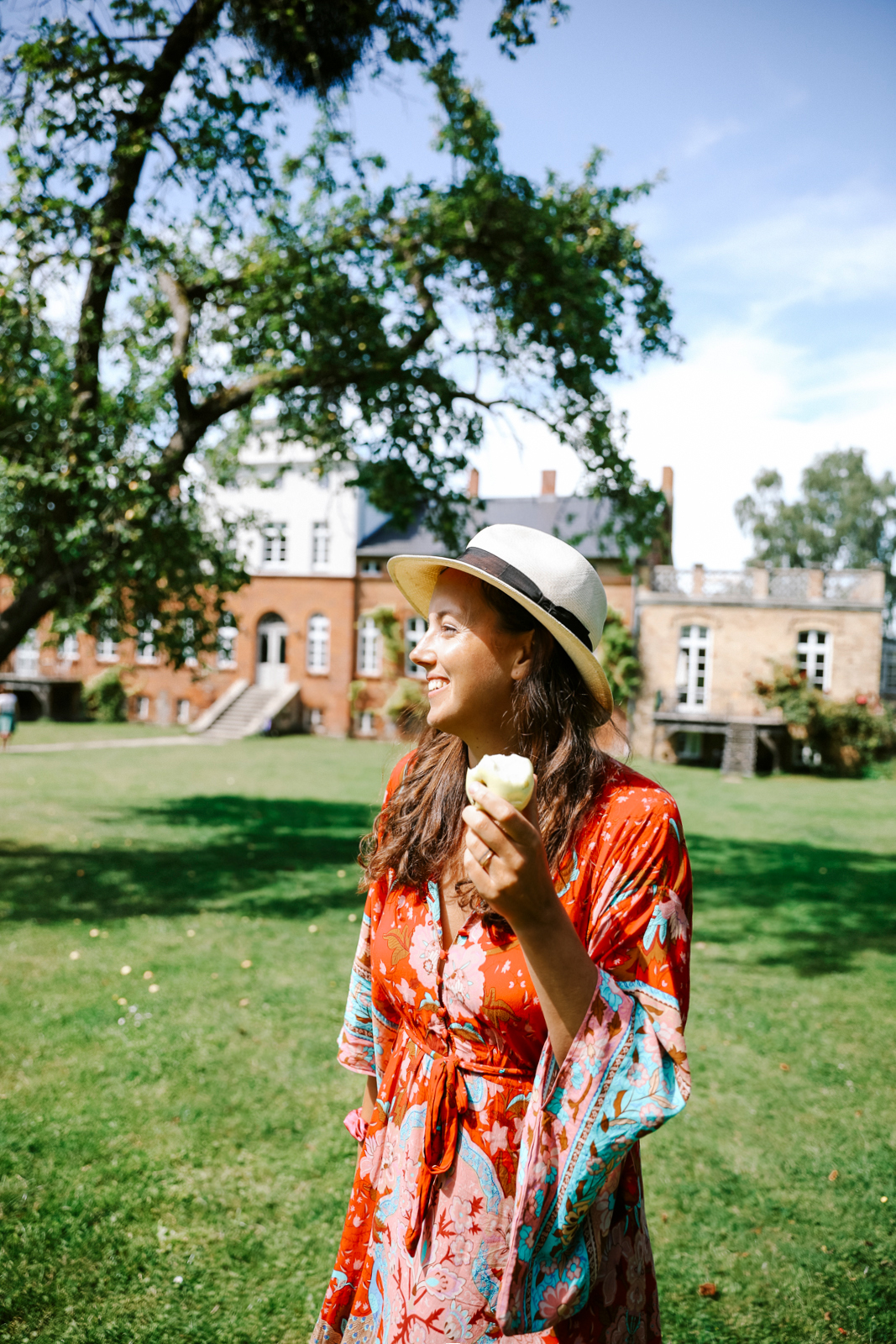 A quick look into the 130 m² grand Malwida apartment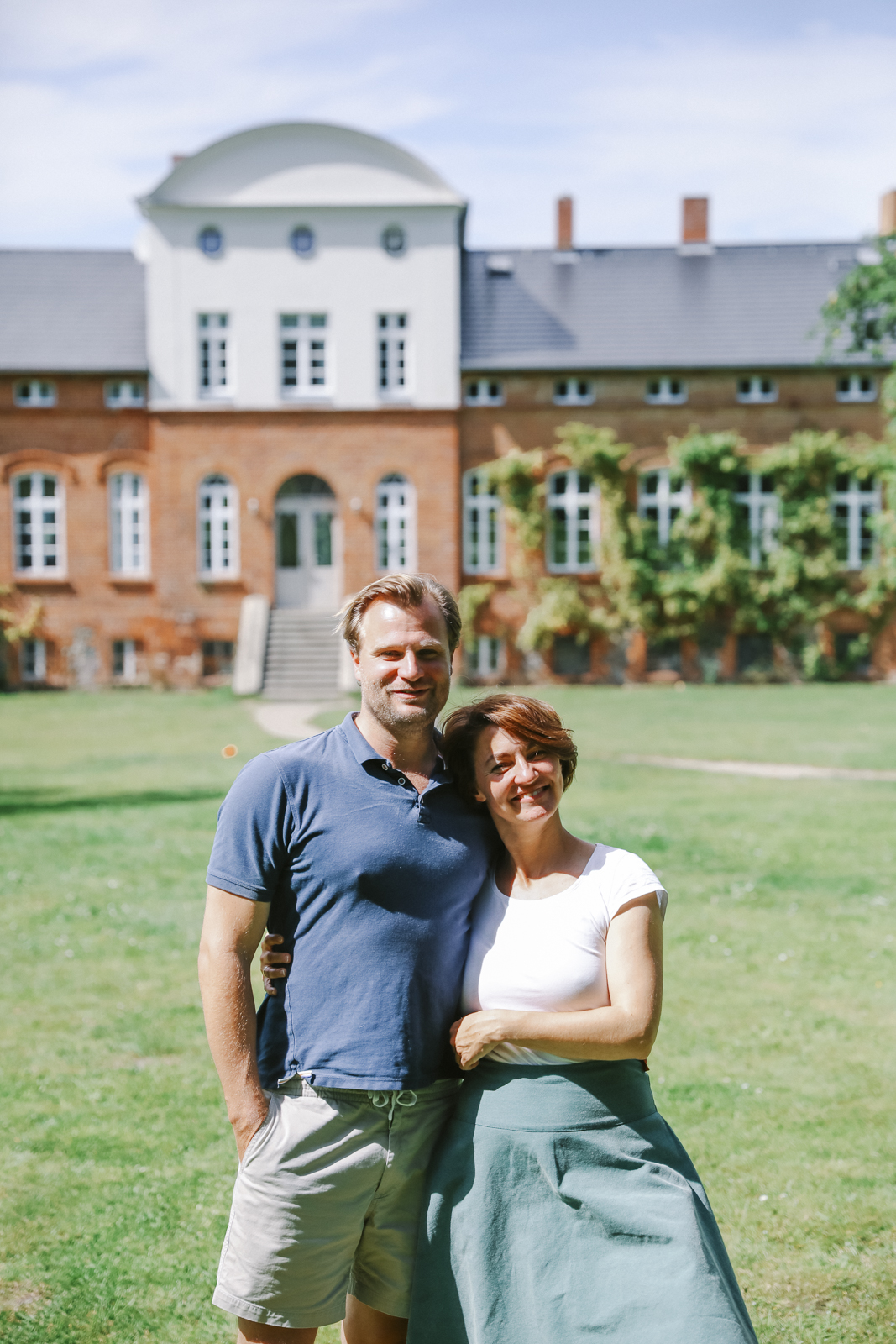 The warm, courageous owner
Kamila & Fabian
This error message is only visible to WordPress admins
Error: API requests are being delayed for this account. New posts will not be retrieved.
There may be an issue with the Instagram access token that you are using. Your server might also be unable to connect to Instagram at this time.
No posts found.
No posts made to this hashtag.
Other Hotels for more memorable nights
ABOUT HOTELS WITH SOUL
Hotels with Soul by NECTAR & PULSE is a personal collection of our favourite hotels around the globe. They have two things in common: soul and passion. Some serve the best coffee we've ever tasted. Some the comfiest beds and linen. Some have a sauna in the woods and delicious home-made jams. Others have a butler available 24/7 or a hunter ready to take you on a hunt. One has a library where you'll want to while away the hours, another one a kitchen stocked with the best midnight snacks.
What they all have in common is great design, friendly people, and authenticity. We call it the NECTAR & PULSE vibe. It's that feeling where it's so comfortable, it almost feels home, but you feel like there's so much to learn, see, and do. These are the places that make you think to yourself, "there's nowhere else I'd rather be." Hotels with Soul are the ultimate destination for curious travellers with a good taste. Discover their story. Experience their soul.
WANT TO JOIN OUR COLLECTION OF SOULFUL HOTELS?
We love to discover new places and to add more beautiful places to our collection. If you think that your hotel reflects our philosophy, please get in touch with us at hello@nectarandpulse.com. We are happy to give you further information, our media kit and our terms. We are looking forward to get to know you and eventually to work together.
Your daily travel inspiration
10 mal GLÜCKLICH IN ... Reiseführer
Hallo liebe Reisefreunde! Unsere GLÜCKLICH IN … Bücher, die wir gemeinsam mit der Süddeutschen Zeitung herausgeben, sind mehr als gewöhnliche Reiseführer. Sie sind eine Hommage an die Lebensfreude. Sie beinhalten unsere persönlichen, handverlesenen Lieblingsorte, Geschichten, Fotos und Zitate. Wir haben unser gesamtes Wissen, tiefgehende Recherche und Herzblut von über 10
WIN 2 NIGHTS AT ALPENLOFT CHALETS IN BAD GASTEIN
Hello lovelies, it's December, the first mountains are white and we celebrate this … Read more
OCTOBER PLAYLIST
Can you believe it? It's already October. Crazy! Here our playlist for you. With lo… Read more