Do you know this feeling when you follow someone on Instagram and immediately are inspired by the feed? Or even more: deeply impressed! That was the case with Lea (who is originally from Munich).
READ AN EXCLUSIVE INTERVIEW WITH LEA RIECK – A FEMALE ADVENTURER, EXPLORING THE MOST AMAZING SPOTS AROUND THE WORLD ON TWO WHEELS.
Lea decided to do a world-trip on two wheels with Cleo, her Triumph Tiger 800 XCA. She hasn't traded her dresses and lipsticks for the bike – but currently takes them around the world on it. For NECTAR & PULSE she answered our most curious questions!
---
First of all, WOW – we are very impressed by your brave journey! Thank you for sharing some of your thoughts and experiences with us and our readers! You are such an inspiration especially to young women who want to go on a solo trip!
>>> Head over to her blog Got2Go if you want to follow her journey.
WHAT'S YOUR BACKGROUND?
Before I took off to my trip I worked for a magazine as an editor and developed all it's digital platforms. I only got my motorcycle license two years ago but since then I was totally in love and the desire to do a world trip on bike got bigger from month to month.
Lea on her Cleo – a Triumph Tiger 800 XCA.
HOW DID YOU COME UP WITH THE IDEA OF DOING THIS JOURNEY?
I always wanted to take some time off to travel a bit longer than a full-time job normally allows. After I heard a guy talking about maybe doing a world trip on a bicycle I couldn't forget his intentions. For me traveling overlands had a big appeal because you directly see and feel the changes of nature, culture and people. So the idea of circumnavigating the world on a motorcycle was born – and in December 2015 I decided to really do it and take off 5 months later in May 2016 (in the end it got June because there were so many things to do …).
TELL US ABOUT YOUR ROUTE, WHERE DO YOU GO, HOW LONG WILL YOU BE ON THE ROAD...?
I planned to be on the road for about a year – but a few weeks more or less don't matter anymore. Right now I am in Myanmar and I am very proud that I reached this country only by driving from Germany. I went through Turkey, Georgia, Russia, Kazakhstan, Uzbekistan, Tajikistan, Kirgistan, China, Pakistan, India, Nepal and I am about to continue to Thailand and Malaysia. From there I will fly the bike to Australia and afterwards continue in South America and going all the way up to USA.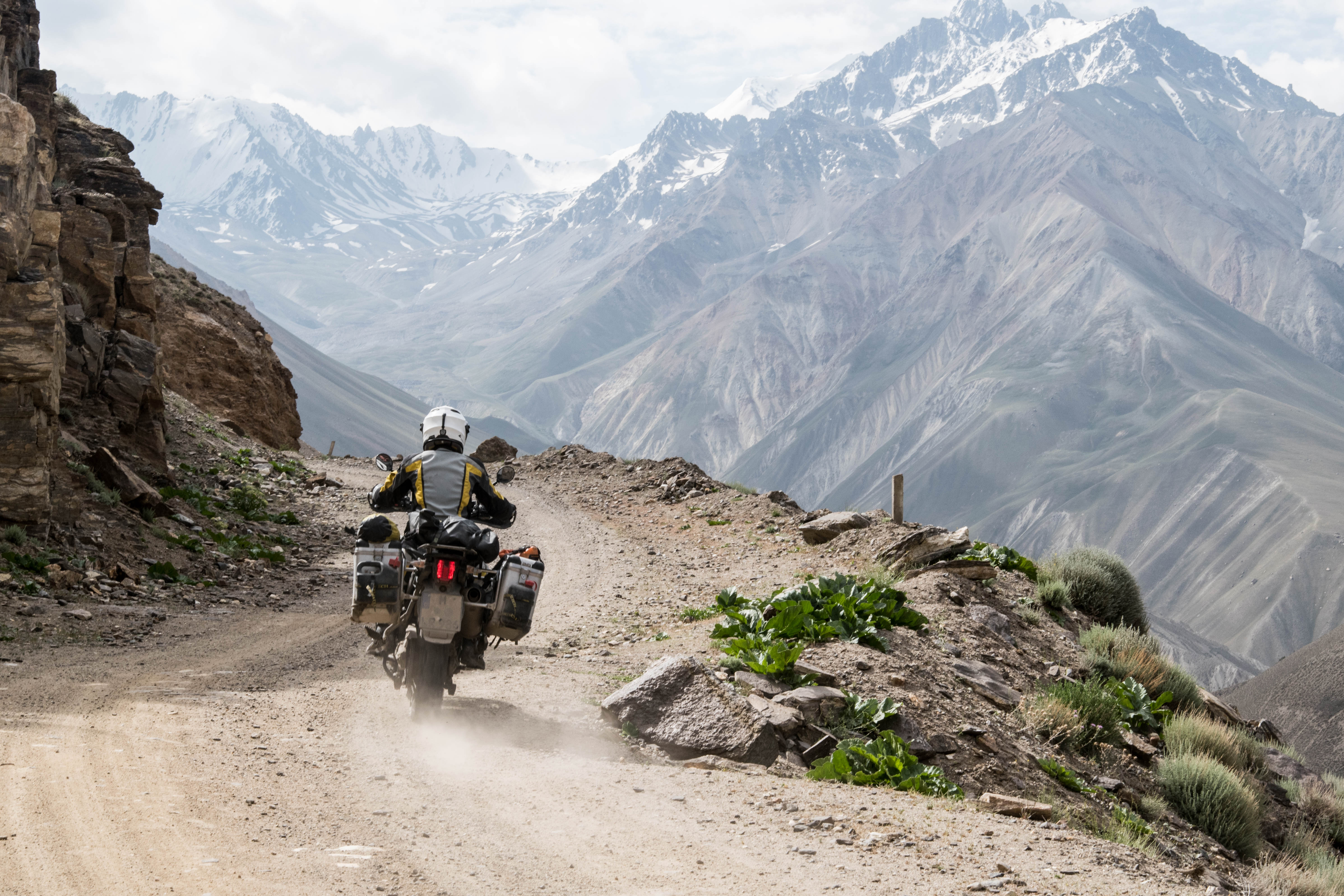 Driving through Pamir.
HOW MUCH PREPERATION DID YOU BEFOREHEAD?

Actually not too much as I was still working full-time and I could only concentrate on my journey a few weeks before I left. I never did a test-packing of my bags and suitcases – that's maybe why I packed way to much in the beginning and sent things home from on the road twice to reduce my luggage. I got a little workshop by a mechanic called Pit who showed me how to deal with the most common issues as I had no clue about my bikes mechanics. But in the end that was pretty much all that I prepared beforehand.
Fixing a flat tire in India.
WHAT DID YOU PACK AND WHAT WERE THE MOST IMPORTANT GADGETS SO FAR?
In the beginning I had way too much clothes with me – nobody needs a jeans or a second sweater for most of the countries I traveled to so far. Very important was indeed to bring some spare parts. My clutch burnt once in the mud in Tajikistan and I was very lucky that a friend visited me and brought me some spare clutch discs to exchange my broken ones. I have to admit that I don't carry too many exciting and special gadgets – but one of the most important things to me are my super light Touratech helmet and suit, my Alpinestars Toucan Boots and gloves and my Vanucci functional underwear. As you nearly wear those things everyday it is very essential on a trip like mine that you find some equipment that you really like and trust in and which is as comfortable as durable.
Karakorum Highway.
WHICH BRAND IS YOUR MOTORCYCLE AND WHY DO YOU LOVE IT?
My motorcycle is named Cleo. Cleo is a Triumph Tiger 800 XCA. For me she is the best compromise you can get in comfort and agility. If you want to go 1000 kilometers a day it's not a problem to ride endlessly with her on straight highways, and she is as well very capable of doing offroad gravel roads. I love her three cylinders as they make the engine super smooth. I couldn't imagine a better bike that I would like to spend more time with than with her.
Stunning landscapes.
MOST MAGICAL MOMENT SO FAR?
I had so many incredible and unique moments the last months, it's impossible to highlight one. I guess the whole experience is my highlight. I don't need to make a choice about one country to spend my time at – I am very lucky to be able to just go and see whatever comes along. And often the most amazing things happen when you don't expect them. Recently I was driving through Assam in India and I was pretty tired of all the traffic there. But then I got into a celebration of a Hindu holiday and the locals covered me in blue and red color and invited me to join them and dance with them. An unbelievable magical and intense experience as Indians seem to know how to party.
Welcoming and curious people.
MOST BEAUTIFUL PLACE SO FAR?
Pamir Highway in Tajikistan and Karakorum Highway in Pakistan were my favorite areas so far. In the Pamir mountains you find a lot of nice gravel and offroad pistes over 4.000 meters altitude and Karakorum Highway is at least in some stretches perfectly paved and makes traveling as comfortable as beautiful. They both have as well a very rough rocky moon-landscape.
MOST FRIGHTENING OR CHALLENING MOMENT SO FAR?
I crashed in Kazahstan on a lonely sand track. My handlebar was bent and I hit my head hard when falling. I guess I even had a concussion as I couldn't get out of bed for one and a half days. For me it was very challenging to just get up and continue this sandy road that I was very scared of after this crash. I cried in relief when I hit the asphalt again.
WHERE DO YOU SLEEP ALONG YOUR ROUTE?
I sleep in cheap hostels or hotels and homestays. Or at local's homes if someone invites me. On this first part of my trip there were not too many occasions where camping alone would have been a smart decision, but I might try to do that in Australia and America.
Crib for the night.
EVER THOUGHT QUITTING?
No, never. Not even when laying in the sand and having hit my head.
HOW DO YOU FINANCE THE WHOLE TRIP? HOW MUCH WILL IT ROUGHLY COST YOU?
Before I started to go on this trip I saved some money. I am a journalist so I can as well earn a bit of money while traveling – but that is only a little plus and covers the extras. I will know what the trip costed after finishing it – but I calculated with 30.000 Euro and my budget is about 35.000 Euro. That sounds quite a lot but even though living costs are very low in many countries, flying the bike from one continent to the other is very expensive. As are the guided tours you have to join in some countries to be able to travel there with your bike. Both together will probably eat half of my budget.
Exhausted but never quitting.
WHAT DO YOU MISS MOST ON YOUR JOURNEY?
My friends, family and food. Sometimes I totally forget how much I miss having a huge variety of things to eat – but whenever I come to a bigger city and suddenly have the choice to go to a japanese or italian restaurant I just realize how much I missed it.
Georgia.
Nepal.
Kirigistan.
HOW DO YOU STAY IN CONTACT WITH YOUR FAMILY AND FRIENDS AT HOME?

Modern communication makes traveling so much more easier. I mostly stay in contact over whatsapp and text messages and FaceTime and whatsapp calls. It's unbelievable how easy it is to be connected to home so quickly as soon as you have wifi. I guess I would miss everybody even more if I could not talk to them every few days. It feels like they are following my journey and traveling with me, even though they are not there.
WHAT DO YOU SUGGEST OTHER PEOPLE ESPECIALLY WOMEN WHO WANT TO DO A TRIP LIKE YOURS?
There is not much more to suggest than: just do it. It will enrich your life and teach you unbelievable much. Don't be scared of traveling alone as a woman. Most people are good and really want to help you.
WHICH ENCOUNTER LEFT A DEEP IMPRESSION?
Again and again I was very touched by the helpfulness and generosity of some of the poorest people I met. It's hard to believe that the ones that have least are most willed to do and give everything to host and help you.
WHO TAKES THE PICTURES OF YOU ON INSTAGRAM?
There are two options how I take my pictures. As I travel alone most of the time i place the camera somewhere or use my tripod and self-timer, or I ask people (locals, cab drivers, guides, motorcyclists I am driving with for a short part of the trip, friends who visit me on my trip ....) to take a picture of me. I like second option best because it's a fantastic way to get in contact with people and it's amazing to see some locals who probably never had a camera in their hand taking really good pictures.
FAVORITE FOOD YOU ATE SO FAR AND WHERE?
I really like Indian food. A good Dal Makhani and Paneer Butter Masala are a very enjoyable combination for me.
HOW DO YOU DOCUMENT YOUR JOURNEY AND WHAT WILL YOU DO WITH THE CONTENT?
I have a website, Instagram page and Facebook page. And I am a journalist so I am publishing stories in magazines and newspapers.
Nepal.
Turkey.
WHAT ARE YOU PLANS AFTER THIS YEAR OF TRAVELING THE WORLD?
These plans start with arriving to Germany and find a new home as I quit everything when I left. And I guess they somehow will end in working and earning some money again.
DID THIS JOURNEY CHANGE YOU SO FAR AND IF YES, HOW?
For me it's really hard to answer this question as I am not doing this journey to find myself or get deeper insights for my own life. It of course changed me if you regard all the experiences I had, all the things I learned, all the new people I met, all the different ways of living I have seen. A journey like this is enriching in every point of view. But then in the end I still am who I am and my basic character didn't change too much. I would say this shaped me – it made me a bit softer, a bit more flexible and much more emphatic than I have been before.
THANK YOU LEA! KEEP ON GOING!
See more stunning photos of her trip below...
Karakorum Highway
Georgia
Pamir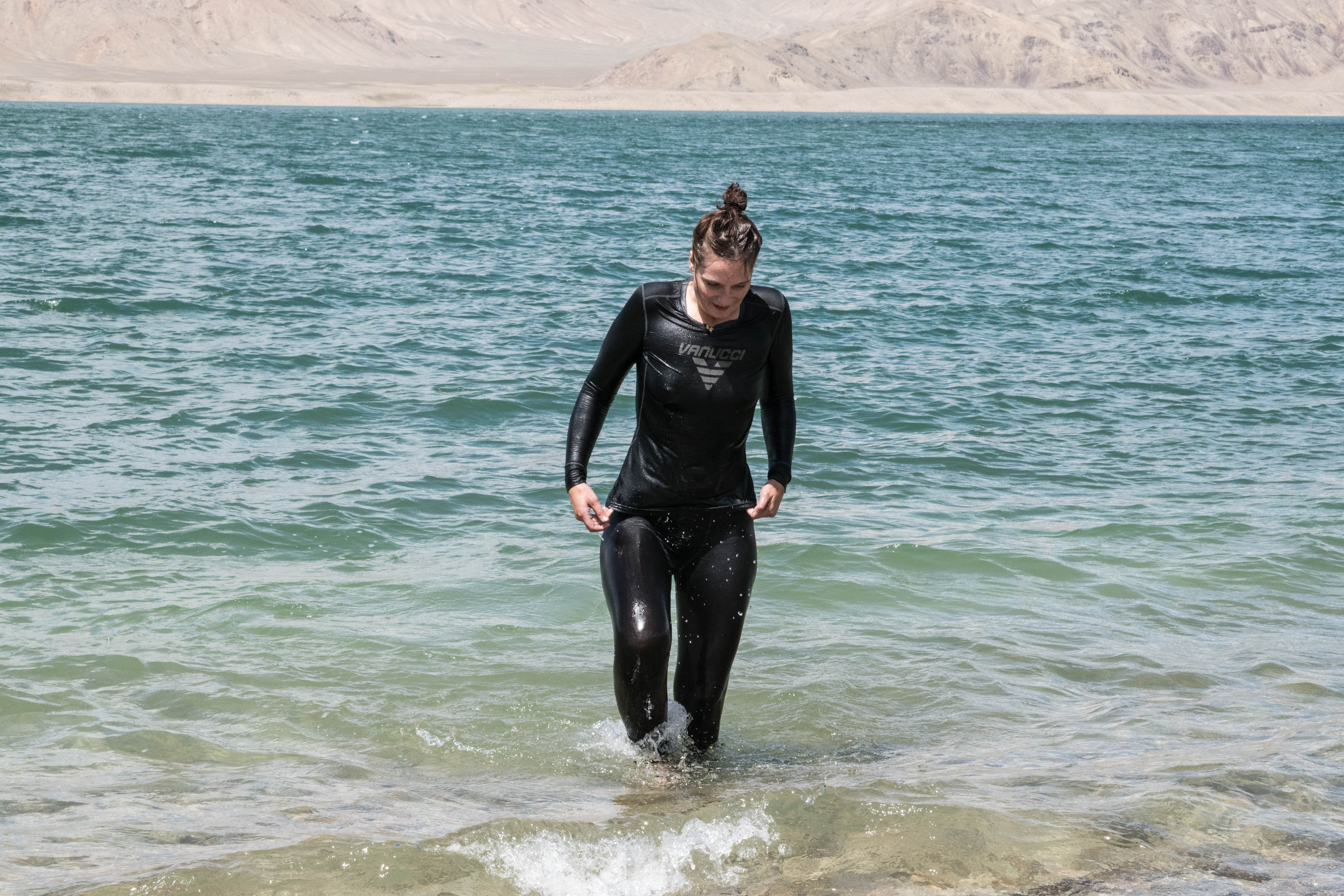 Refreshing swim.
Pamir
Georgia
Georgia
Uzbekistan
Nepal
Kirgistan
Turkey
India
Bagan in Myanamar
Myanamar
Nepal
Nepal